'Moorland Sky'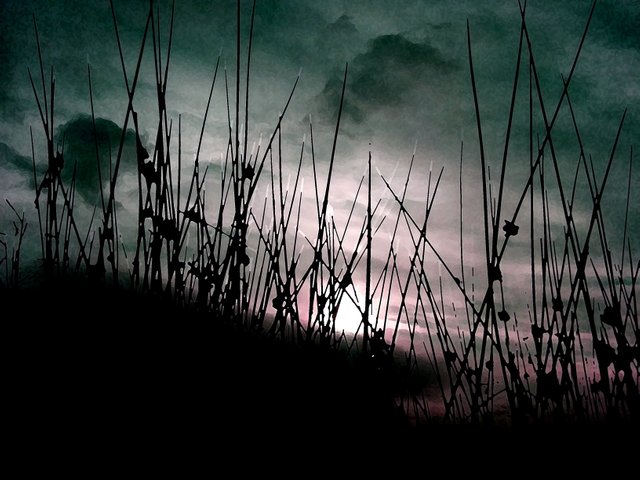 "Whether you climb onto Ilkley Moor
With or without the much sung fabled hat
Be sure to appreciate all it offers in it's natural state of unabashed abundance
Stroke the hardy heather
Caress the soft cotton white candy grass
Tarry on the monumental boulder rocks
Milk the bursting breat of Nature's rolling view from the Cow and her Calf
As you contemplate heaven's finest gate
Run, play and have fun come rain snow or sun
Seize your thrills as you roll down it's fern strewn hills
Stroke and smell the stub and newborn grass
Revel in the magic of the fairy rings and other toad's stool things
Watch and listen out for the white robed off-comers and their strangest chants and hymns
Who in their own way seize the fresh born day as they pray to some welcoming Nature spirit
And mark you too to acknowledge the deities that abound in hollows and tracks along the way
Tread lightly as you traverse this softly watered ancient holy ground
For here .. subtle folk abound .. t'is their rarefied ancient home
And take heed that many are lost who roam here in the mist and fog cloaked night
Yet despite many are those that are captivated
Held ransom for the handsome riches widely spread
Ponder and wonder close to the sky in the star struck twilight
Pulled by some strange magnetic force
In the summer months it is the perfect blue and purple paradise
Whilst some of us have braved it's withering winter's bite
Standing sentinel deep into the peat black icy night
And if you manage to leave reacquainting yourself with the sandy downward track
Mark my words .. you will be back
If not to commune and gawp at the ancient Swastika stone and rings
Then without shadow of remorse to sup your fill of fabled folklore
Here on ancient Ilkley Moor"
Whenever you are in Yorkshire you really must saunter onto Ilkley Moor. It is one of those rarefied places you really appreciate once you're up there. This high ground makes you realise what we're missing being divorced form Nature so much of our time. It is a place of pristine freshness to fill your nostrils with wonderful aromas of fragrant grasses and the dark peat that lays under the beautiful heather of course.
Most anyone who know's something of Yorkshire has heard of Ilkley Moor, famed for the song 'On Ilkley Moor Bar Tat' .. bar tat being an old Yorkshire slang term meaning without hat, which references the fact this is high ground and therefore can be fairly windy at times. Other times it is still and calm as can be.
The day I took this photograph I spent the night on the moor. A wonderful experience star gazing with friends by an ancient stone circle. The sense of anticipation was palpable. It was also a great vantage point for viewing the city lights of Leeds down below and far away. It's also a great place for anyone interested in aircraft as the airport nestles pretty much at the foot and on the edge of the moor .. a great view actually from the airliners! In my photograph here I guess I am referencing the ominous nature of the place but moreover it's rugged beauty and perhaps even it's mystical nature. You are close to the sky here, and so my low angle looking up through the plentiful hardy grass towards the cloud filled sky is apt. And I think the purple colouring I've introduced here also references the much celebrated purple heather here too. What does it say to you?
All images and text copyright Paul Heaney © 2018