Hey, Steemit! I am super excited to share tonight's post with all of you. As far as my photography career goes, although I love it, I am a victim of my own success […which, you must understand, took over 15 years to achieve]. I am grateful, but the tremendous amount of work, constant shoots and editing, does keep me from drawing. Comics is where my heart is. Always has been and always will be. One day, when this market moons again, I'll have the freedom to book shoots when I want to, and not when I have to. With that, I'll be transitioning to comics, full time. That is the plan.
Until then, I'm working on a few comics projects when I can, mostly for my own sanity. I have so many friends, and see so much on the internet; people struggling with depression and anxiety. I am fortunate that I do not, but drawing, sketching and inking are paramount in keeping the depression away. At times, I feel like clients that've been waiting on photos see me post illustrations and think to themselves "…why isn't he working on my photos?". It's much bigger than that. Drawing for me is mental and emotional therapy. It keeps me stable and it's an essential part of everything else running properly.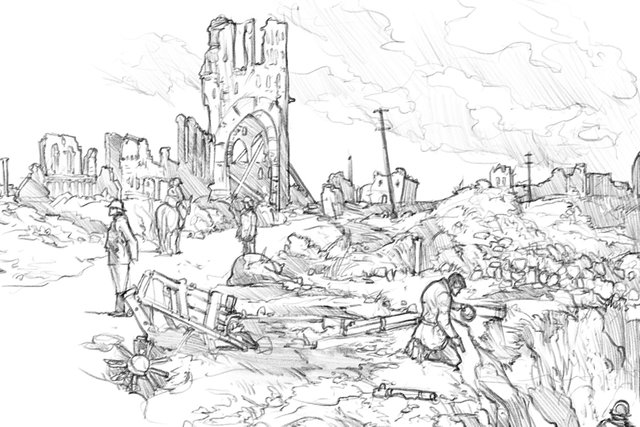 With the crypto-market still in a lull […feels like almost a year now], I definitely don't have the freedom to sick back draw 12 hours a day. I do, however, have a few projects I chip away at when I can. One of those is a horror anthology with my friend and writing partner, @ghostfish. We've spent the last few months meeting up and fleshing out a "Creepshow" style comic focusing on psychological hauntings of the mind amidst the horrors of the human experience. We've only been able to get a page done every couple of weeks, and not in proper order, but tonight, I'm able to share page one.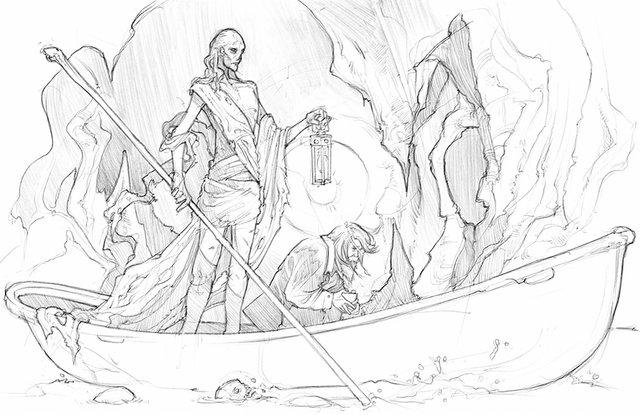 This is the first page to our comic. Untitled, as of now, by our "Crypt Keeper" narrator is the Ferryman of the River Styx. He will take readers to a story set in different times and places in world history. This first story takes place in Passchendaele, France at the end of World War I. An Australian Allied soldier comes across an unfortunate German infantry grunt, stuck in the mud at the bottom of an artillery shell hole. For his troubles, he's shot. His body slides down with the German, and a post-mortem conversation about life, death and war begins.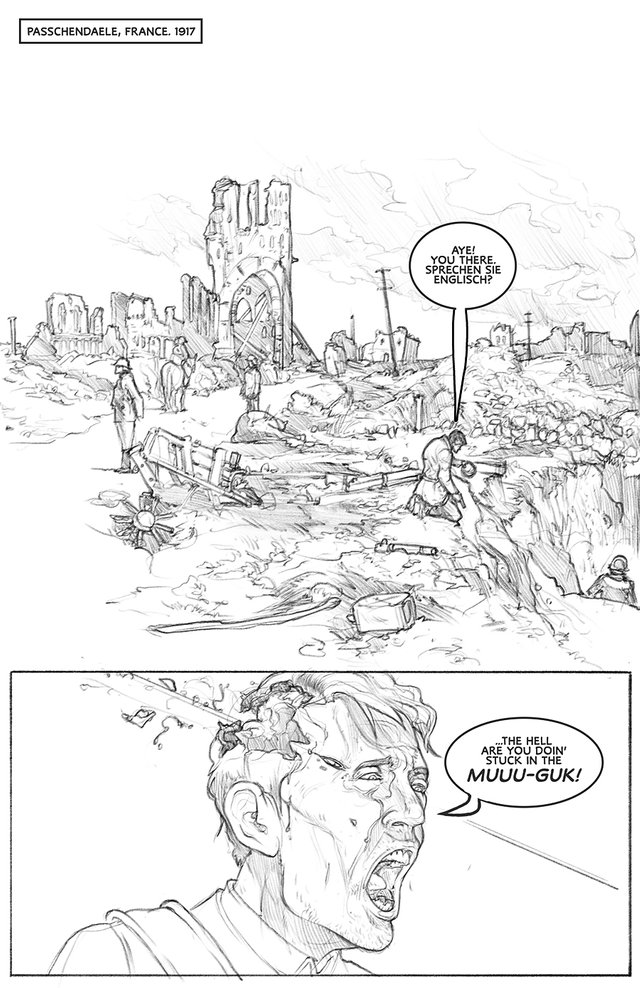 This is a really cool story and I'll be sharing more of it here on Steemit. The first four pages, more or less, are finished. When @ghostfish and I finish this short story, we plan to print it as ashcan comics. They'll be available here on Steemit if you'd like a physical copy. Until then, thanks for reading, supporting and resteeming! For more photography, art, illustration and the stories behind the work, follow me here @kommienezuspadt!