Crypto-Family Holiday Dinner : A table of great value
Hi… long time away from Steemit, but here I am…
Today I am participating on the @sndbox ´s Open Call for Artwork [Theme: A Crypto-Family Holiday Dinner].
It consisted on Design a thumbnail illustration for The Creative Crypto Magazine focused on the theme of the family holiday dinner table and Bitcoin, creating a Cryptocurrency parody off of the famous Norman Rockwell classic painting.
My very first idea was siting the creators, founders, and developers of several crypto currency's, at least the ones that I have got to know trough the Steemit Platform… and how would be the host better than Ned Scott, Steemit´s CEO… I would call it: A table of great value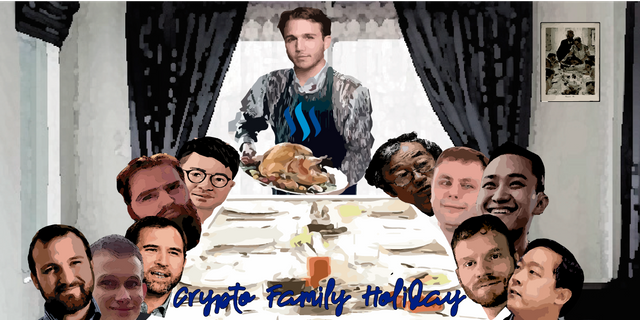 I started making the review and looked for the pictures of those brilliants guys…
Bitcoin – Satoshi Nakamoto
Ripple - Brad-Garlinghouse
Neo - Da Hongfei
Iota - David Sonstebo
Cardano – Charles Hoskinson
Eos - Dan-Larimer
Tron – Justin Sun
Dash - Evan Duffield
Litecoin - Charlie-Lee
Ethereum - Vitalik-Buterin
Them… I started to clean those pictures on Photoshop, in order to make de set on Adobe Ilustrator.
For the background, I selected a more modern wall / window, and added the original painting on the side.
All the image have been modified with an artistic effect…
Hope you like it…
@karenthfer