Digital Blockchain Gamer Alert! A very limited-edition auction for the
pixEOS
3-D fighting avatar has started. This avatar is playable in
Chain Clash
, which is an online game where collectible fighters battle and form like-minded clans! The top 10 bidders (in EOS) get to own 1 of these super-limited blockchain beauties, based on art by me. All this came about from an epic animated 2-D piece I drew called
Rare Digital Art Avengers
. That piece became the pattern for this digital warrior's battle costume... I mean if you consider a yoga outfit as battle costume material.
Bid on this avatar at https://presale.chainclash.com/ and learn more about this very rare in-game asset on EOS!
This particular partnership brings together AI, Gaming, Art, and Blockchain in a most entertaining way. I am sure it is only the beginning of what's possible blending new and old disciplines together for a brighter future where ownership of digital assets is verifiable and transferable through blockchain technology. Reflecting on my experience in the project, it is such an honor to be part of this art and gaming collaboration through the EOS blockchain. I continue to be inspired by how well and quick the EOS community is to forge and implement useful and exciting partnerships, like what's going on among pixEOS, Chain Clash, and DNABlock... plus so many more.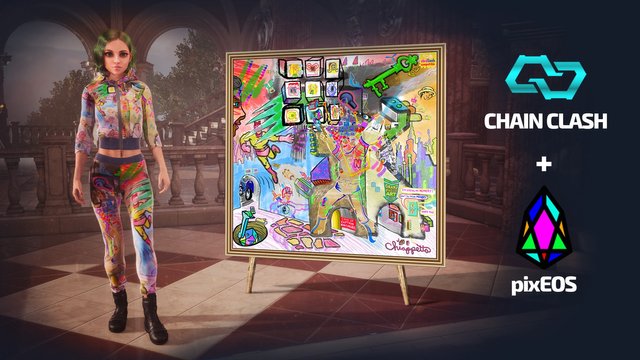 Joe Chiappetta
http://SillyDaddy.net