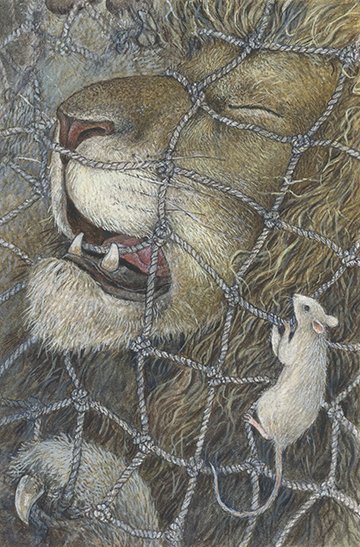 The Lion and the Mouse
A lion was stretching out to rest in the shade after a long day in the sun. As he was dozing, a tickle along his body jolted him awake. It seems a small mouse, distracted by the heat, had accidentally scurried across his body. Vexed by the disturbance, the lion jumped to action and was set to devour the tiny creature. The mouse, realizing his transgression, begged the king of beasts for mercy. He promised that he would someday be able return a favor to the lion should he be spared.
The lion, caught off guard by such a bold claim, released the little mouse and returned to his repose with a chuckle.
A short time later the lion found himself in a predicament; he unknowingly set foot into a hunter's trap and just like that became entangled in their ropes. His groans and thrashing only made the knots twist tighter. Escape was impossible. Resigning himself to his fate, a little voice appeared and said, "I have come back to return the favor!" And with that, the little mouse that had begged to be spared from the lion's jaws began to gnaw on the ropes, thereby releasing the lion from his untimely doom. He continued, "At one time you couldn't believe how a creature as tiny as I am would ever be able to return the favor, but now you can see one good deed deserves another!"
The lion sauntered off, chuffed, and spent the rest of the day pondering these words of wisdom.
It pays to be kind to everyone - you never know when you might need help. The strong may some day need to depend on the weak.