Yesterday I started another painting of a lioness with a cub. Which reminded me that I still haven't shown you my other recent paintings from big cat series.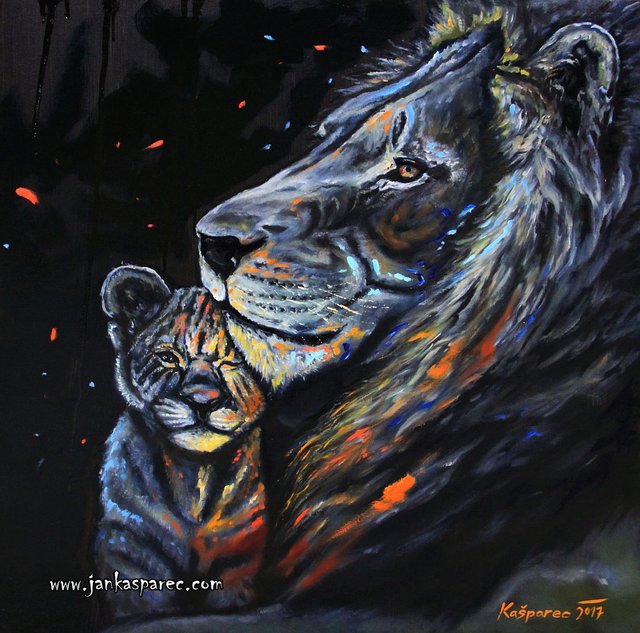 Father Love, oil on canvas.
Today is super rainy day in Vancouver. Rainy and cold. As I type these lines I hear the rain pounding on the roof of my studio. January is THE month to stay away from Vancouver, or stay in the studio and paint. And that, I've been doing since 5am today, oblivious to the cold darkness outside. I'm still jetlagged from my recent arrival from Hong Kong, so I woke up at 3am and after an hour of trying to fall asleep again, I gave it up and went to my studio.
I spent the whole morning working on a huge commission for CEO of one of the hottest soon-to-be-launched cryptos, and yes you've probably heard about it (or invested in it if you're smart) because the ICO was one of the few which sold out recently. I'll disclose the name later. I still got at least a week of work on this big baby.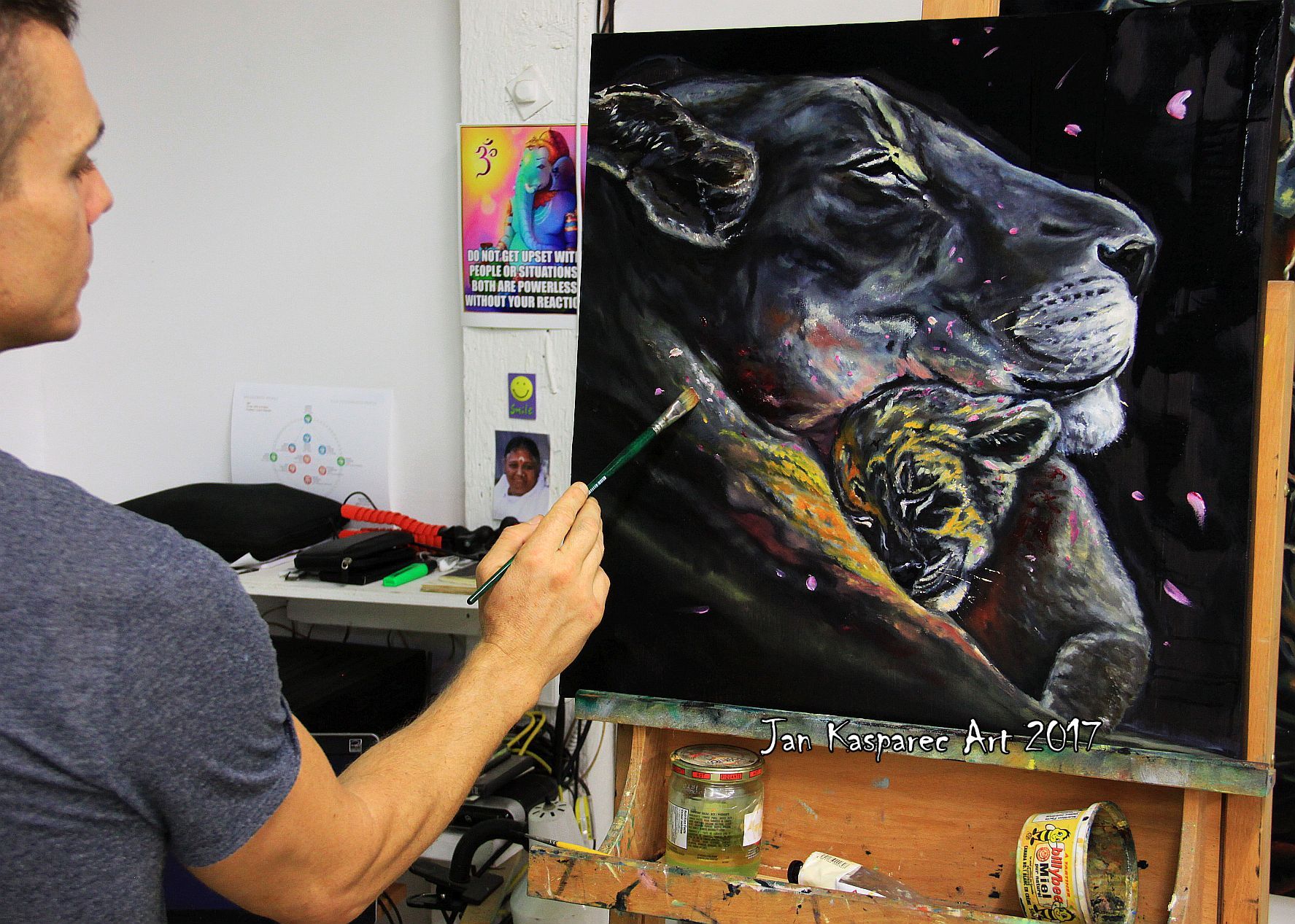 The story started with Mother Love though!
I don't like commissioned work to be honest, because it puts me under pressure. And I don't blame my clients for that, because I only accept commissions from very open minded people who give me tons of freedom to execute the painting the way I want. They just tell me roughly what they want (sometimes very general story) and then let me do it in my own style. So they are not to blame, it's all me.
I put myself under pressure because unlike work that I sell once it's done, I get paid deposit upfront and the price is agreed beforehand, so there is expectation from me to over deliver, by nobody else than me. Of course my clients expect the best too, they pay double the price for commissioned work than a painting which I painted out of free will, but the one who beats myself up the most is me. I like to make people happy, and especially people who trust so much in me that they spend 5 digits on my piece of art. So the pressure is there which explains why I charge the premium.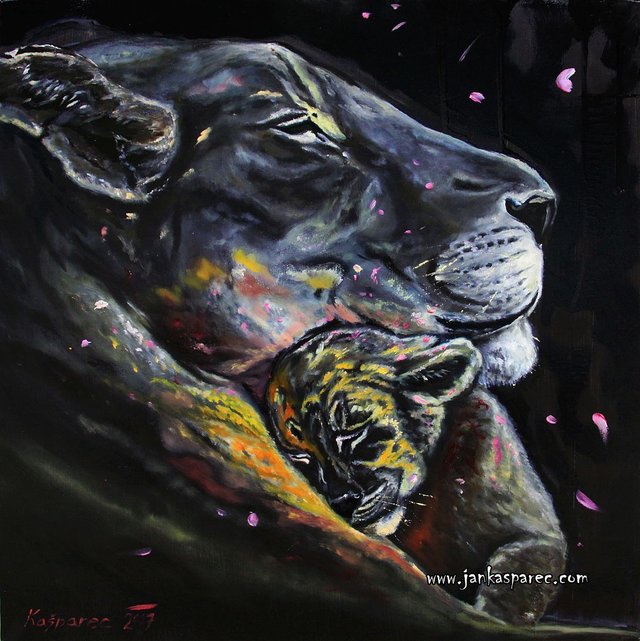 The final result of Mother Love.
The lioness with a small lion cub painting which I mentioned in the beginning is a smaller (30inch) painting that I'm painting on the side to ease the pressure. Don't take me wrong, I still enjoy the process of commissioned work (mostly) and this particular one actually a lot, but the mind is a bitch. It's always there in the background whispering in my ear: don't screw it up buddy, you got tons of $ for it, it has to be better than great! Ha!:)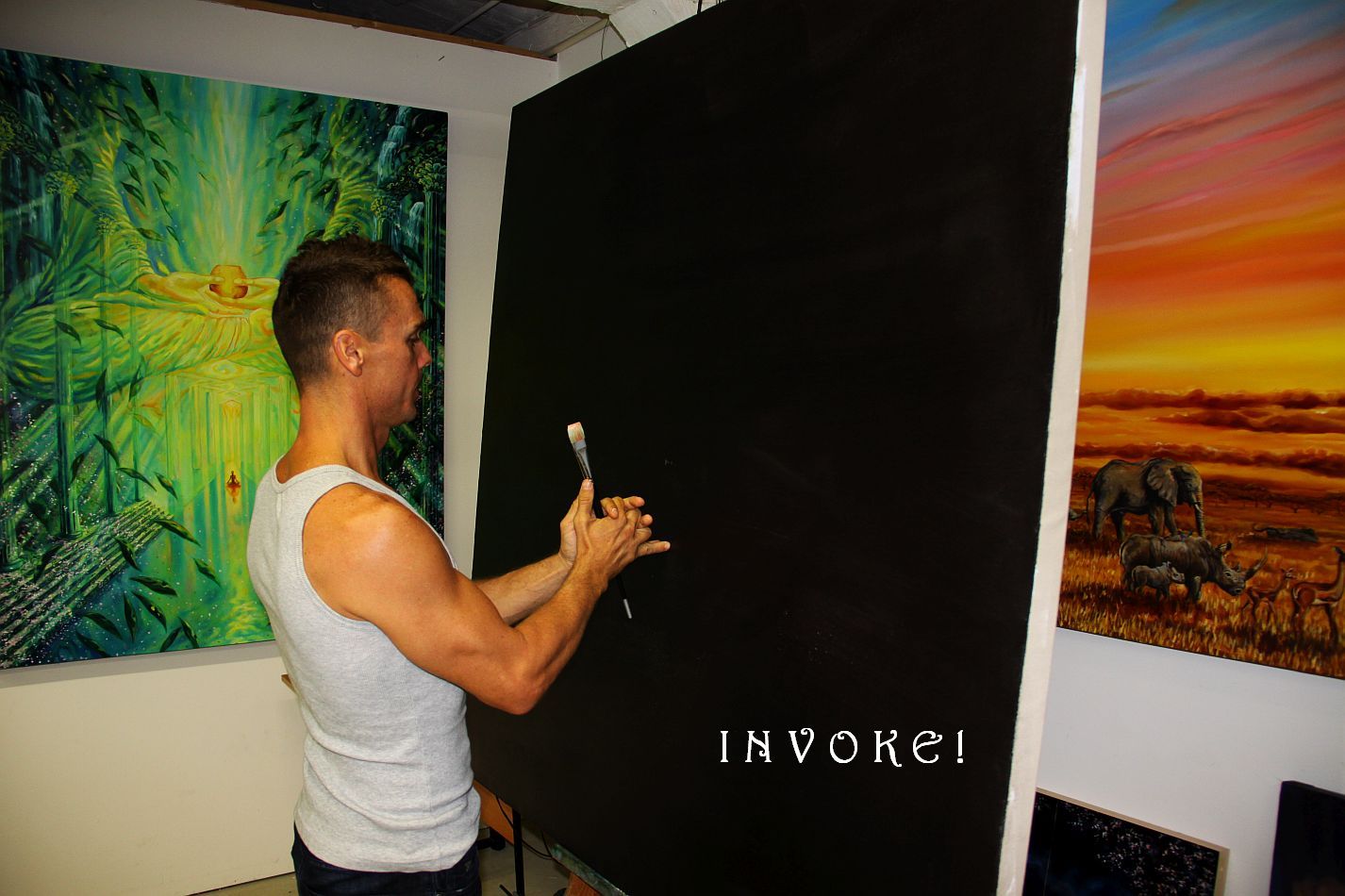 You'd be surprised to see my rituals of invocation of good muse before I begin painting :)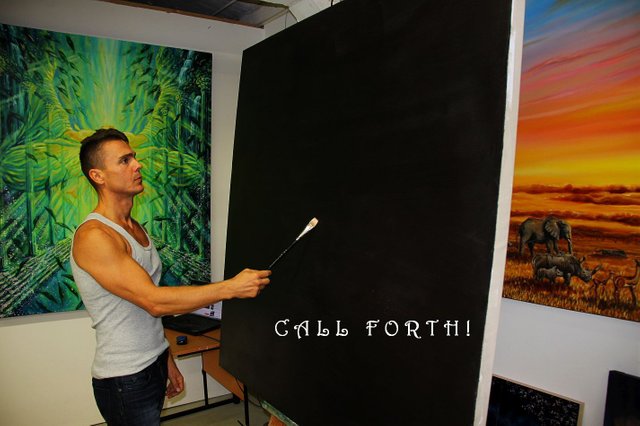 Back to the lions! Here is the painting of "Mother Love" and "Father Love", which I did in November just before my exhibition. Both sold literally moments after I put them on Instagram (even before I published them on Facebook) to one of the owners of Floathouse (which is an amazing sensory isolation floating center in Vancouver!), my buddy Mike, who just had his first born son! No wonder he loved "Father Love" so much!
Funny thing is that first of all I had no intention to paint both Mother and Father Love. I started with Mother Love and then realized I have to do the other half of the story too. But that's not what's funny. What is funny that ONLY ONCE I finished them both and put them together I realized that they made a heart shape! That was indeed a lovely surprise!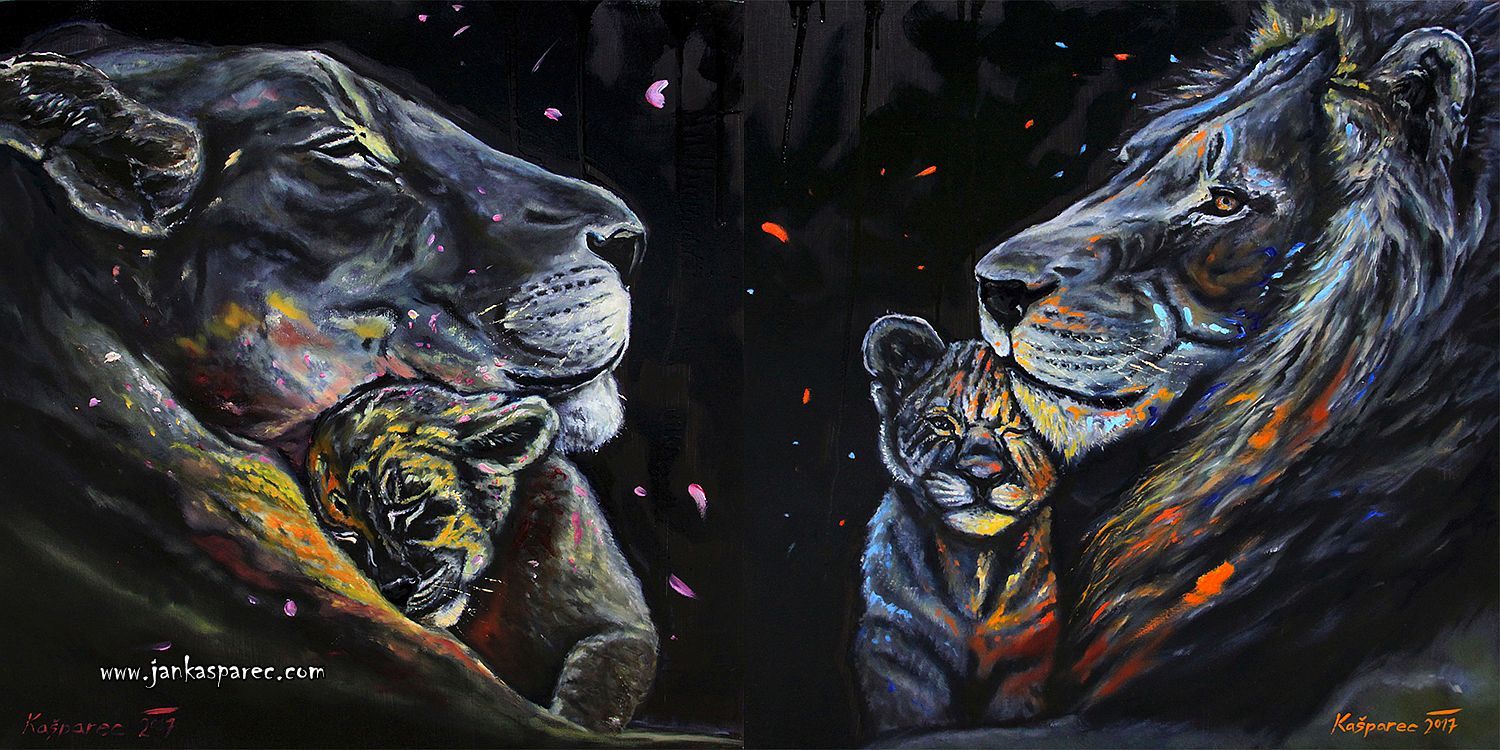 Here they are together! Can you see the heart or it's just my imagination? :)
I hope you enjoy the paintings of big cats. As far as I am concerned, I got a MAJOR crush on all members of big cats family. I could watch them for hours and my heart would be like: AAAAAAAHHHHH, yeah, you get it, that kinda thing :D
Tigers, Lions, Cheetahs, Leopards...you name it. I'm in love, I'm in awe, I'm jaw dropping. Or painting!
Thanks for reading! I gotta get back to the work on commissioned crypto piece. Can't wait to have this one off the list!
Thank you for your upvotes and comments!
Much Love to you all!
Jan
follow @jankasparec
L O V E * L I F E!