It's not a question but quite an obvious truth, I mean the title of this blog. Even if you have not had your spiritual breakthrough yet, the science (dumber brother of Universal Wisdom) is undeniably proving the creating power of our minds over the material world.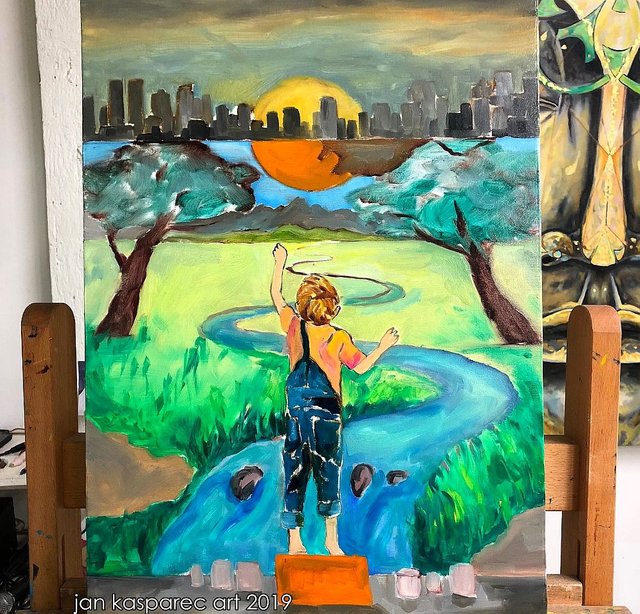 But I'm not really going to talk about metaphysics today. I just want to share with you an idea that crossed my mind when I was painting the Bitcoin Bruce Lee (here below).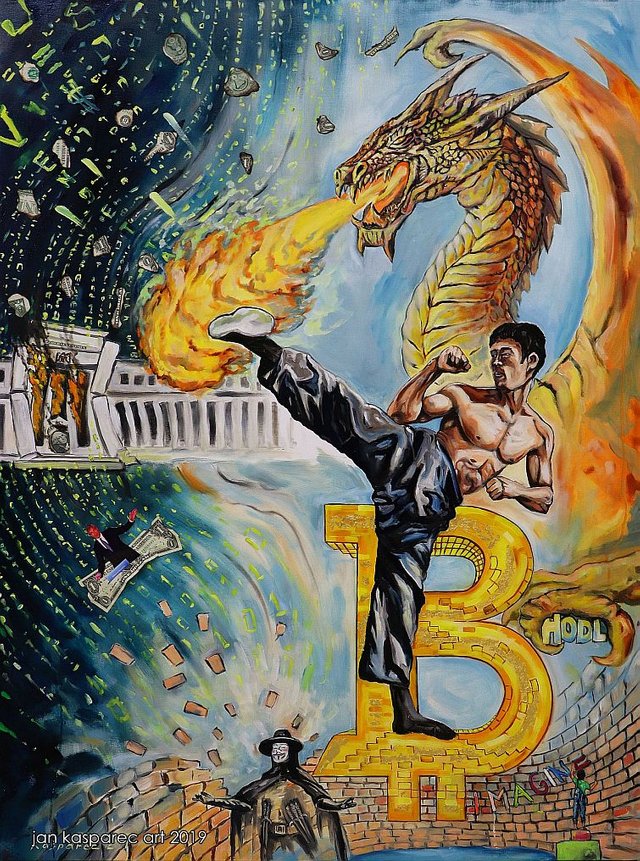 The "Imagine" boy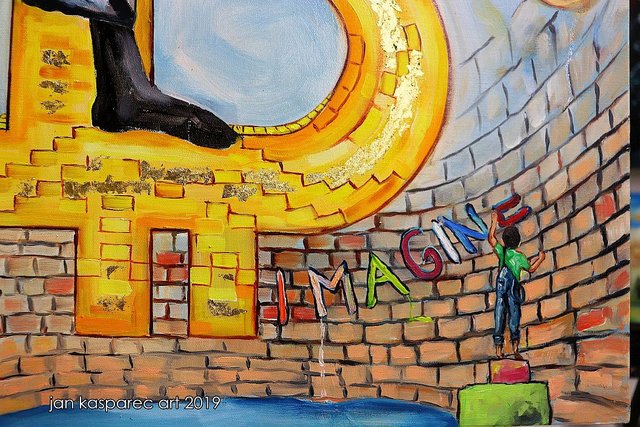 As you can see, I placed a boy painting the word "Imagine" on the wall in the bottom right corner of this painting. The wall seemed to be imprisoning him, although Mr. V next to him smashed it with nothing but by raising his hands. That is how I am delivering the message of the power of imagination on canvas.
We do create this world with our minds. As a matter of fact, the human society with all its endless wars, social injustice, famine, borders and corrupt governments is a faithful mirror of our minds. It is THE EXACT REFLECTION of our COLLECTIVE MIND.
That is why seeing the bright side of darkness and unshakable faith in the inherent goodness of human heart and Universal Consciousness is absolutely essential for us to learn. That does not mean we ignore the evil. That does not mean we are not aware of it. But we give it no power by our thoughts because that is indeed how the evil is propagated: by capturing our attention and bringing down our frequency by negative thinking and emotions based on fear.
I talked enough. You know this. At least you heart does.
Practice, practice, practice. That's how any student of anything becomes a master.
Without further delay, let me show you this two feel painting of another "imagine boy" who I felt like he deserves his solo canvas, not only a corner appearance in a larger painting.
This boy is painting a beautiful nature scene on a dirty wall in a grey city covered by polluted clouds. He is painting a better Earth with his imagination.
This is what I got so far. I worked on it in two sessions so far, about 2 hours each.

Can't wait to finish this sweet small-medium sized piece.
The best is yet to come of course.

Thank you for reading and for all your support, always!

Much Love on your journey of staying in the light in the midst of darkness,

Jan
follow @jankasparec