The Benefits of the Poster Study
The Benefits of the Poster Study
Greetings and salutations Everyone!
In this post today I'll be discussing the importance of the poster study and how to go about incorporating its use into your work. The predominant idea or goal in creating a poster study is to solve preliminary issues (composition, subject matter, mass, shape, value) as much as possible beforehand as so they don't hinder the artist throughout the progress of the painting. Essentially a poster study is a smaller, compressed, and simplified version of the final work. It functions as a sort of anchor or notational legend that guides the painter in making clearer and well calculated decisions.
Working on a poster study can be quite alleviating in some ways. Where as in drawing one is mainly concerned with line and measurements, creating a poster study frees an artist's mind up to experiment and focus on mass and shape. While drawing is always a factor, in creating a poster study it takes more of a back seat.
When beginning your poster study, you want to make sure your poster study isn't too large. To give you a basis for comparison, if your final painting is going to be 18" x 24", an 8" x 10" poster study would be a good size. It is also important to point out that these should be finished relatively quick and in one sitting. Don't be discouraged if at the beginning it takes a couple of sittings a few hours a piece. Your speed will increase. Remember, what's important here is that things remain simplified and planar...like an abstract puzzle. I can understand how to the beginner it might be very difficult to resist the urge to break down the forms and add details, but it is imperative that you refrain from doing so. In turning the forms would just create a tiny painting….which defeats the purpose of the poster study you know?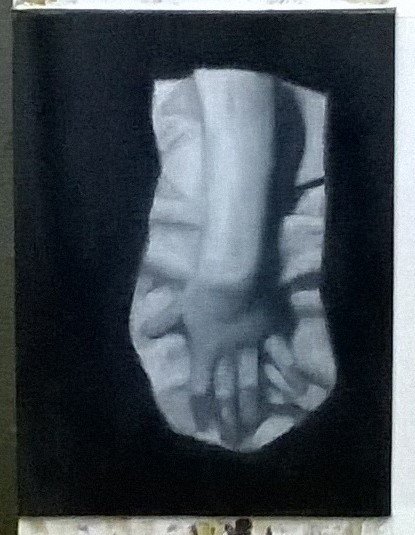 Here is an example of a poster study I finished during my second year (the year of grisaille) in The Aristides Atelier. This poster study was a preliminary step in completing my cast painting project for the year. As you can see above, from observation I reduced the cast to four basic values, keeping in mind to preserve the lightest shapes and darkest shapes. Once again, proportion wasn't as important at this point. Reducing what you see to these extreme value ranges/shapes is what is known as creating a "notan". This method of simplification acts as a foundation in which to logically move the painting forward.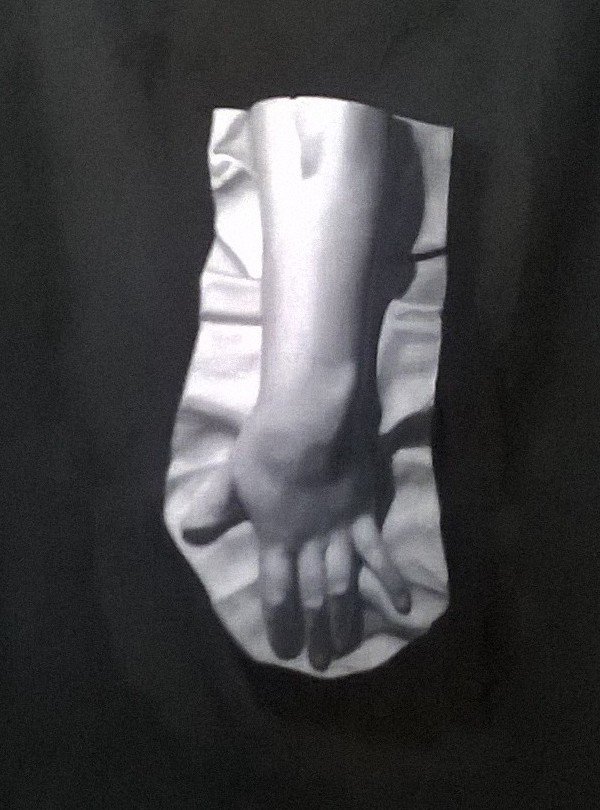 ..And here is the finished cast painting!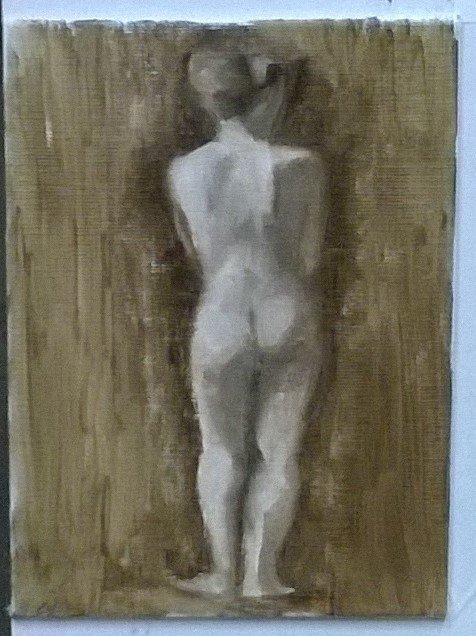 Here's another example of a poster study I finished during my second year while in life room. As you can see here, the palette (just raw umber and lead white) was extremely limited as the second year in the atelier acts basically as a bridge from drawing and later into limited palettes (warm/cool and Zorn palettes). So once again I was mindful in keeping things simple. I remember this poster study in being very helpful in that it kept me conscious of the "raking light". Raking light has to do with the concept of the gradation of value of the light that begins at the head and cascades all the way down to her feet.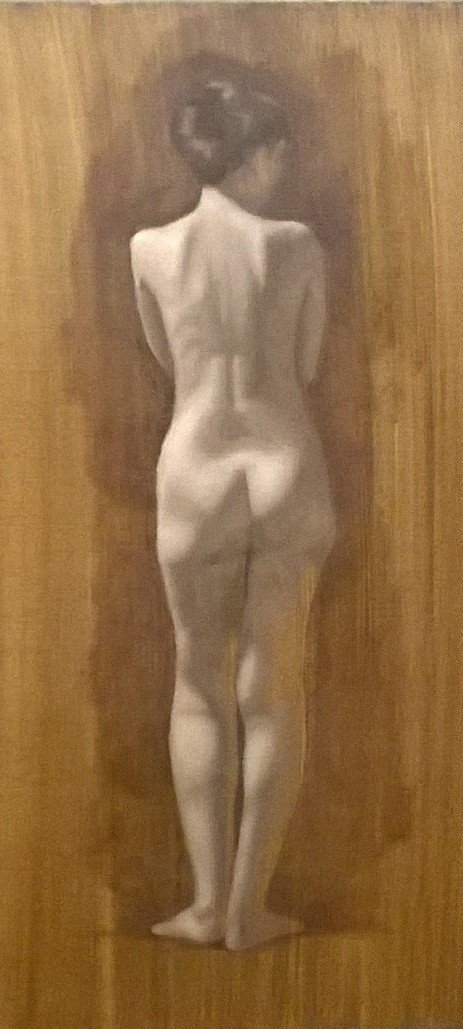 ..And here is the finished figure.
Keep in mind that it is very unlikely that you'll come up with the "perfect" poster study. Granted there will be those times where you feel you nailed the composition, the values, or the drawing, and I commend you for it! But remember, there usually will be mistakes, and finding them is kind of the point! Finding these mistakes gives you something to compare to and assures yourself that you know not to make them again. It is also important to point out that you should always keep your poster study by your side as to consistently reference from. Taping it to your easel should suffice.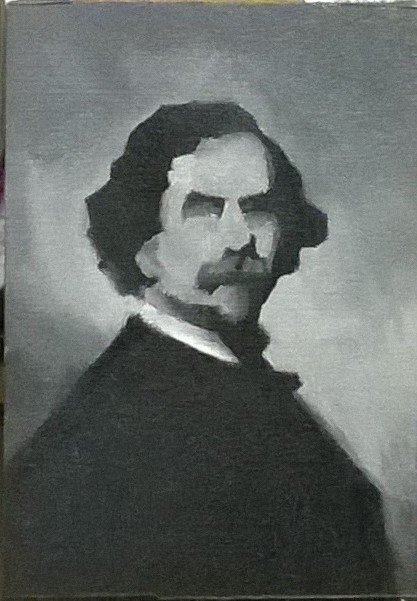 Here is a poster study of a painting originally done by George Peter Alexander Healy. Remember, the most important thing here is..Big. Simple. Shapes! ;)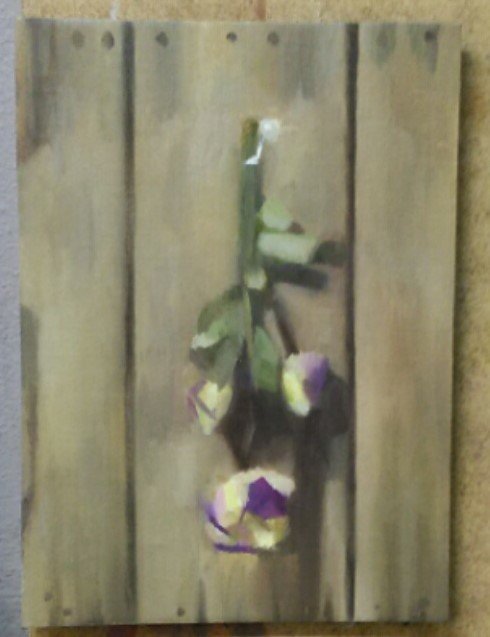 (This one was done during my final year in the atelier.)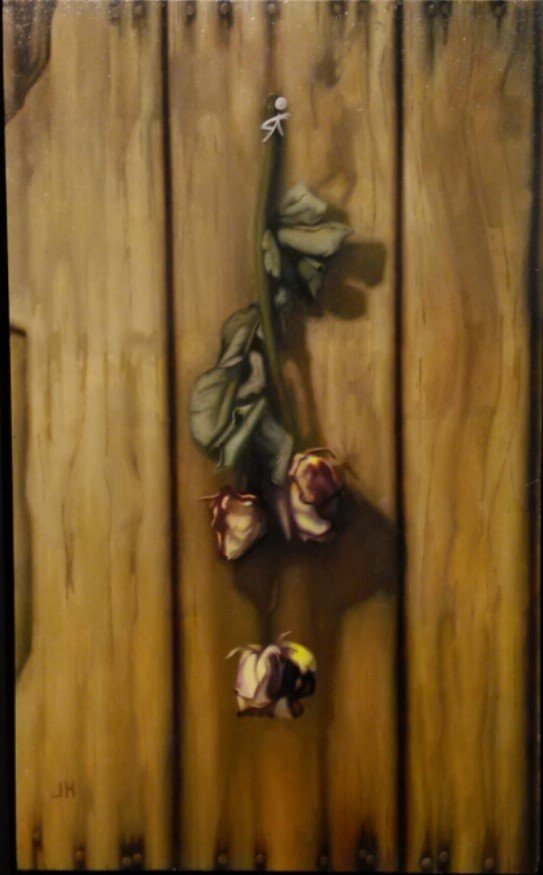 And the final painting :)
The skills acquired from working on poster studies I can definitely assure you that they transfer into your overall painting practice. Not only do block ins become increasingly accurate, but your ability to render form as well, as your eyes are progressively becoming stronger in perceiving value. It also encourages the artist to work on the painting as a whole, which allows for more freedom and control. In some of my previous posts, while I discussed and emphasized the use of having the ability to "window shade", while at the same time I feel it is a necessary skill to have, in turn it can lead into a one sided and over compensating skill which can lead into long term detrimental bad habits. It is vital in that one remains continually aware of the interconnecting relationships of a painting as a whole.
If by now you feel like you would like to do several poster studies before working on your final piece, please by all means! I highly recommend it. Say for example you were wanting to create an elaborate still life setup, in doing several versions of a poster study, it would allow for plenty of compositional and color schemes to be experimented with and solved before coming to a conclusion.
I hope this lesson has helped. If anyone has any feedback or questions, please feel free to let me know?
Thanks for reading Everyone! Happy painting!
-James Hansen
https://jameszenartist.weebly.com/