Introducing Quadsipinner Gaea - Terrain Modeling & Texturing Application for PC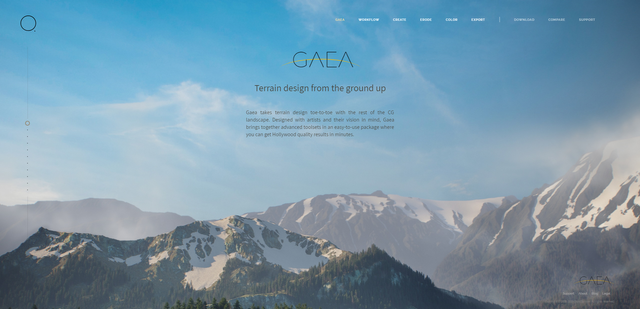 Quadspinner Gaea
Terrain Generation And Texturing for Windows
Though you may not be aware of it, there is a a whole group of artists who specialize in creating all of the wonderful terrains and environments that you see in your favorite games and in many TV shows and movies. Artists create black and white images called height maps that tell games and digital content creation software like Autodesk 3ds Max or game engines like Unreal Engine and then import or create various types of color textures and black and white masks to then make these terrains seem like real places. These textures and masks help to tell the computer to do things like vary the look and feel of these terrains and to help distribute things like rocks and plants and can create very real images and games.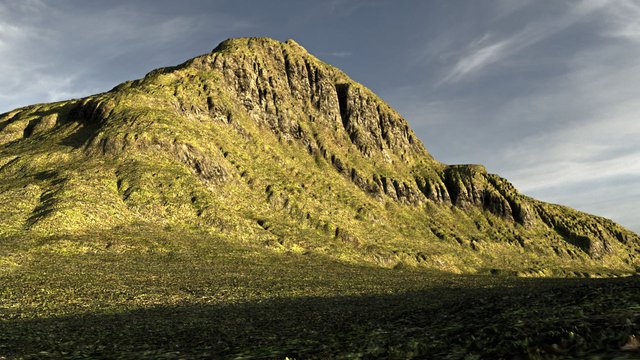 The image above was produced by me with a beta version of Gaea and then imported into 3ds Max for texturing.
Quadspinner
I am very fortunate to be Friends with one of their founders, Dax Pandhi. Their web site says this about Quadspinner;
Established in 2008, QuadSpinner is the conduit for sophisticated CG environments. We develop expedient terrain design software to empower all artists - mammoth studios, seasoned veterans, indie game developers, and newcomers with talent and vision.

We started creating artist-friendly technology to fill a gap in the industry. That demand led to popular trainings on cutting-edge tools and techniques, which steered us deeper into innovation. Clients including Activision, Microsoft, NBC/Universal, Paramount, and Sony Entertainment sought us out to create environments using our distinct methods.
*QuadSpinner has also become synonymous with intelligent, streamlined UI. Giving artists design freedom and complete creative control within a simplified, modern experience is among our core values. To help achieve this, we actively listen to the needs and wish lists of our users, and factor those requests into our planning and roadmaps.
To further support the evolution of artists everywhere, we launched the QuadSpinner Open Source Initiative. A milestone for our 10th year anniversary. Beyond CG assets, we are also open sourcing parts of Gaea's automation framework as well as tools for programming in general.
*QuadSpinner's diverse team is spread across Asia, North America, and Russia.
Dax himself is part programming genius and part drop dead amazing artist who has been in the industry a long time.
Quadspinner's early efforts in this industry focused on tools that were used with tools like E-on Software's Vue and World Machine.
A Ground Floor Opportunity
After many years of success with those products and with a great reputation in hand, Dax and company decided that it was time to not just make products to enhance terrain generation, but to create them. With this came the advent of Gaea. Which as I mentioned have been a beta tester since his first early pre-release. Why? Well according to Dax, Vue had sort of become outdated and World Machine while very powerful could be improved upon. With that Gaea was born.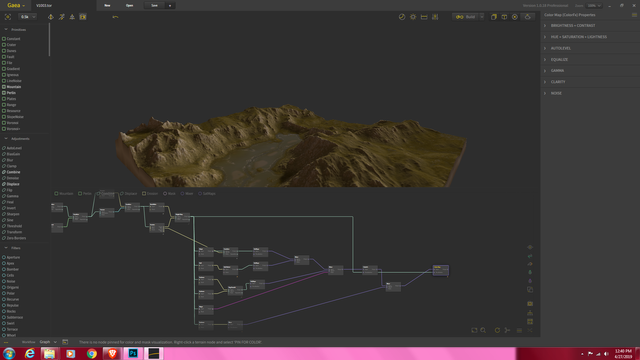 Gaea seen here in its 1.0.18 release
The picture above shows Gaea in graph mode there is also a layout mode that looks like this: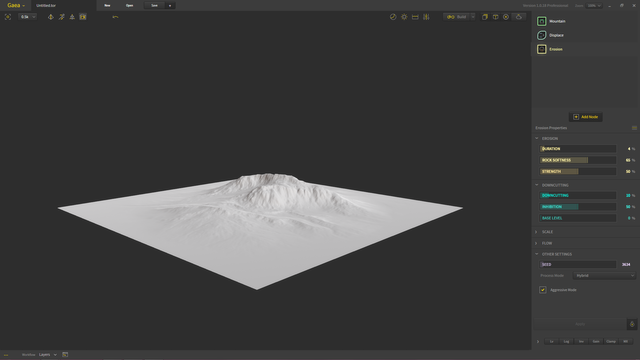 I have rarely used layout mode so images of Gaea from this point will be in the graph mode. The greatest advantage to layout mode is that it allows for somethings to be attached in a parallel manner. This is useful in the creation of things like masks and texturing and can be used with things like the wear and deposit parts of the erosion system to create all kinds of things like places for different textures to places that rocks scatter and even coverage areas for vegetation.
Recommended Hardware
The recommended configuration for running Gaea is as follows:
Microsoft® Windows® 7 (SP1), 8.1, or 10 (64-bit)
Modern i7 or similar multi-core processor
24GB RAM (32GB recommended)
10GB disk space (for cache)
Modern GPU with 1GB+ VRAM, Shader Model 3 support
DirectX 11 (DirectX 12 highly recommended)
Though I will say that I have had no problem creating 8K height maps and textures on a machine with only 16 gigs of ram you may be having to rely on your hard drive or SSD for caching and it may take considerably longer to process complex terrains this way.
Gaea features the option to have an integrated or floating window that allows you to preview the terrains that you are creating. I personally usually used multiple monitors to do my digital art and tend to use the floating window though the images that I have shown here use the embedded preview window to more easily illustrate the user interface.
A Brief Overview Of Use
In the video below Dax gives a 6 minute tutorial about the basic operation of Gaea. This software is very powerful and does not begin to talk in depth about all of the nodes that are available but does explain the basics well.
In Summary
Gaea is fast becoming my favorite way to produce high quality terrains in all of my work that needs them. It can be down loaded for free to try and has a variety of license options beginning at $99 for their indie version all the way to $299 for their enterprise version. I have used most of the industry leading software to create terrains and environments over the last ten years and I would highly recommend it for both professional and hobby artists.