You like my blue hair?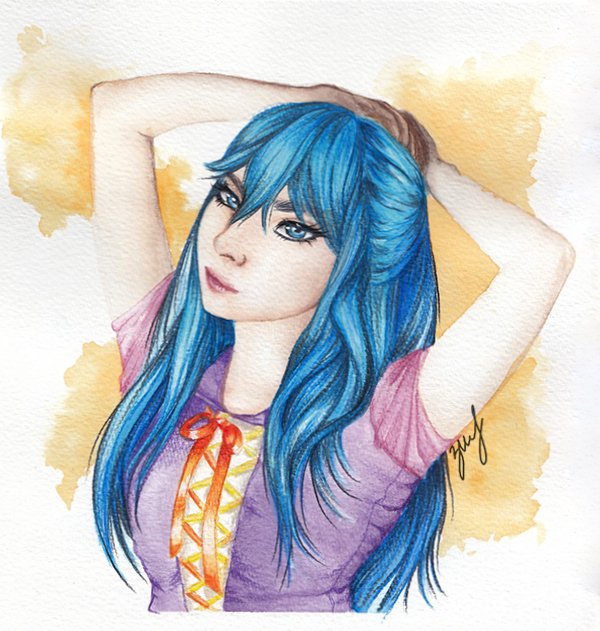 Hi, everyone! :)
I bought a new watercolor paper some time ago and until now I haven't used it, so I decided to finally give it a try.
Taking into consideration that it is coarse grain paper probably it wasn't a very wise choice to draw a human being and struggle to make an airbrushed skin. Also it was hard to make the hair detailed, so I opted to do the full shading of it with pencils instead and I loved how it turned out! The only issue being that I had to press more to get the pigment in all those nooks and crannies of the paper.
Also originally the idea was to make the sleeves of the shirt pinkish and the torso part purplish, but somewhere along the shading the colors almost look identical and the original concept was lost :p next time will have it in mind when I try something similar to use more contrasting colors.
In regards to the paper - I really liked it! I always paint on at least 5-6 layers of wash and the paper barely buckled under all that water and dried significantly fast! Next time I need to try it out with some scenery - the texture of the paper will look great :)
Until next time!
---
If you like my art, please support me by upvoting and following me not to miss out on future content :) Comments are always welcomed and I do accept constructive criticism!
If any of you are interested in buying any of my traditional original artworks that I have included in any of my posts leave me a message :) I also accept commission requests!