🎨 Sister of the Hedron - Original Painting (+ progress)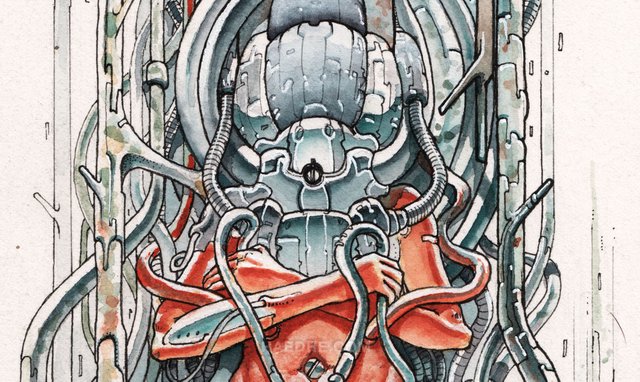 Tubes, worshipping, technoverse
The secret Metahedron, she reads
Sister of the the Hedron, she is
A technologic deity wearing interfaces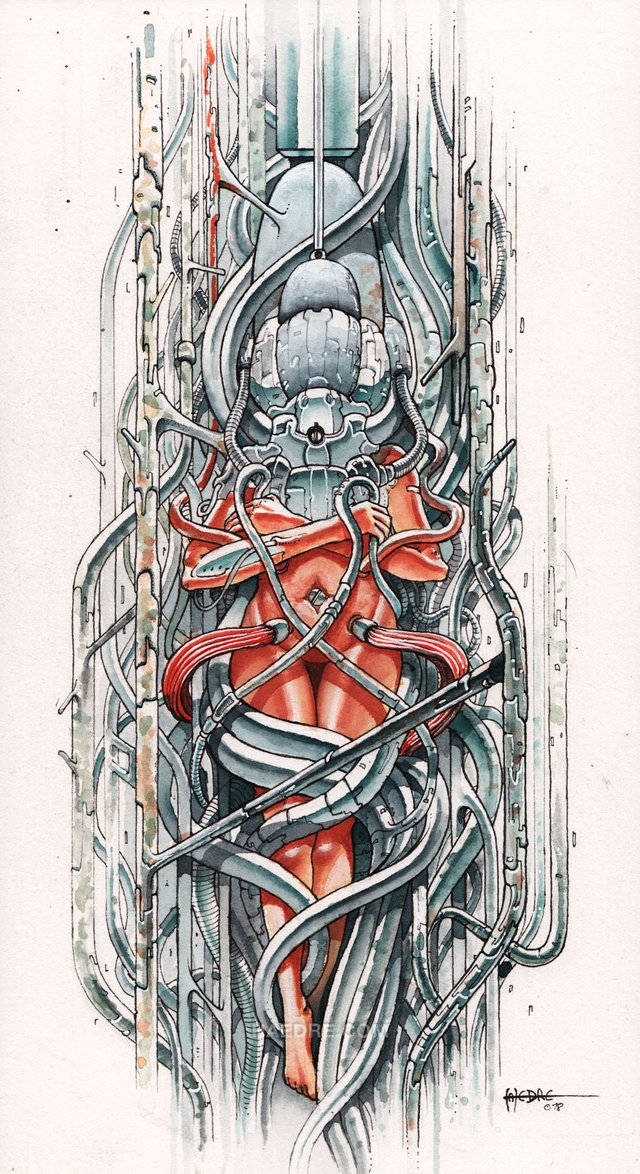 "Sister of the Hedron" 2018
Watercolor and thinliners.
16x29 cm (6,2x11,4 in)
Private collection
This painting is rather fresh! I started it last week and finished it a few days ago. It is already part of a collection because it is (late) due to one of my contributors.
Like always, the paper (Arches 300g.) is tensed on a light wood board after having been watered (and dried). Now the sketch is done, starting light inking.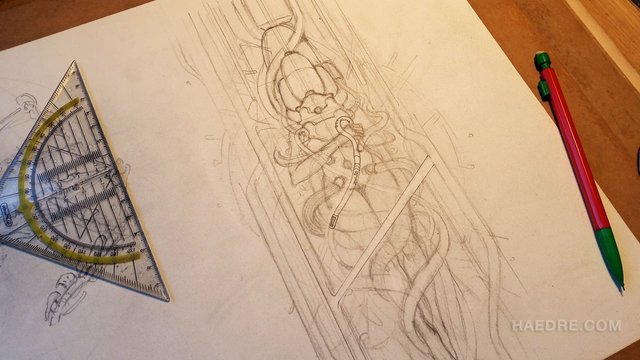 Inking process in progress. Pencil is erased.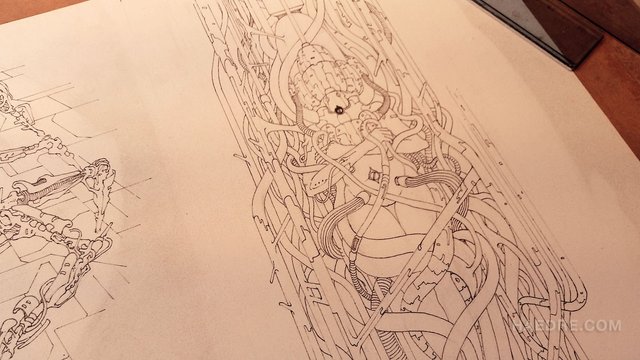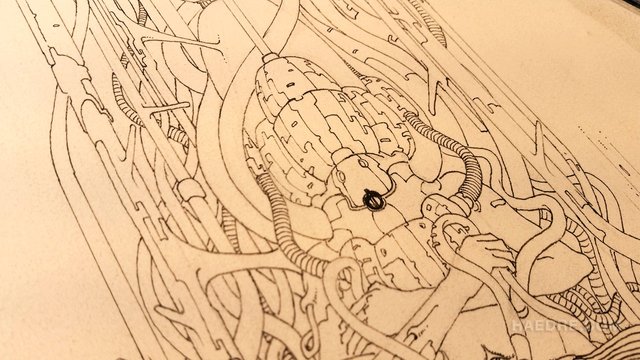 Commencing to paint with the shadows.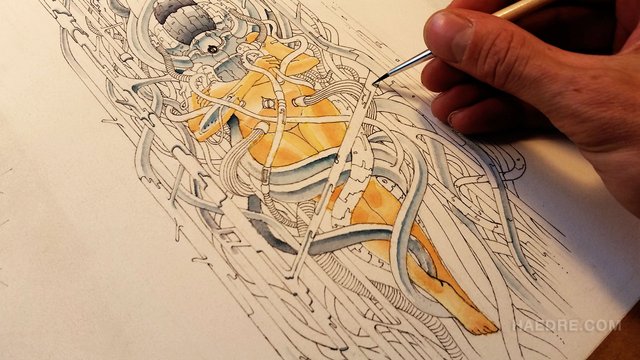 Adding more textures and other colours.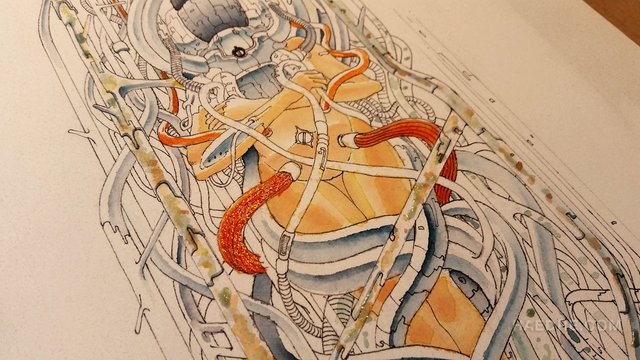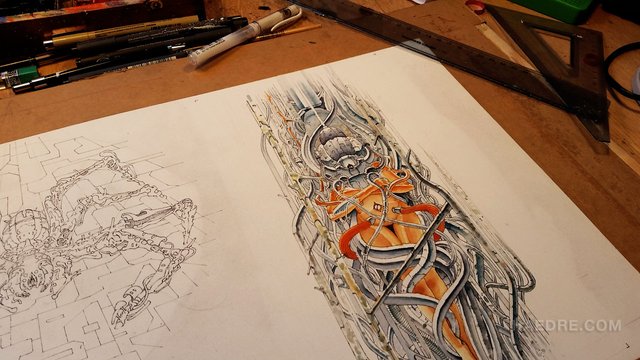 Everything still looks a bit sketchy but after this step starts new layers of details, re-outlining, white touch-up and finally the cast shadows, till the finished work.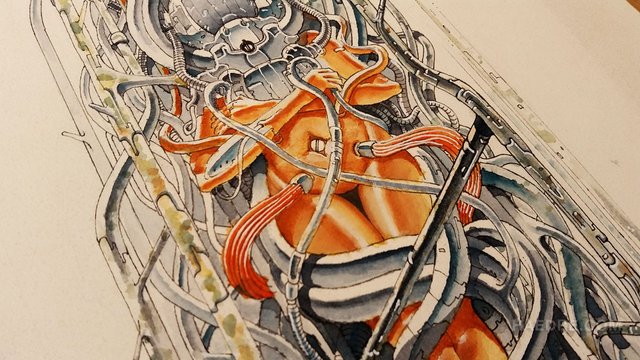 Done!
Of course I am on other pieces simultaneously. Altough I was a bit away from internet lately and haven't posted for a while (set autovotes though), I invite you to keep updated for those!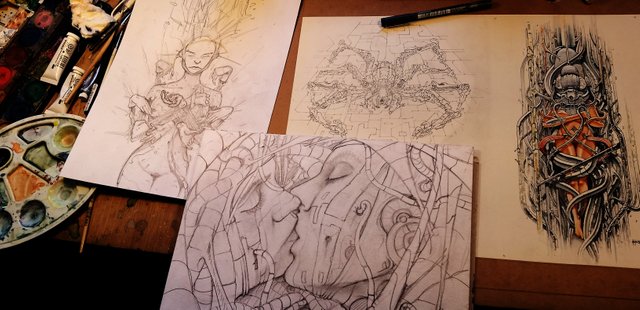 Thank you for having checked my post, I hope you enjoyed it!
---
My official website for more art: http://www.haedre.com
Dedicating to art in a rentability driven world is tough! Consider to buy me stuff! if your budget is limited, I have various formats art prints of most of my artworks. Just contact me.
And I accept cryptos of course, also for donations.
BTC: 13crkJP7G23sPeud2WnBmM9hbjze57f4o9
ETH: 0xa7B61e88d8ce1aBD543f80924F5f6D9f33E85648
Thanks again! Please don't forget to