Greetings to fans of fractal graphics!
The @fractal-team community is with you, and we continue the heading "Resource".
In this category, we will lay out the formulas for all the generators of fractal graphics, plug-ins and other very useful things and tools for your convenience of work and learning.
Hello!
I want to share with you the parameters of the fractal "Space Butterfly". This fractal was created in the program JWildfire.
In this image you can see the silhouette of a butterfly on a dark background. It seems that the butterfly is flying in outer space in the direction of a distant nebula.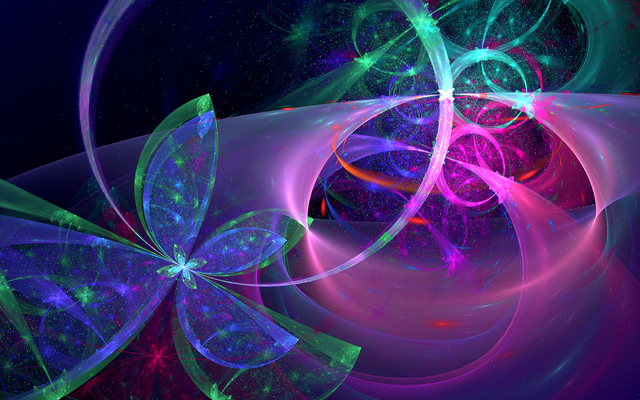 How to open?
Create a new fractal in the JWildfire program, the New from scrath button.
Copy the parameters that are below.
Click the From Clipboard button.
Experiment and enjoy new images.
Show your work.
<flame name="Outlines - 779628314" smooth_gradient="0" version="JWildfire V3.50 (28.07.2018)" size="1440 900" center="-0.15652765780830852 1.0525692881341433" scale="252.34883779079402" rotate="43.0" filter="1.16" filter_type="GLOBAL_SHARPENING" filter_kernel="MITCHELL_SMOOTH" filter_indicator="0" filter_sharpness="4.0" filter_low_density="0.025" oversample="4" post_noise_filter="0" post_noise_filter_threshold="0.35" quality="25.0" background_type="GRADIENT_2X2_C" background_ul="0.0 0.0 0.2" background_ur="0.0 0.0 0.0" background_ll="0.0 0.0 0.0" background_lr="0.0 0.0 0.2" background_cc="0.0 0.0 0.0" bg_transparency="0" brightness="5.31" saturation="1.0" gamma="4.0" gamma_threshold="0.01" vibrancy="1.0" contrast="1.0" white_level="220.0" temporal_samples="1.0" cam_zoom="1.1173446983653565" cam_pitch="0.0" cam_yaw="0.0" cam_persp="0.0" cam_xfocus="0.0" cam_yfocus="0.0" cam_zfocus="0.0" cam_pos_x="0.0" cam_pos_y="0.0" cam_pos_z="0.0" cam_zpos="0.0" cam_dof="0.0" cam_dof_area="0.5" cam_dof_exponent="2.0" low_density_brightness="2.07" balancing_red="1.0" balancing_green="1.0" balancing_blue="1.0" cam_dof_shape="BUBBLE" cam_dof_scale="1.0" cam_dof_rotate="0.0" cam_dof_fade="1.0" resolution_profile="2560x1600" antialias_amount="0.25" antialias_radius="0.5" post_symmetry_type="NONE" post_symmetry_order="3" post_symmetry_centre_x="0.0" post_symmetry_centre_y="0.0" post_symmetry_distance="1.25" post_symmetry_rotation="6.0" frame="1" frame_count="300" fps="30" post_blur_radius="0" post_blur_fade="0.95" post_blur_falloff="2.0" zbuffer_scale="1.0" mixer_mode="OFF"> <xform weight="4.358692297414327" color="0.9666680617982951" symmetry="0.9163653018679613" mirror_pre_post_translations="0" material="0.0" material_speed="0.0" mod_gamma="-0.45555685680457136" mod_gamma_speed="0.811227976232102" mod_contrast="0.62793892573089" mod_contrast_speed="0.0" mod_saturation="0.6454063137162784" mod_saturation_speed="0.0" mod_hue="0.8841656519743539" mod_hue_speed="0.0" spherical3D_wf="1.0" spherical3D_wf_fx_priority="0" spherical3D_wf_invert="1" spherical3D_wf_exponent="2.147319979649085" coefs="6.123233995736766E-17 -1.0 1.0 6.123233995736766E-17 1.0 0.0" chaos="1.0 1.0 1.0 0.0 0.0 1.0 1.0"/> <xform weight="1.6353811947131904" color="0.4161314754845745" symmetry="0.9103165494380595" mirror_pre_post_translations="0" material="0.0" material_speed="0.0" mod_gamma="0.28491988510533806" mod_gamma_speed="0.7818138793523812" mod_contrast="-0.47133350507087024" mod_contrast_speed="0.0" mod_saturation="0.4542765022019981" mod_saturation_speed="0.0" mod_hue="0.3554163386409859" mod_hue_speed="-0.6167438722162064" spherical3D_wf="1.0" spherical3D_wf_fx_priority="0" spherical3D_wf_invert="1" spherical3D_wf_exponent="2.0" coefs="6.123233995736766E-17 -1.0 1.0 6.123233995736766E-17 0.0 0.0" chaos="1.0 1.0 1.0 0.0 0.0 1.0 1.0"/> <xform weight="0.5" color="0.025529994752584106" symmetry="-1.0" mirror_pre_post_translations="0" material="0.0" material_speed="0.0" mod_gamma="0.4444794304871844" mod_gamma_speed="-0.5430502374598509" mod_contrast="-0.6685108775590543" mod_contrast_speed="0.0" mod_saturation="0.5551213333871674" mod_saturation_speed="0.0" mod_hue="0.9141584282305972" mod_hue_speed="0.0" pre_blur="0.40303209691104136" pre_blur_fx_priority="-1" ztranslate="0.0830220535681141" ztranslate_fx_priority="0" cylinder_apo="0.10616997186224107" cylinder_apo_fx_priority="0" coefs="1.0 0.0 0.0 1.0 0.0 0.0" post="1.0 0.0 0.0 5.0 0.0 0.0" chaos="1.0 1.0 1.0 1.0 1.0 1.0 1.0"/> <xform weight="0.5" color="0.23069026014338234" symmetry="-1.0" mirror_pre_post_translations="0" material="0.0" material_speed="0.0" mod_gamma="-0.3405231376311948" mod_gamma_speed="0.0" mod_contrast="0.7291359682483096" mod_contrast_speed="0.0" mod_saturation="0.9562686386170167" mod_saturation_speed="0.5662240985468019" mod_hue="-0.7895631818024058" mod_hue_speed="0.0" pre_blur="0.03897297224696283" pre_blur_fx_priority="-1" ztranslate="0.1668581235062292" ztranslate_fx_priority="0" cylinder_apo="0.11740218888411301" cylinder_apo_fx_priority="0" coefs="1.0 0.0 0.0 1.0 0.0 0.0" post="1.0 0.0 0.0 3.0 0.0 0.0" chaos="1.0 1.0 1.0 1.0 1.0 1.0 1.0"/> <xform weight="0.1" color="0.013069019975433638" symmetry="-1.0" mirror_pre_post_translations="0" material="0.0" material_speed="0.0" mod_gamma="-0.39379289168830667" mod_gamma_speed="-0.6717048236033962" mod_contrast="0.41285121259332325" mod_contrast_speed="0.0" mod_saturation="-0.7287620238344255" mod_saturation_speed="0.0" mod_hue="-0.10844802060868952" mod_hue_speed="0.15580381471059757" gaussian_blur="0.007000040674360615" gaussian_blur_fx_priority="0" ztranslate="0.007597228684827744" ztranslate_fx_priority="0" coefs="1.0 0.0 0.0 1.0 0.0 0.0" post="1.0 0.0 0.0 1.0 0.3 0.0" chaos="1.0 1.0 1.0 1.0 1.0 1.0 1.0"/> <xform weight="0.5" color="0.0" symmetry="0.0" mirror_pre_post_translations="0" material="0.0" material_speed="0.0" mod_gamma="0.9243993524210439" mod_gamma_speed="0.0" mod_contrast="-0.3689887682754187" mod_contrast_speed="0.0" mod_saturation="0.9256438433750918" mod_saturation_speed="0.4665424964927134" mod_hue="-0.5793193726145822" mod_hue_speed="0.0" crackle="2.3837362064174474" crackle_fx_priority="0" crackle_cellsize="0.6229250855479653" crackle_power="0.2" crackle_distort="2.27169775010839" crackle_scale="0.0" crackle_z="0.4712026757519386" coefs="1.0 0.0 0.0 1.0 0.0 0.0" chaos="1.0 1.0 1.0 1.0 1.0 1.0 1.0"/> <xform weight="1.0428265729590913" color="0.0" symmetry="0.0" mirror_pre_post_translations="0" material="0.0" material_speed="0.0" mod_gamma="0.0" mod_gamma_speed="0.0" mod_contrast="0.0" mod_contrast_speed="0.0" mod_saturation="0.0" mod_saturation_speed="0.0" mod_hue="0.0" mod_hue_speed="0.0" splits="8.127806552180424" splits_fx_priority="0" splits_x="0.4" splits_y="0.6" coefs="1.0 0.0 0.0 1.0 0.0 0.0" chaos="1.0 1.0 1.0 1.0 1.0 1.0 1.0"/> <finalxform weight="0.0" color="1.0" symmetry="0.8270519745443345" mirror_pre_post_translations="0" material="0.0" material_speed="0.0" mod_gamma="0.0" mod_gamma_speed="0.0" mod_contrast="0.0" mod_contrast_speed="0.0" mod_saturation="0.0" mod_saturation_speed="0.0" mod_hue="0.0" mod_hue_speed="0.0" spherical3D_wf="0.5348351087056344" spherical3D_wf_fx_priority="0" spherical3D_wf_invert="0" spherical3D_wf_exponent="2.068062557016984" coefs="-0.7017792597478957 -0.646497433843203 -0.7313289555748216 0.7485196539528759 -0.05558428744282322 0.2287407121219681" post="1.0 0.0 0.0 1.0 0.0 -0.25" chaos="1.0 1.0 1.0 1.0 1.0 1.0 1.0"/> <palette count="256" format="RGB"> EFA78FEFA78FEFA78EEFA68EEFA68EEFA68EEFA68DEFA58DEFA58DEFA58CEFA58CEFA58C EEA48BEEA48BEEA48BEEA48BEEA38AEEA38AEEA38AEEA389EEA389EEA289EEA289EEA288 EEA288EEA188EEA187EEA187EEA187EEA187EEA086EEA086EEA086EEA085EE9F85ED9F85 ED9F84ED9F84ED9E84ED9E84ED9E83ED9E83ED9E83ED9D82ED9D82ED9D82ED9D82ED9C81 ED9C81ED9C81ED9C80ED9C80ED9B80ED9B7FED9B7FED9B7FED9A7FED9A7EED9A7EEC9A7E EC9A7DEC997DEC997DEC997DEC997CEC987CEC987CEC987BEC987BEC987BEC977AEC977A EC977AEC977AEC9679EC9679EC9679EC9678EC9678EC9578EC9578EC9577EB9577EB9477 EB9476EB9476EB9476EB9476EB9375EB9375EB9375EB9374EB9274EB9274EB9273EB9273 EB9173EB9173EB9172EB9172EB9172EB9071EB9071EB9071EB9071EA8F70EA8F70EA8F70 EA8F6FEA8F6FEA8E6FEA8E6EEA8E6EEA8E6EEA8D6EEA8D6DEA8D6DE88C6CE78B6BE58A6B E4896AE28869E18768DF8668DD8567DC8466DA8365D98265D78164D58063D47F62D27E62 D17D61CF7C60CE7C5FCC7B5ECA7A5EC9795DC7785CC6775BC4765BC3755AC17459BF7358 BE7258BC7157BB7056B96F55B76E55B66D54B46C53B36B52B16A51B06951AE6850AC674F AB664EA9654EA8644DA6634CA5624BA3614BA1604AA05F499E5E489D5D489B5C47995B46 985A45965A449559449358439257429056418E55418D54408B533F8A523E88513E87503D 854F3C834E3B824D3B804C3A7F4B397D4A387C49387A4837784736774635754534744434 7243337042326F41316D40316C3F306A3E2F693D2E673C2E653B2D643A2C62392B61382B 5F382A5E37295C36285A3527593427573326563225543124523024512F234F2E224E2D21 4C2C214B2B20492A1F47291E46281E44271D43261C41251B40241A3E231A3C22193B2118 392017381F17361E16341D15331C14311B14301A132E19122D18112B171129161028160F 26150E25140D23130D22120C20110B1E100A1D0F0A1B0E091A0D08180C07160B07150A06 1309051208041007040F0603 </palette> </flame>