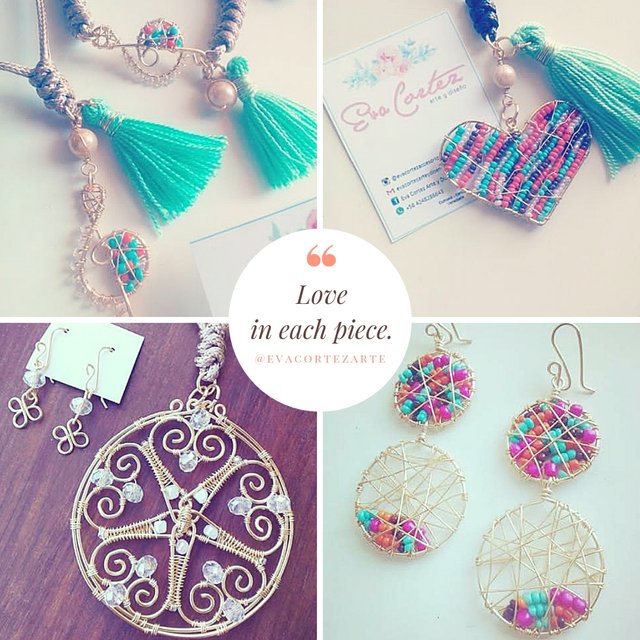 Four years ago I started my goldsmith classes with great enthusiasm in an academy located in the city of Caracas, far from the city where I live.
I traveled every 15 days, on weekends. The tour was 8 hours a night by bus to arrive at dawn, see intensive classes during the day and return that same night 8 hours again back. It was quite exhausting, because I saw classes tired, without having slept; However, I was happy because I had always wanted to learn the techniques of this wonderful art.
After 2 months I could not continue, as the problems of transportation to the capital city became acute and a period of protests started in my country.
I postponed my dreams of becoming a Goldsmith. However, I put into practice the techniques of openwork on bronze that I had learned.
Soon, I am pregnant with my beautiful daughter. So I had to suspend my studies and goldsmithing practices for a very long time, because goldsmithing requires physical effort and exposure to chemicals, materials and tools, not advisable while you are pregnant.
Then, my daughter is born and I dedicate myself to her full-time care. I understood that my passion for goldsmithing should wait, and conditions would be favorable for it.
I decided then to explore other options more within my reach and it was when I got into the wire-wrapping technique; He had basic knowledge and skills. At first I was not very enthusiastic about the idea, but it was what I could do while taking care of my baby.
So I was discovering a great talent, I was passionate about the alambrismo, the constant practice led me to develop a great skill in it. Today is one of my star talents = D I am pleasantly proud when I see my first pieces (somewhat rough) and my current pieces. Through alambrismo I have gained recognition in the artisanal world where I develop.
Life always leads us on paths to happiness, we must not resist, we must flow in the midst of circumstances.
Sometimes we believe that only a certain path will lead us to happiness and when circumstances take us away from it, we see it as a great setback.
Let's learn to see the opportunities in the midst of any situation, there will always be a path to take; let yourself go and flow, open your eyes well because perhaps happiness is within your reach, through that new path where life leads you and you resist to follow.
Today the alambrismo has given me recognition and great economic, material and immaterial satisfactions.
Today I give thanks for having given me the opportunity to explore and develop a talent that, had it not been for those apparently contradictory circumstances, I would not have discovered.
The road to happiness is not always the one we plan.
I wish you the best.