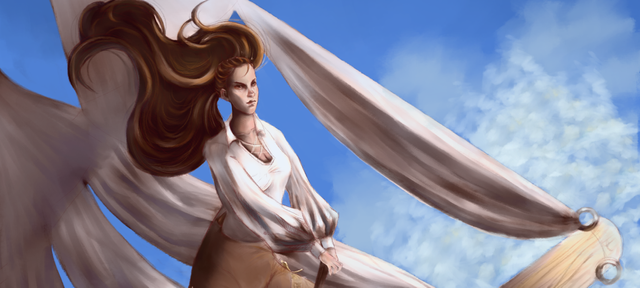 ¡Saludos nuevamente, viajeros! En esta oportunidad, quiero compartir con ustedes una Ilustración, que a su vez se trata de una comisión (cuento con el permiso del cliente para publicarla en esta plataforma) para la portada de un libro de género fantástico, titulado Fantasy Showcase Illustrated, cuya respectiva protagonista es una pirata de nombre María. Si gustan, pueden entrar a la página de Facebook del autor, haciendo click en este enlace.
*P.D.1.: La entrada que están por apreciar no se trata de un tutorial, sino más bien de mis ganas de compartir con ustedes el proceso que llevo a cabo durante mis trabajos, y de esperar que quizá puedan serles útiles de algún modo. Comprendo que es la misma idea de un tutorial, sin embargo, aún con ello, repito, esto no es un tutorial. Podría extenderme en explicar el por qué, pero eso ya sería tema para una entrada que no realizaré, por motivo de que me parece que no les interesaría demasiado, pues es algo más bien personal.
*P.D.2.: Para esta ilustración utilicé algunos pinceles importados de Krita 3.1.3
Así pues, comenzaré a explicar el procedimiento que he llevado a cabo con el fin de obtener el resultado final.
Greetings again, travelers! On this occasion, I want to share with you an Enlightenment, which in turn is a commission (I count with the client's permission to publish it on this platform) for the cover of a fantastic genre book, entitled Fantasy Showcase Illustrated, whose respective protagonist is a pirate named Maria. If you like, you can enter the author's Facebook page by clicking on this link.
*P.D.1 .: The entry you are about to appreciate is not about a tutorial, but rather about my desire to share with you the process that I carried out during my work, and to hope that maybe they could be useful in some way. I understand that it is the same idea of ​​a tutorial, however, even with it, I repeat, this is not a tutorial. I could expand on explaining why, but that would be the subject of an entry that I will not make, because I think it would not interest them too much, because it is something rather personal.
*P.D.2 .: For this illustration I used some brushes imported from Krita 3.1.3
So, I will begin to explain the procedure that I have carried out in order to obtain the final result.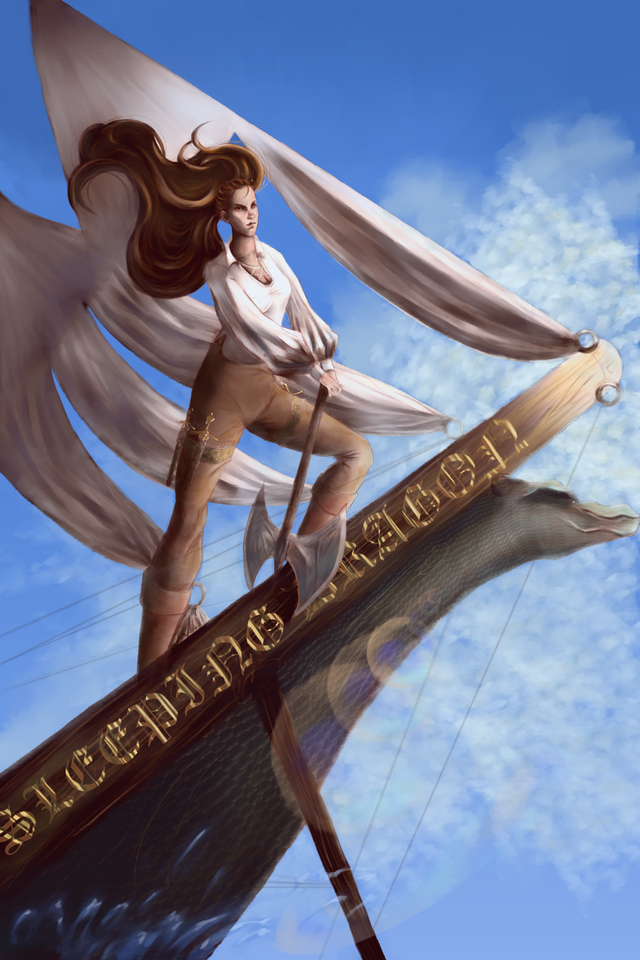 1.
Lo primero que realicé fue un esbozo en el que se apreciara la idea que buscaba ilustrar. Para ello utilicé el lápiz charcoal pencil médium (disponible en el menú desplegable de pinceles).
The first thing I did was an outline in which the idea I wanted to illustrate was appreciated. For this I used the pencil charcoal pencil medium (available in the drop-down menu of brushes).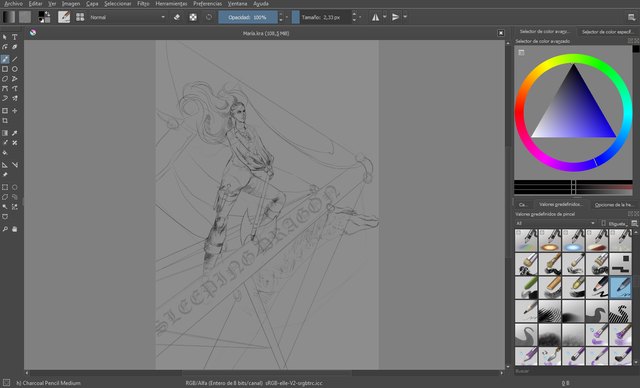 2.
Seguidamente comencé a generar una mancha a escala de grises, utilizando el pincel bristless wet (importado de Krita 3.1.3). Esto me serviría para ubicar los tres tonos (altos, medios y bajos) dentro de la composición. La idea de generar una escala de grises antes de aplicar el color, radica en que, al momento de colorear, el ilustrador pueda centrarse netamente en ello, sin preocuparse por valores, texturas, volúmenes y demás.
Then I started to generate a grayscale spot, using the bristless wet brush (imported from Krita 3.1.3). This would help me to locate the three tones (high, medium and low) within the composition. The idea of generating a gray scale before applying the color, is that, when coloring, the illustrator can focus clearly on it, without worrying about values, textures, volumes and others.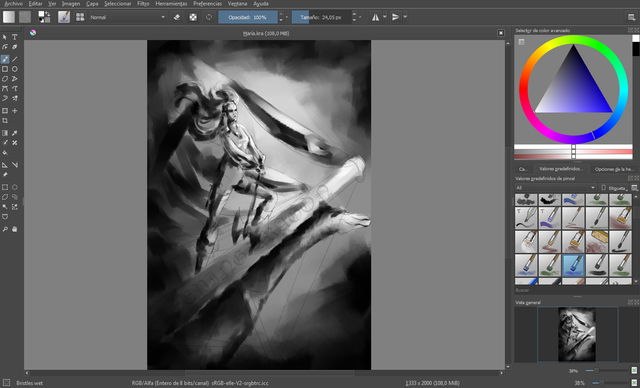 3.
Seguidamente comencé a definir la mancha, iniciando siempre con los elementos que se encuentran en el último plano e ir avanzando progresivamente hasta el primero, esto se debe a que de hacerse de otro modo, se corre el riesgo de "manchar" los elementos ya definidos. Para ello utilicé el pincel bristles wet, así como blender basic (disponible en el menú desplegable de pinceles) para definir las texturas de mayor suavidad, véase la piel de María, como también el fondo. Por otra parte, para los ropajes utilicé pinceladas de mayor rapidez, generando los pliegues de las telas.
Then I started to define the stain, always starting with the elements that are in the last plane and progressively progressing to the first, this is because of doing otherwise, you run the risk of "staining" the elements already defined . To do this, I used the bristles wet brush, as well as blender basic (available in the drop-down menu of brushes) to define the softest textures, see María's skin, as well as the background. On the other hand, for the clothes I used brush strokes more quickly, generating the folds of the fabrics.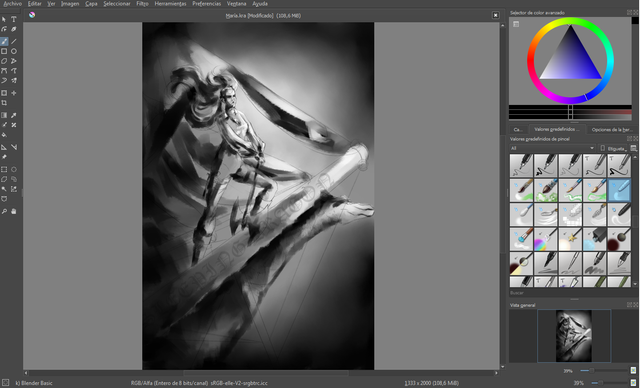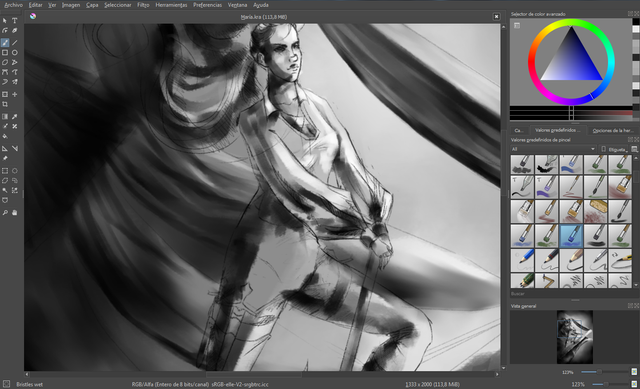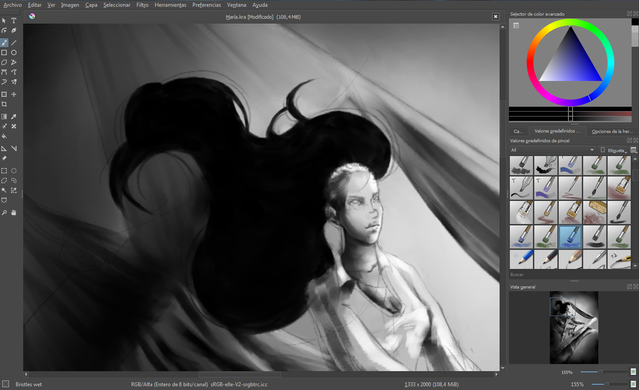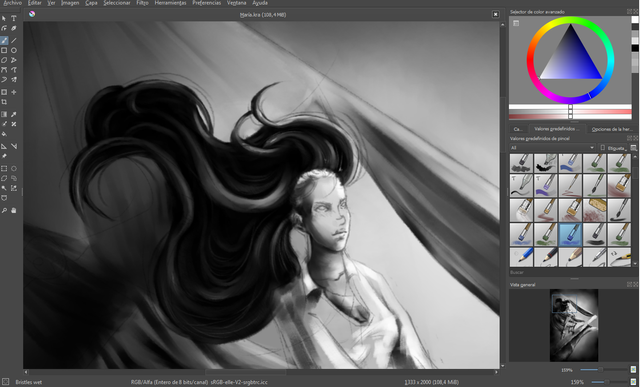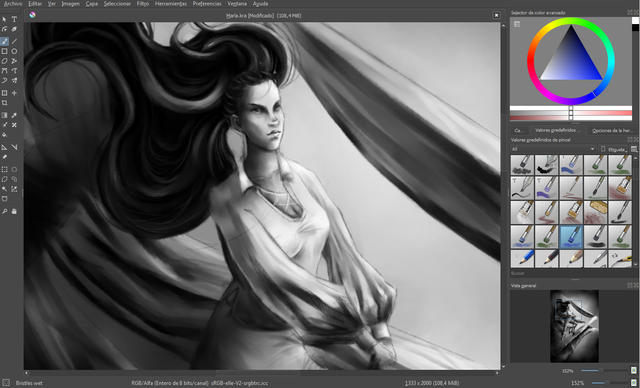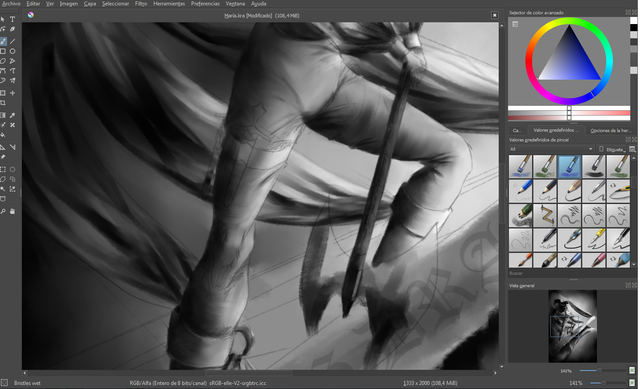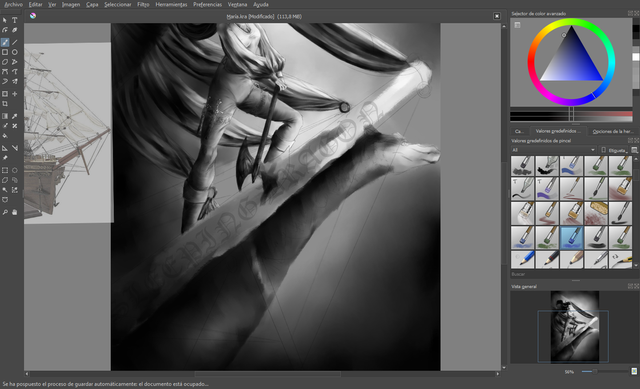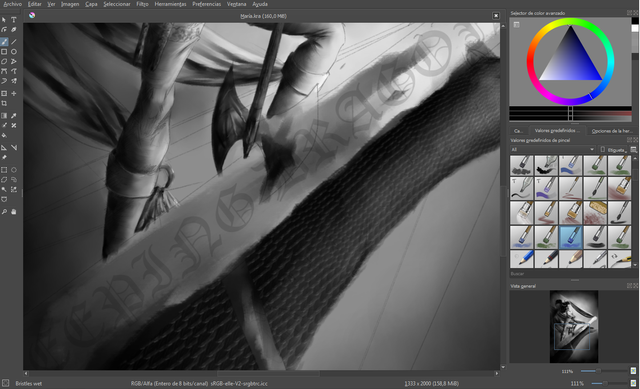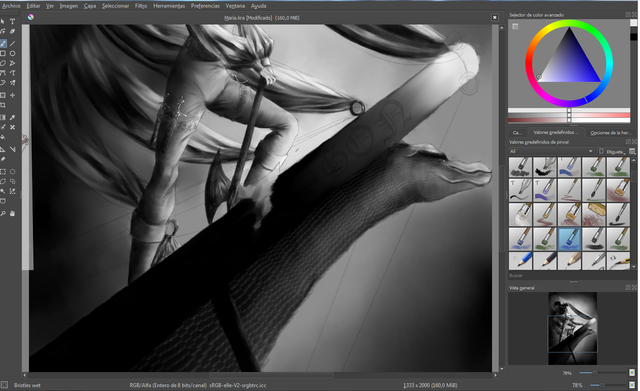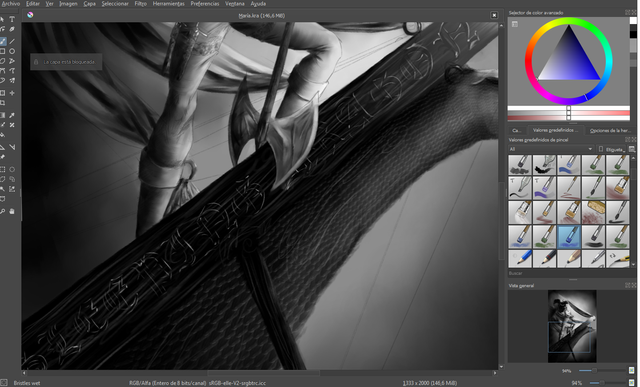 4.
Acto seguido dupliqué la capa de la escala de grises (o la capa de tonos) con el objetivo de mantener una copia de respaldo en caso de que la precise. En Krita se consigue presionando en el teclado CTRL+J.
Then I duplicated the gray scale layer (or the tone layer) in order to keep a backup copy in case I needed it. In Krita you get by pressing on the keyboard CTRL + J.


5.
A continuación, transformé la capa de los tonos en una composición monocromática con predominancia de un color rojo-anaranjado, con el fin de armonizar la composición en tanto color se refiere. En krita se logra presionando en el teclado CTRL+U > Tipo > croma azul/croma rojo/ luma > ajustar los controles de modo manual > OK
Next, I transformed the layer of the tones into a monochromatic composition with a predominance of a red-orange color, in order to harmonize the composition as a color. In krita is achieved by pressing on the keyboard CTRL + U> Type> chroma blue / chroma red / luma> adjust the controls manually> OK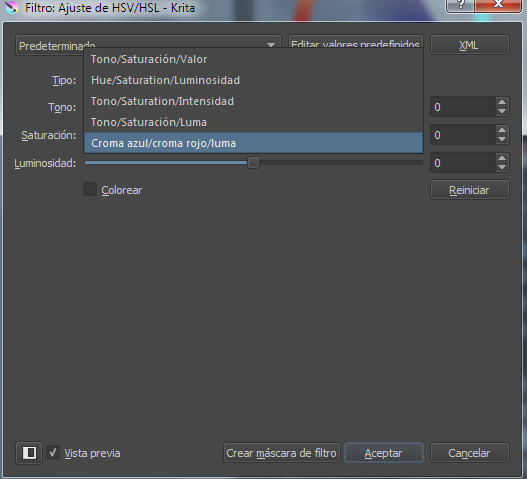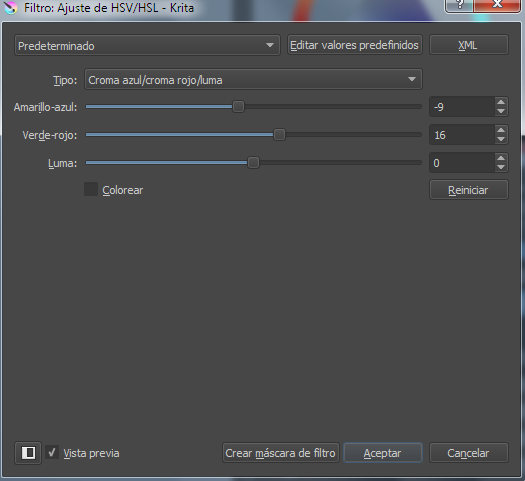 6.
Comencé a colorear utilizando el pincel bristles wet, presionando ligeramente la tableta, dejando a entrever la capa inferior (la de los tonos).
I began to color using the bristles wet brush, lightly pressing the tablet, letting you see the lower layer (the one of the tones).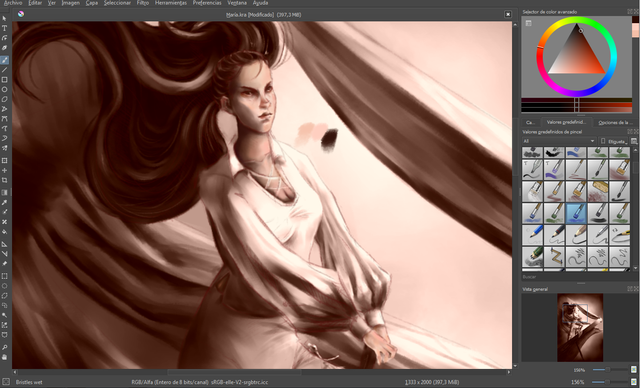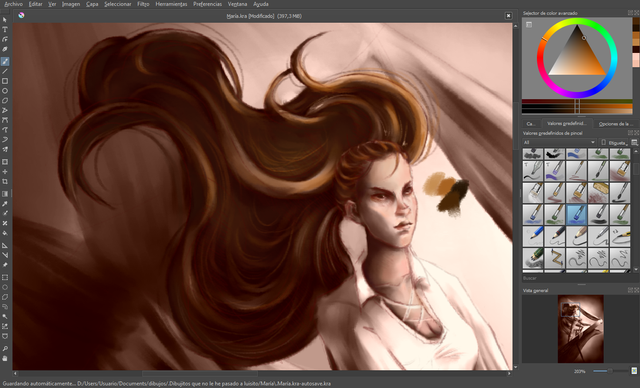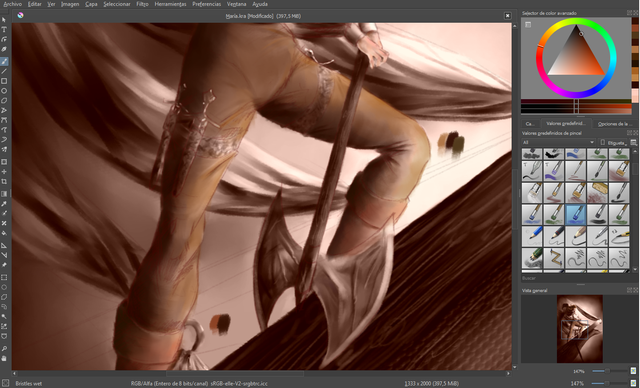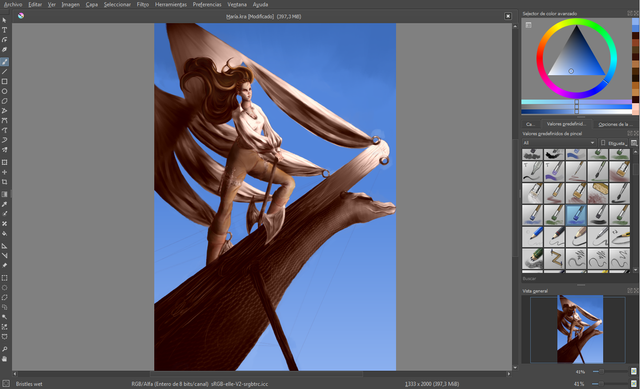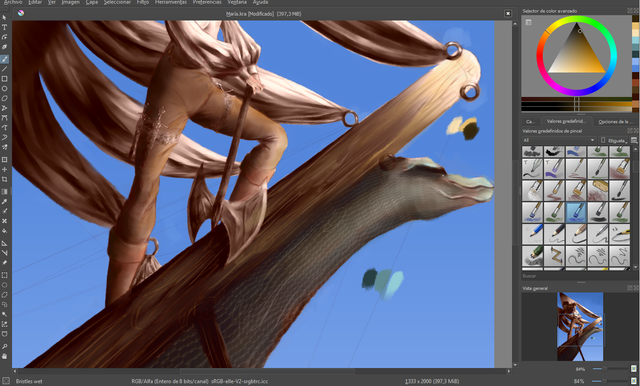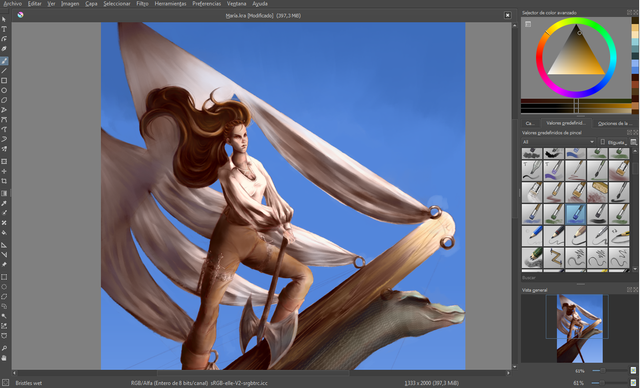 7.
Continuando con el pincel bristles wet, generé, en una capa nueva, una mancha con el fin de iniciar con las nubes, definiéndolas progresivamente, con pinceladas cortas en un sentido diagonal/vertical, acreditándole una textura visual suave y esponjosa propia de estos elementos.
Continuing with the bristles wet brush, I created, in a new layer, a spot in order to start with the clouds, defining them progressively, with short brushstrokes in a diagonal / vertical direction, establishing a soft and spongy visual texture typical of these elements.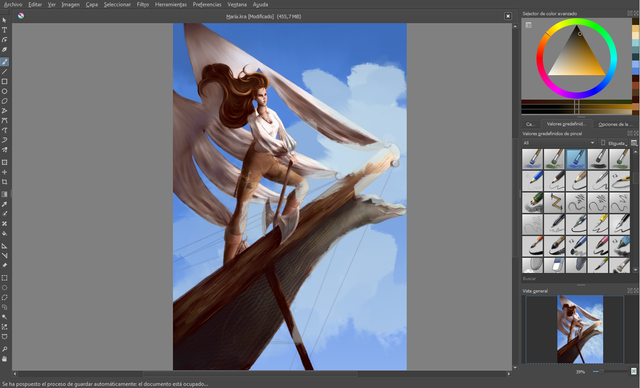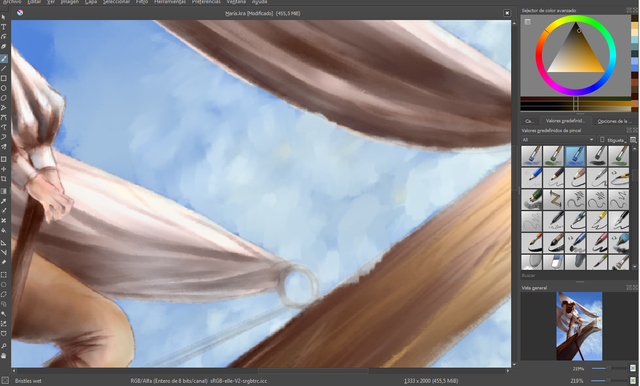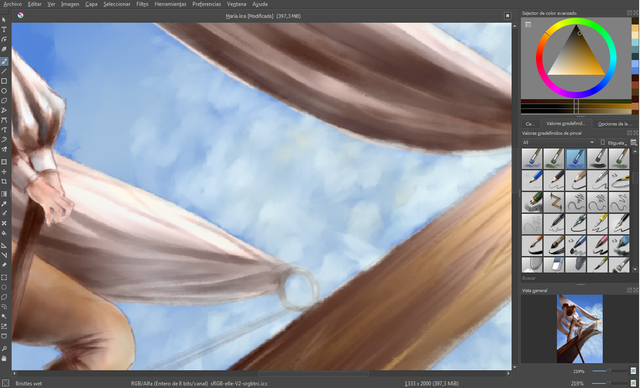 8.
Por último añadí algunos detalles, véase el agua que salpica, el reflejo del sol, así como las letras en las que se lee el nombre del barco.
Finally I added some details, see the water that splashes, the reflection of the sun, as well as the letters in which the name of the ship is read.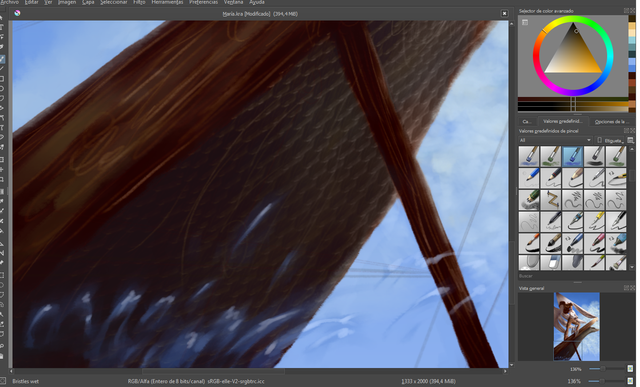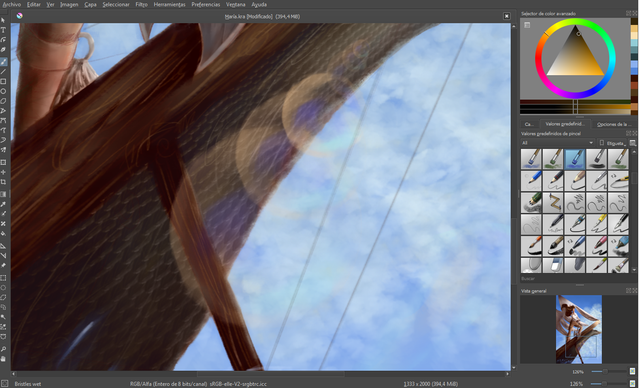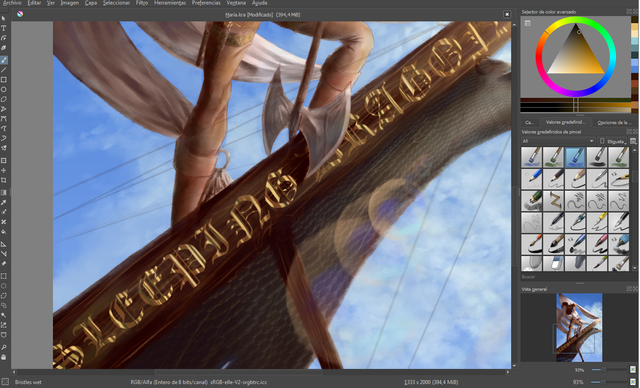 *¡Yyyy, aquí tienen la ilustración finalizada, viajeros! Si tienen alguna duda, sugerencia, comentario, no duden en manifestarla. En fin, gracias por leer hasta el final, recuerden que continuaremos subiendo entradas de este tipo. Se despiden con muchíiiisimo amor, el Lobo y la Luna. <3
P.D.: La ilustración fue realizada en el software Krita 4.1.5
*Aaand, here's the finished illustration, travelers! If you have any questions, suggestions, comments, do not hesitate to express it. Anyway, thanks for reading until the end, remember that we will continue uploading entries of this type. They say goodbye with a lot of love, El lobo and La Luna. <3
P.D .: The illustration was made in the software Krita 4.1.5
Facebook
Tumblr
Instagram
Deviantart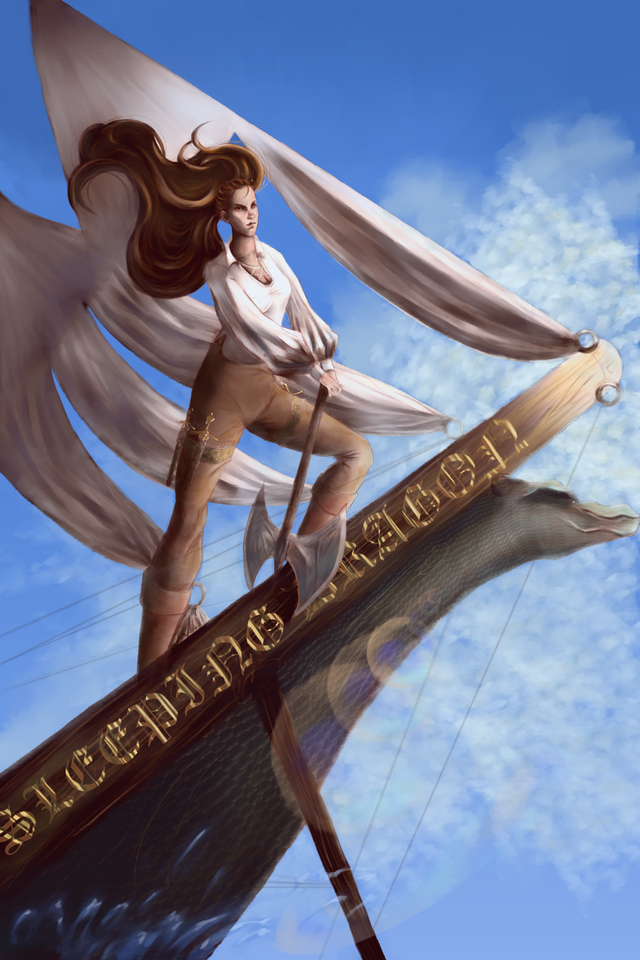 "This work is licensed under a Creative Commons
Attribution 4.0 International License"
Copyright @elsll - All Rights Reserved