Introduction for who want join the Rare Pepe Cards movement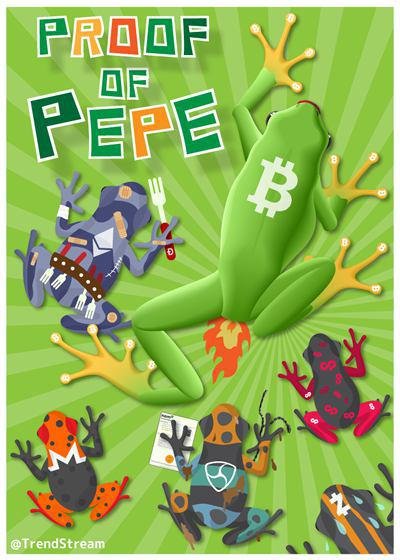 .
For years, almost decades, people have been trying to preserve the rarest of rare pepe from being stolen; that was, in first time unsucessfull and painfull... see here
But now, Bitcoin and Counterparty permit us to associate these Rare Pepes with tokens to make them truly rare and exclusive. With this proof of ownership, Rare Pepe Card's (RPC) can preserve their rareness and actually be traded on the market, exchanged between collectionor or given (give away, Takara airdrop, etc). It's for this ultimate conservative purpose that My Rare Pepe have emerged. This fondation, with is boards of specialists, are dedicated to bringing us, by certification, the most rare and beautiful pepe cards on the internet. They are the first to link pepe's and cryptography to bring us the first truly rare pepes secured by the Bitcoin blockchain.
Anybody who wants to create a pepe card can proposed it for certification! Come on the Rare Pepe Directory, for knowing the simples rules to follow when you create your artwork and your token.
The last series just received it's last certificated cards ! now we have 500 rare pepe cards in existence!!!
The Pepe community is very pleased that the rare pepe directory have certificated the last cards of the last series (for the moment!!). Thank very much to the rare pepe directory for his great certification work and more generally for all those who have been participated in this first batch! Now, a break is taken for preserving the rareness, and no more RPC can be submited!
You can access to all the series and cards (Series 1 to 10, 50 cards by series) on rare pepe directory and become to collecting them using the Rare Pepe Wallet or another counterparty wallet compatible. The former permits you to directly buy/sell Rare pepe cards for XCP AND Pepecash.
A still growing environnement

Introducting Rare Pepe MarketCap
The Rare Pepe Environment still growing and you can see now the market cap of Rare Pepe Card on dedicated chart! On the site you can also vote for your favorite Rare Pepe Card...
Congrats to the devs of this so important tools!! Don't hesitate to use it and vote for your most popular Pepe!
As with other crypto projects, you can find a plurality of app and dev that structure the same community. This plurality is a force to increase the resilience of the network and to offer everyone the possibility of finding what they came to look for.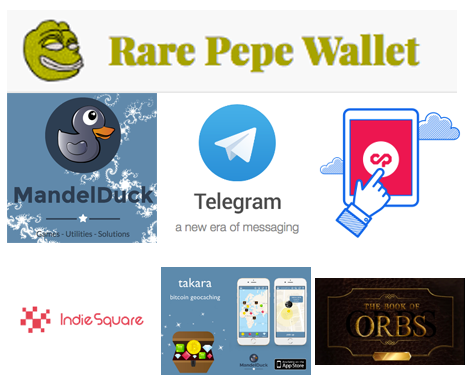 Wallet
You can find a fully working rare pepe wallet to view the Pepes you own rarepepewallet or use a counterparty wallet compatible (counterwallet, indiesquare or Book of Orbs). The later, BoO wallet is an app for your phone and supports spells of genesis and RarePepe cards here.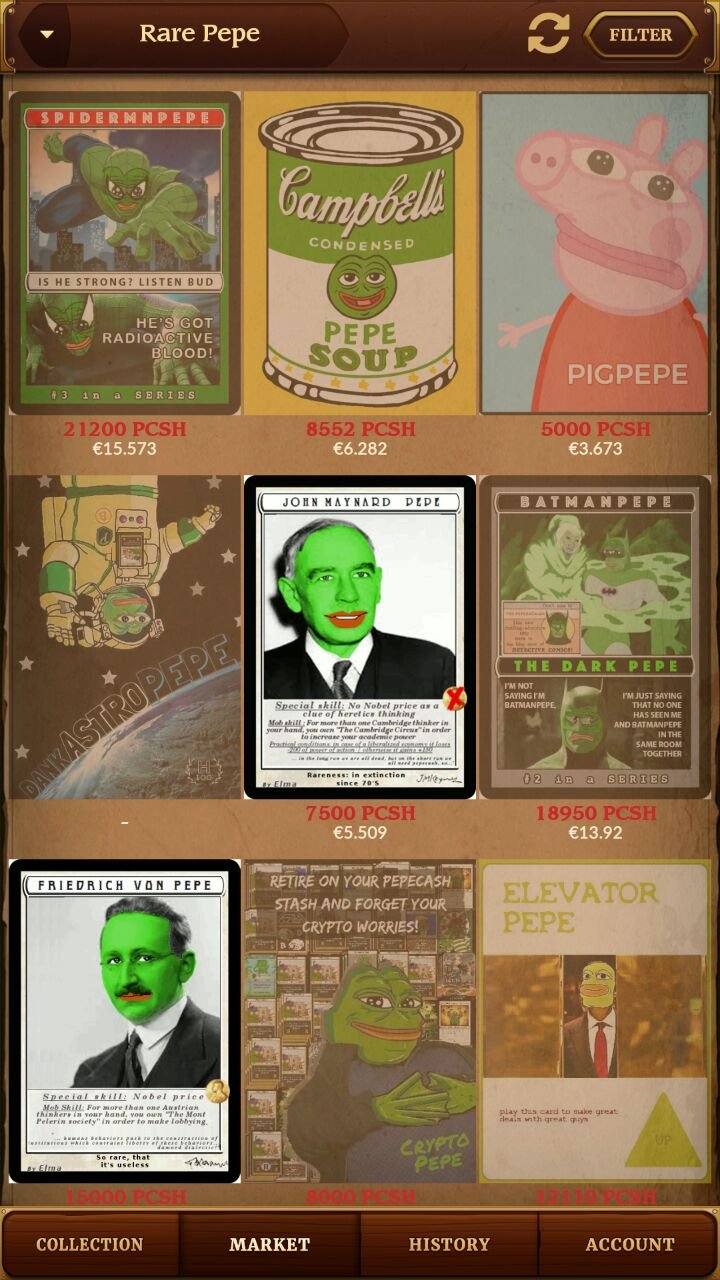 Community
Join our rare pepe telegram chat: 1/ Download a telegram chat app here and 2/go here
Come and meet the Pepe Community, members are from all around the world and love fun.
Twitter Contact: @myrarepepe
All information on rarepepedirectory.com;
[Ann] on bitcointalk
RarePepeNews.com is a cool website which want "bringing you the dankest rare Pepe news. [they] cover new card releases, controversies, new high price points, who's who in the rare Pepe zoo".
Pepe Cash, a Rare Pepe Card AND the fuel money of RPC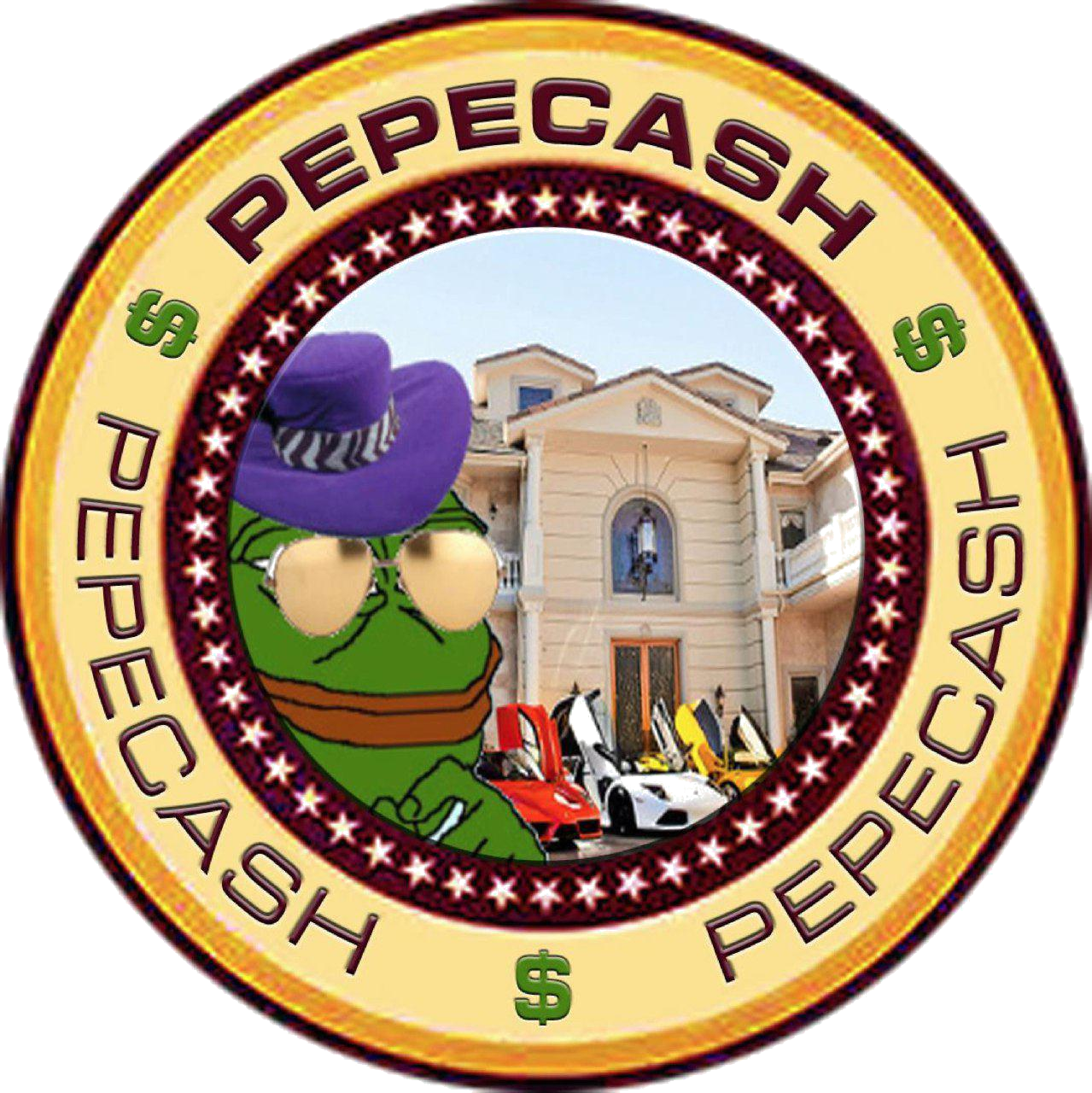 PepeCash is a card just like all the other on this directory, but unlike everyone else it is alot more liquid!
PepeCash is meant to be the currency of the Pepeconomy: it's needed to pay your submission fee to get your Rare Pepes into this directory, and into the wallets for purshasing RPC (you can choose with PepeCash and XCP, it dipends of the wallet you use). Some member of the community are also working on games that will use PepeCash (we will speak of that later). Each week Rare Pepe directory burn, in glory of Kek, half or the earnings from submissions.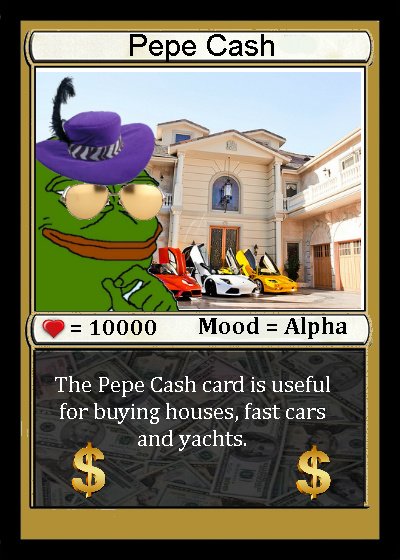 Exchanges
PepeCash, , is available on two exchanges in addition to the counterparty DEX (builtd in all counterparty wallet).
You can trade Pepe cash on Zaif.jp exchange; and on Tux exchange. The former is a famous japan exchange, and the Pepe community have made, and still do, a really nice job of translation. The second, is a sympathic exchange for crypto-currencies. They have naturally added Pepecash on their chart, because they are really open to the meme and pepe economy! A clue? Some Dogecoin will be given to you for the first registration and they already have created and certificated a Rare Pepe card: TUXPEPE
After reaching our 500 cards and during the break... pepe community go forward!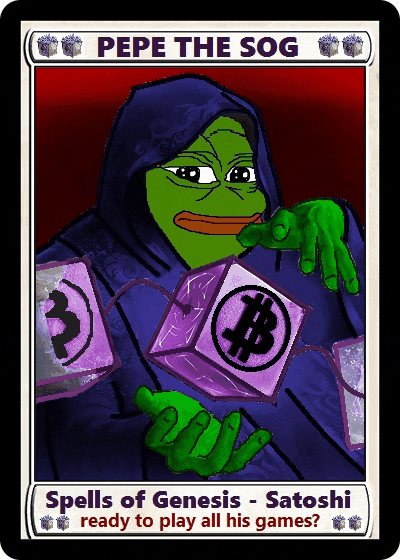 Forthwith after reaching an important milestone for the pepe community (the limits of the first 500, see the post above), we are already looking at new horizons! We want to give to the majority of all these cards, a meaning and a use so that they became more than just a collector's or speculation's item. What more coherent than making with this beautifull cards made by the community a trading card game (TCG). Spells of Genesis opened the door, Force of Will followed closely and NOW "Rarepepe.party" is coming to "rock the house"!!! With Rare Pepe cards we have already more cards than the previous two combined! Anyway all these TCG cards can be held in the same place, a counterparty wallet compatible or Book of Orbs wallet which is made for the three...
And folks, this game is in progress and it is realized by the team of Rarepepe.Party that make and still do a great job and that needs our support and participation.
Here see the teaser of the game
Rarepepe.party: a pepe game crowdsourced by the community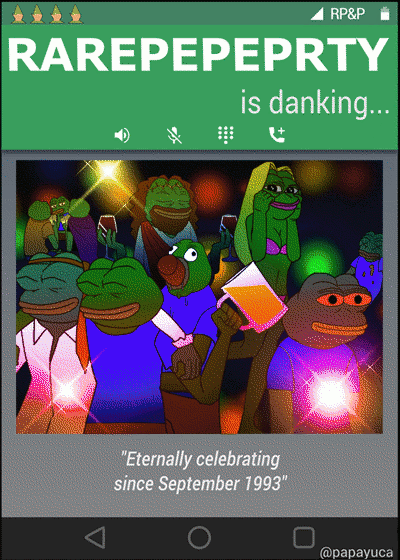 Because all of this was born from the insides of the Counterparty project, the team decided that the only logical step for this game to be funded is to issue a Counterparty token that will represent each share of the business "entity". This token is called RAREPEPEPRTY and like other Rare pepe cards have been certificated by the Rare Pepe Directory. But more than other, this token represents share which allow in return each shareholder to receive dividends from the business, through Counterparty's dividend mechanism. A total of 100,000 shares exist under the RAREPEPEPRTY token which are listed on coin market cap. Shares are issued through the DEX in successive waves with a quantity and price determined for each of them. Each mark a new level of development of the game and a doubling of the price for the next lot for sale. Today we are now in the phase 3 and 8000 shares are to sell at 0.5 XCP before passing the phase 4 (16000 shares will be sold at 1 XCP each; ...for the specific info see directly the RarePepe.party business proposal)
You can NOW participating to the crowd-founding of this beautiful pepe project which in addition will directly stimulate the Counterparty Community and more generally the crypto one... You just have to own a counterparty compatible wallet like RarePepeWallet or BookOfOrbs or Indie square. And then, go to the DEX and searching for buy the RAREPEPEPRTY.
And more!
Soon, a main interface of the game will provide gamers the ability to buy booster packs! They will contained approximately 10 cards with different level of scarcity (rare, epic, exceptional, uncommon, commons)- but all of this is indicative and are not for the time being definitively established)
Booster sales will be payable with XCP, BTC or PEPECASH and again this is going to be a stimulating element for the Counterparty platform and the exchange that have already listed these tokens (see below...)
Pepe's artists are not left behind
Pepe artists wishing to participate can do. They just have to send their certified creations to the address below
12LEpGGUnt2hezVCX234QAXvYJxFSi5QF3
They thus supply the account which will be used for the constitution of the booster pack and will of course receive a part of the sale of these.
For more information on the entire project, talk about the game, share ideas and content ask directly to the dev. Join the dedicated Rare Pepe Party Chat on telegram @RarePepeParty
Open and diversified community, prompt to debate
Our community is prompt to debate and very open to the pluralism and controversory... but first of all she is tolerante!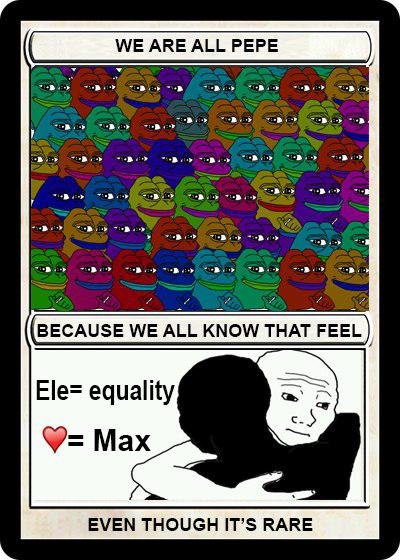 See how Keynes and Hayek meet on pepe card and discuss of crypto political economics... Whereas they were opposed in theory and politics, they have shared a deep interest for old and rare books, and now, they find a common interest in rare and collectible blockchain Rare Pepe Cards... it's going back full circle.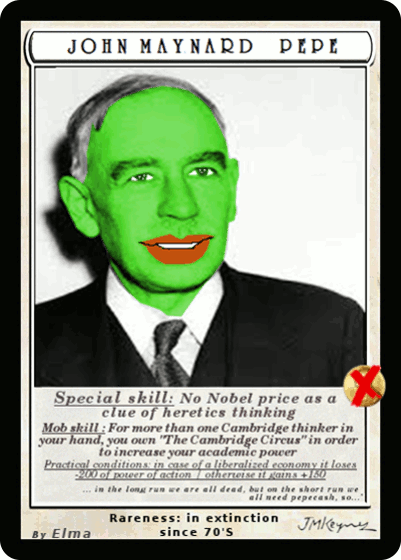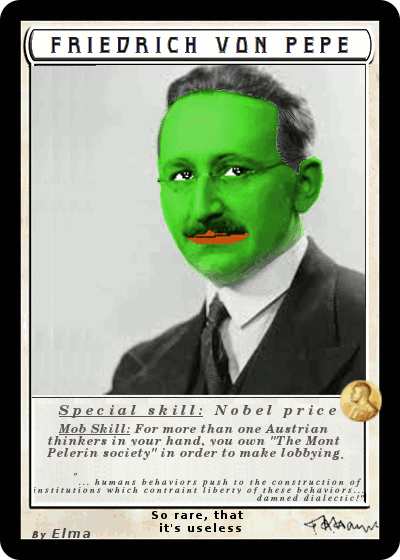 VONPEPEHAYEK. Austrian Font, Amount Issued: 101; Series n°10; Good Nobel "price" cause of this scarcity, and so one...
JMPEPEKEYNES. Cambridge Font, Amount Issued: 275; Series n°10; No Nobel "price" explain by it's heterodox approach and due to the inflation he creates against the annuitants...
These two cards are proposed by your hosts...
Be part of the legends, became a rare pepe esthete...
Be Rare | Be Nice | Be Pepe
"The more we will be, the more fun we will end and the more value we will generate", R.Verpepe, in PepeDesk.con
"Pepecash spread, the price will triple, and the entire world become Pepe" Vinny Pepegham, on PepeTelegraph
"Lost Rare pepe card only make everyone's Rare pepe card worth slightly more. Think of it as a donation to Kek and trough him, to everyone..." Satochi Pepemoto quoted in Pepecoinest
"We have elected to put or money and faith in a Kek and pepe framework that is free of politics and human error" Tyler Pepelevoss in Pepenest
"If you don't believe pepe or don't get it, i don't have time to try to convince you..." Satochi Pepemoto quoted in Pepecoinest
Content from my LTBC thread