"Sexy tropical art"
Hello friends!
Long time since I was not. And all because I drew this juicy illustration. I'm just in love with this drawing! But I was hard at work on it, so I did not post anything for a long time.
When I began to see that my drawing skills were improving, I was thinking of doing an illustration with a face. Not part, as it was before, but a full-fledged person. I chose the photo and the process started. In the original, a girl with her hair down. And I also tried to draw them, but to my regret, drawing hair is still difficult for me. I tried and dismissed and gathered in a bunch of hair, but I did not succeed. My girlfriend looked like anyone, but not just a girl. And a wonderful thought came to me, and why not make it in a bandage? I began to sketch the lines and to my surprise it turned out much better than with the hair. Maybe this is not the best solution, but I liked it.
As for the person himself, I drew it relatively quickly. I really like how the lips turned out, such alluring. At the expense of the eyes, I do not know what they like, but something is wrong. And in the end I decided to add tropical leaves, I thought they were here to the place.
I think that it turned out very well.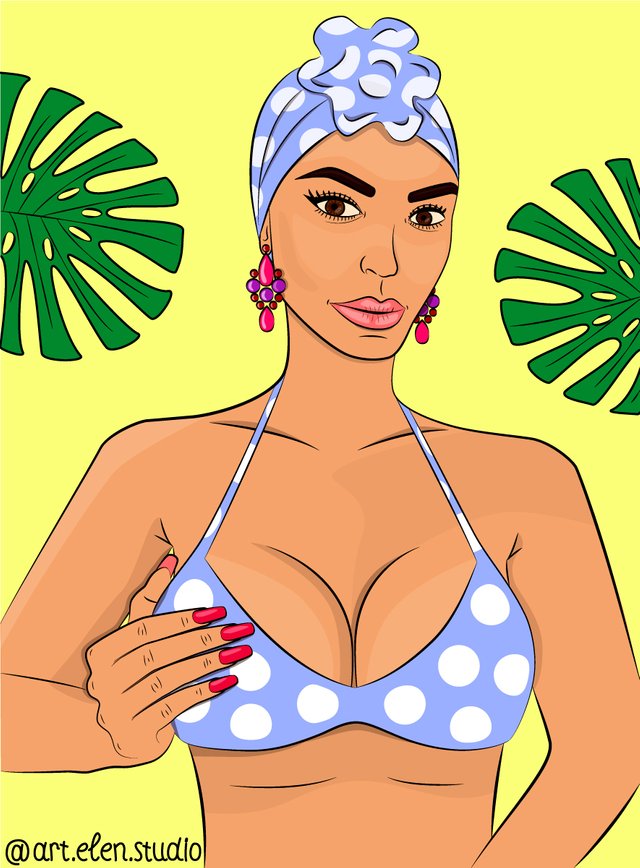 I hope you liked my post!
Come and subscribe to my account in Instagram...
https://www.instagram.com/art.elen.studio/