I got Steemit some mainstream press - more on the way!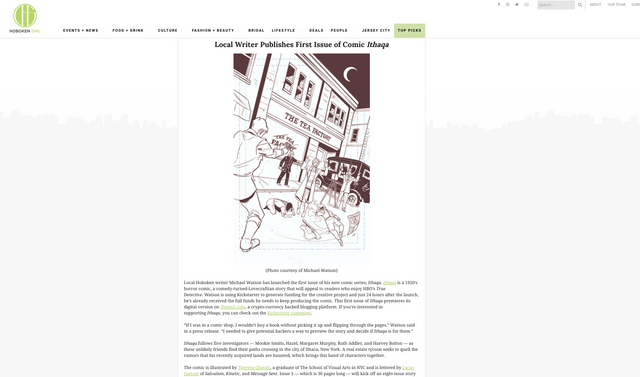 My attempts at drumming up some press for the comic, and our blog on steemit continue. We had a victory over the weekend when we got covered in the very popular Hoboken/Jersey City news outlet, "Hoboken Girl".
https://www.hobokengirl.com/news-hoboken-jersey-city-march-31-2019/
You got to scroll down a ways to get to us in the article, but some people did, because I received a few emails asking to download the comic. Hopefully we got some fellow starving artists reading the news, so we can show them how to get paid for their work on steemit!
I've got an interview with the Ithaca Voice tomorrow morning, and I will of course mention how steemit has helped keep this project afloat through hard financial times.
In the meantime, our Kickstarter has completely stalled. We still got time to turn it around, but if you guys could shout it out on Steemit, or put me in contact with a blogger or influencer you know, I'd be much obliged. Let's make this happen!
https://www.kickstarter.com/projects/494808041/ithaqa-horror-comic-issue-1?ref=nav_search&result=project&term=ithaqa%20comic