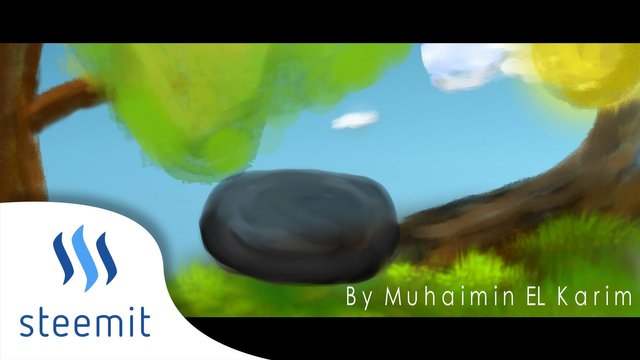 Hai steemian, Saat ini aku sedang belajar melukis melalui software Krita. Ini adalah pertama kali aku membuat lukisan melalui digital.  
Aku ingin menceritakan pengalamanku, Pertama kali sejak dulu aku berumur 7 tahun, aku belum bisa melukis atau menggambar pada saat itu. Ntah kenapa saat aku mencoba untuk melukis atau menggambar suatu objek, tanganku selalu bergetar dan tidak bisa menarik penaku untuk melukis. Aku bingung mengapa aku begini. 
Aku sempat berfikir kalau aku itu mungkin dilahirkan tidak bisa memegang pena atau pensil untuk menggambar. Aku mencoba-coba sampai umur ku 15 tahun dan aku pun belum bisa untuk melukis. Pada saat itu aku berhenti untuk memegang pensil atau penaku. Saat aku berumur 18 tahun aku sempat berfikir untuk mencari di internet untuk melihat akses internet. hal ini aku mungkin bisa untuk mecoba mencari bagaimana aku bisa melukis yang benar dan tidak gugup. Aku mendapat dari akses internet, dan aku termotivasi seseorang pelikus di dunia yaitu Abdullah Suriosubroto. Dia adalah seorang pelukis lahir di Semarang tahun 1878 dan meninggal di Yogyakarta tahun 1941.
Tak panjang cerita aku pun bisa menggambar atau melukis dengan tangan, dan di bawah ini itu pertama kali aku melukis dengan digital.
Ini cerita pendekku dan pengalamanku. :)
Pemandangan yang mungkin belum ku ketahui apa sebenarnya yang ku lukis. 
Lukisan ini tak seindah yang kau bayangkan,
tak sejelas rasa perih yang tersamarkan. hehehe :D
ENGLISH
Hi steemian, I am currently learning to paint through Krita software. This is the first time I make a digital painting.
I want to share my experience, The first time since I was 7 years old, I have not been able to paint or draw at that time. When I try to paint or draw objects, my hands always vibrate and can not pull the pen to paint. I'm confused why I'm like this.
I had time to think that I might be born unable to hold a pen or pencil to draw. I dove until I was 15 years old and I can not paint. At that moment I stopped to hold a pencil or pen. When I was 18 years old I had thought to search the internet to see internet access. This I might be able to try to figure out how I can paint correctly and not be nervous. I got from internet access, and I was motivated by someone in the world that is Abdullah Suriosubroto. He was a painter born in Semarang in 1878 and died in Yogyakarta in 1941.
Soon I could also draw or paint by hand, and below it I first painted with digital.
Here's my short story and experience. :)
A scene that I may not know what I actually painted.

This painting is not as beautiful as you can imagine
Not as obvious as disguise. Hehehe: D