Lei Melendres is a Filipino Doodle artist and is part of DAE (Doodle Arts Enthusiasts). He's one of the people I admire when it comes to this form of art (doodling). He recently announced a drawing project on his instagram page where people can complete his drawing and post it on Instagram.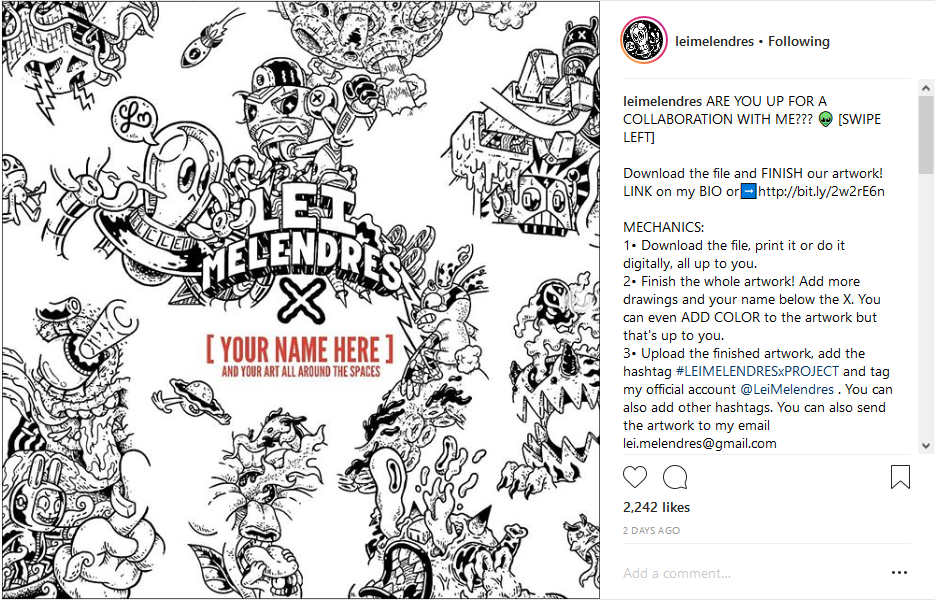 Image Source: Lei Melendres Instagram
Here's the full instruction for this collaboration with Lei from his Instagram page:
Download the file and FINISH our artwork! LINK on my BIO or➡️http://bit.ly/2w2rE6n

MECHANICS:
1• Download the file, print it or do it digitally, all up to you.
2• Finish the whole artwork! Add more drawings and your name below the X. You can even ADD COLOR to the artwork but that's up to you.
3• Upload the finished artwork, add the hashtag #LEIMELENDRESxPROJECT and tag my official account @LeiMelendres . You can also add other hashtags. You can also send the artwork to my email lei.melendres@gmail.com
4• If I see your artwork and I like it, I'll be posting it here on my page. :) GOODLUCK!
•
•
•
•
#Collaboration #Finishtheartwork #FinishtheDoodle #artwork #Collab #Collaborate #Doodle #DoodleArt #Doodling #Doodles #illustrate #LeiMelendres #HeyLeight #drawings #draw #art #artistsofinstagram #doodleartenthusiasts
I'm planning to join this collaboration project. I've printed out the template he provided and will finish the art as soon as I can.