MY DESIGN FOR ONEPAGEX
WHAT IS ONEPAGEX?
OnePageX is the simplest ever cryptocurrency exchange where the integrated currencies are Bitcoin, Monero, Litecoin, Bitcoin Cash ABC, and our very own steem and one would be able to exchange these listed currencies to as many as 140+ cryptocurrencies with the most competitive exchange rate as OnePageX searches through numerous exchanges and executes the trade automatically at the best available price.
MY 3D DESIGN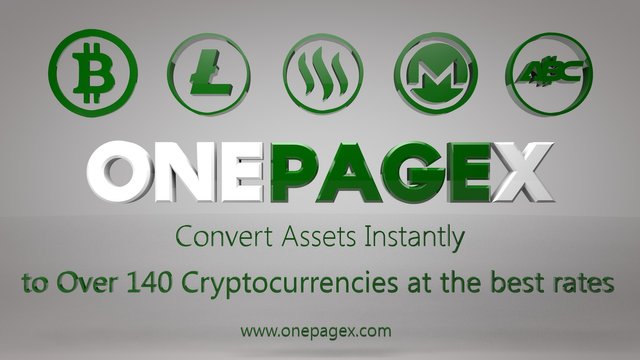 THE REASON FOR THIS DESIGN
This design was made by me using CINEMA4D R17 VERSION.
This design points out the already integrated coins for trading with the other 140 crypocurrencies available which includes Bitcoin, Steem, Litecoin, Monero, Bitcoin Cash.
I also used a green and white design to maintain the logo color and also incase the design is to be used on medium articles. I used the 3d design to give a bold look. This design will be best used at the end or beginning of an article about ONEPAGEX. Thank you
What are the Features of OnePageX?
Let's take a look.
140+ cryptocurrencies are available to Trade on One Page

Getting Started – No Registration

OnePageX Transactions are kept Simple

Clarity on fees

Multiple transaction from one page

OnePageX Widget
HOW TO USE THE WEBSITE TO TRADE
(1)The user has to first select the cryptocurrency to make a conversion
(2)Then the user is required to put the withdrawal address of the selected cryptocurrency.
(3) Then click on "Start Exchange".
(4) A card will appear with a deposit address and the user is required to send the deposit to that address.
Once the user send the deposit,it will update in the transaction card and wait for 2 confirmations.
Once it has 2 confirmations, the transaction card will update like "Exchange is complete ! Starting for withdrawal".
Then the final status in the transaction card will be like "Withdrawal complete ! The transaction is done".
For more information, visit the links below
opx2019