Art by Isidora Del Carmen at dada.nyc
One good day in the not too distant future, you will come to DADA and find that it has undergone a makeover. We want you to be ready for that moment. The essence of DADA is not going to change, but we want your experience will be much more delightful.


Art by Lisette San Martin and Alex Henry at dada.nyc
Some people take to DADA like a fish to water, but we are aware that for most people it is not the most intuitive interface. Still, some of you have been using DADA for years. As flawed as it is, you are used to its quirks. Like in a long marriage, you've learned to live with them and even learned to love them. We don't want you to wake up one morning, log in and freak out.


Art by Daveed and Beatriz Helena Ramos at dada.nyc
We finally have a crack team of UX/UI designers; Eric, Maria, and our Product Lead, Michael, who have put in a lot of thought into creating an improved user experience for everyone: for the people who come in for the first time, for the artists who draw and reply, and for the people who just like to watch.
Of the many people who sign up to DADA every day, only very few make the leap to draw. We know that asking people to draw is a big ask, but we also know that there are things we can do to make it easier for people to jump in. Because we want everyone to make art. We want everyone to engage in visual conversations. We want everyone to improve their skills by doing.
Now people will be able to enjoy the art and visual conversations on DADA before having to sign up.
We are making it easier for people to find new artists, to follow people and to know who is drawing on DADA when they are so that the experience of drawing doesn't feel so isolated. You will be able to know which conversations are currently active so you can opt to participate in those where others are drawing. You will know how many people are in DADA when you are there.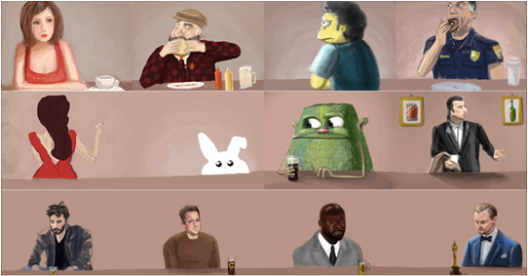 Join the fun at dada.nyc
We have heard the lamentations of the many who don't understand how the branches work, how to find their drawings in a branch, and for those who just admire the art, how to find all the drawings in a conversation with many branches. In short, we are improving your interaction with the branches. We will map each conversation out so that it is clear where the branches are in the conversation. You may get to love branches from now on.
We are also giving you much more control of your feed so you can choose what you want to see. You will be able to filter your feed by most recent, newest artists, undiscovered (drawings no one has responded to), the drawings you can respond to, and community favorites. And of course, if you want to see everything, you can do that too.
These are some of the many tweaks that will make DADA a much more enjoyable place for everyone. In the meantime, please bear with our current clunky, but lovable DADA. We'll keep you posted as we get ready to launch the new, improved one.


Art by @opheliafu at dada.nyc