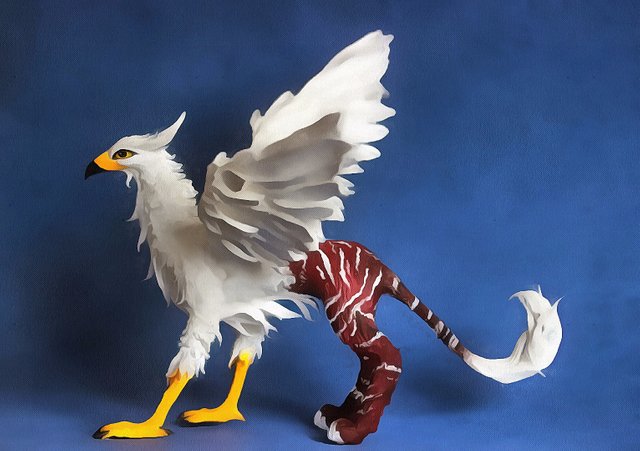 The Griffin - Acrylic on A4 studio canvas - Full size image here
This particular piece I painted over the last few days specifically with Steemit in mind. I paint as a hobby, and very few people have any interest in a hobby painter's  work, so it quite nice to get a public viewing on Steemit. As I said, I studied painting in evening classes in order to learn a new hobby. A large part of  the class is learning about materials and procedures, bits and pieces of techniques to get to an acceptable end result. Contrary to popular belief most artists meticulously plan their work and in particular tend to follow a particular tradition of style. One of those traditions, at least in western art, is the use of the golden mean to help you layout a pleasing composition. Other than that, the technique a particular artist will use will depend on time, inspiration, and materials to hand. Your first teacher tends also to have a disproportionate influence. My own teacher taught different techniques, but was pretty consistent on the idea that you have to plan and prepare your work to some extent. This is the sequence I followed in preparing my picture of a griffin for this Steemit post.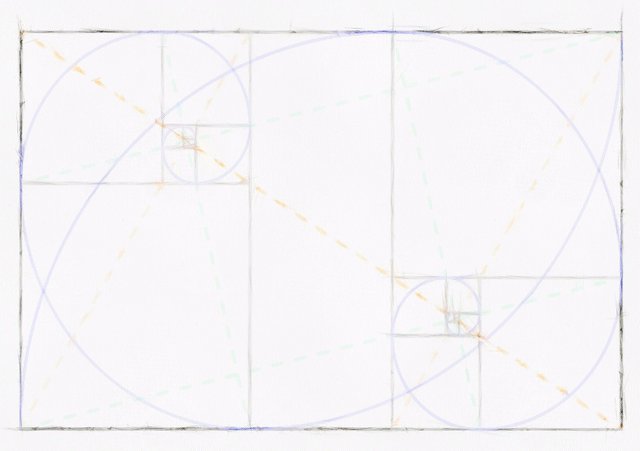 (1) Working on an A4 canvas, water soluble pencil and ink is used to mark out the canvas in a traditional "golden mean" pattern.  In general a figure that lays along, or follows these proportions, is more visually pleasing to the viewer.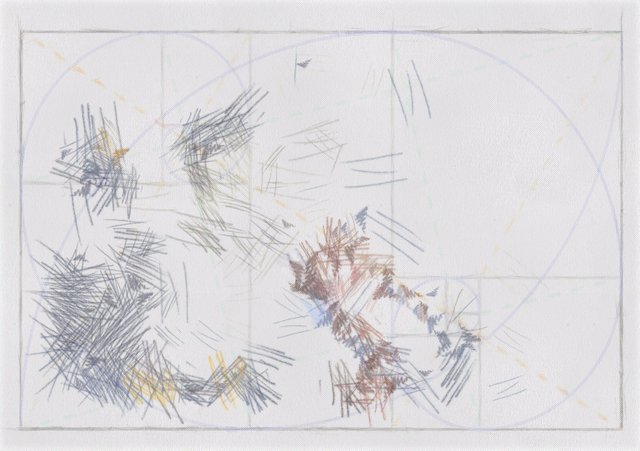 (2) This is a painting rather than a drawing and I want to carve out the space to be occupied by the body of the griffin, rather than build out the body as I probably would if I was drawing other than for canvas preparation.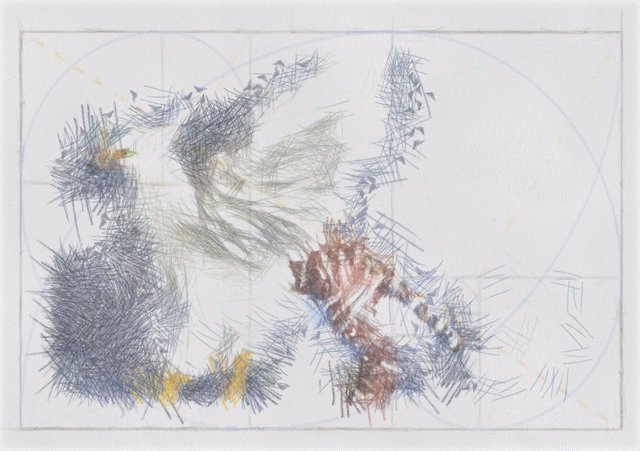 (3) The general space to be occupied by the griffin is maturing. I am now thinking more about colour, and what to do about background. I am wondering whether some plant foliage should be included, or perhaps a mountainous landscape.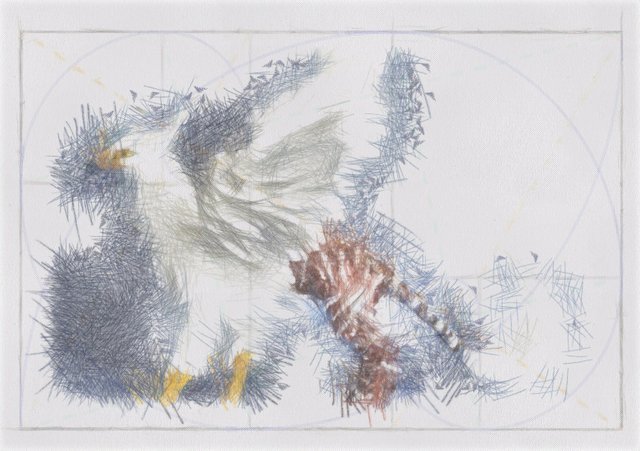 (4) Exploring the space of the griffin's body, and thinking about what kind of tail it should have.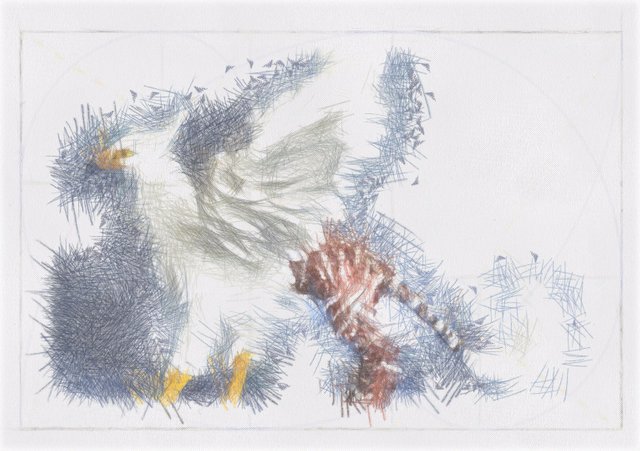 (5) Inside my mind's eye, I now have a pretty good idea of how the griffin will look.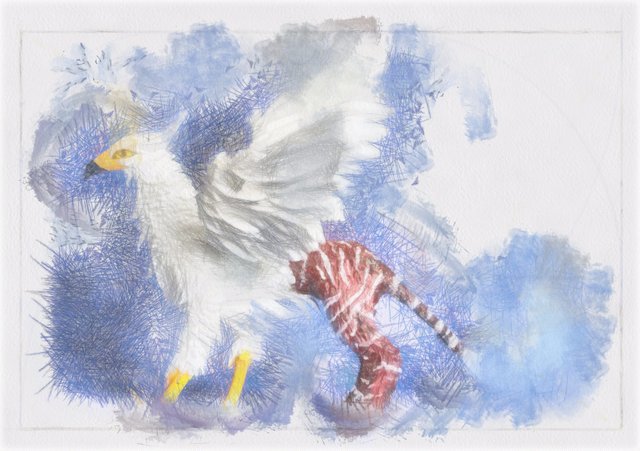 (6) Thinking of drawing in some foliage of some kind, but I have in mind a strong blue background. I am not clear at this moment, so I add some experimental brush strokes to see how things might develop.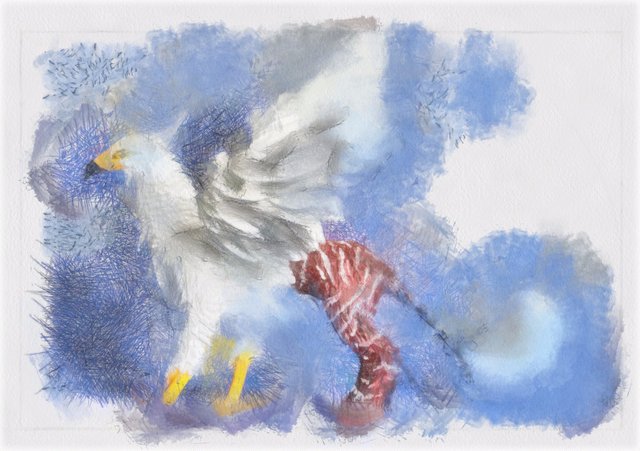 (7) I think things are looking good, but still uncertain about the background. Build up the griffins body detail a little more. Should I make the griffin's tail, feather or fur.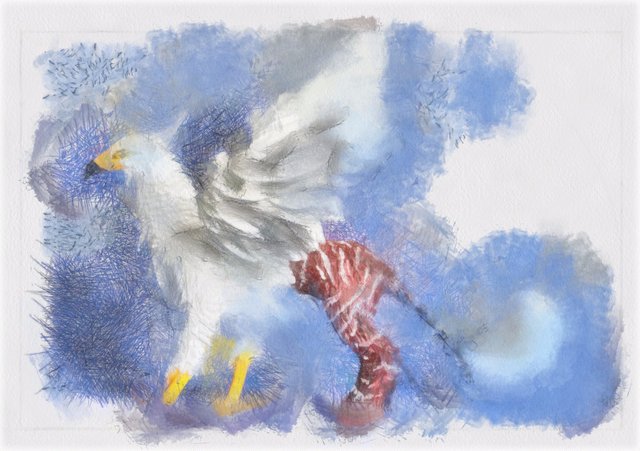 (8) Those wings need more work, and I start to layer on thin white paint to both hide the underlying golden mean proportion guid, and give some texture to work with.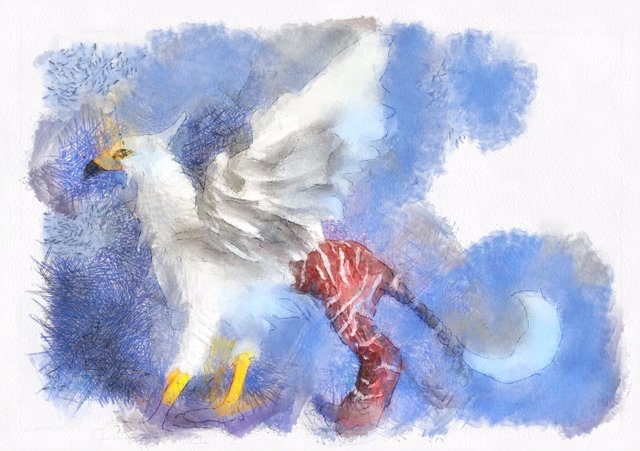 (9) Filling in detail, and marking out areas that need to be worked on as I go over to a thicker acrylic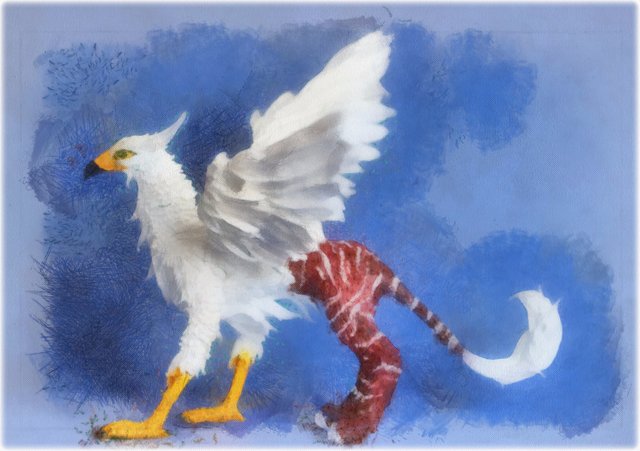 (10)  The main structure and appearance of the griffin  is decided upon. But I am still wondering about the background. Bluing in the area as a fist step.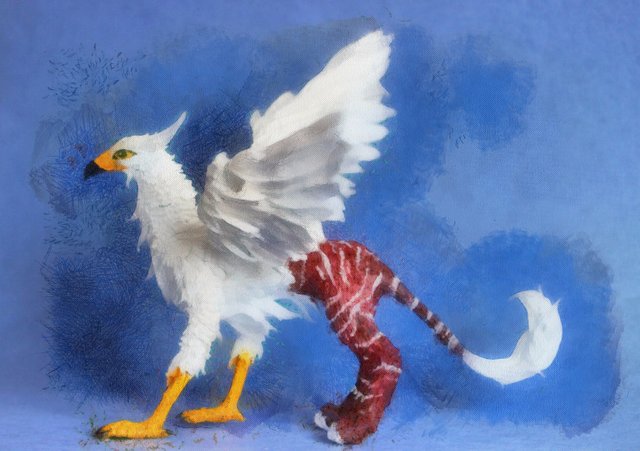 (11) Experimenting a bit with the texture of the paint, and quite indecisive about the background.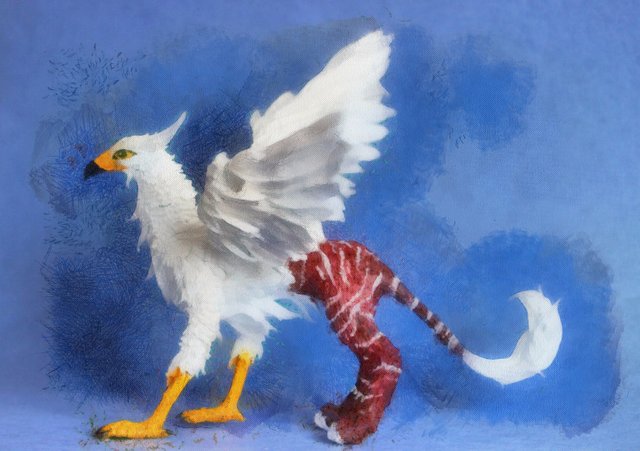 (12) I have marked out areas where I could put some background detail. But after some thought decided on a straightforward dark blue background with some degree of shadowing.  So the rest of the work mainly involves building up on what I have done, and putting a more clear emphasis on the light furiness of the tail.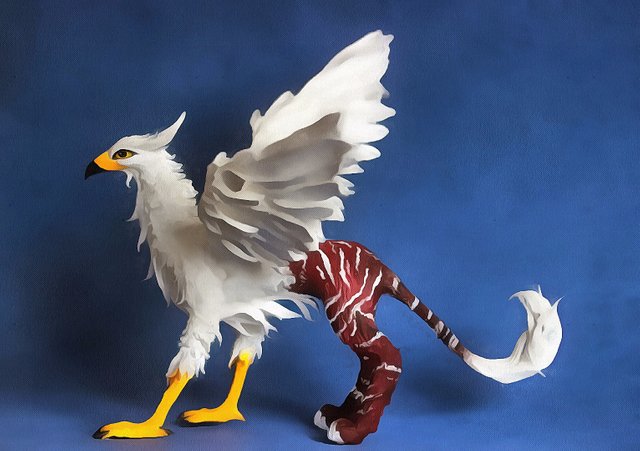 (13) Blued up the picture, and added shadow to give a sense of depth to the picture. Now is also the point at which I must decide whether to add more detail to give a more realistic 3D image, or leave it with a "medieval" look. In the end I decided to leave it at this "painterly" stage, rather than try for a more photorealistic effect. 
I hope you found this first of my "Painted for Steemit" post interesting.

ColdMonkey mines Gridcoins using voluntary BOINC computations for science
 GRC SEJz12X28nbyFo9YzQJuxhofGK84fULqKi