Merc with a mouth, I can't die

One foot in the grave, but I'm still alive
Hey!! It's Deadpool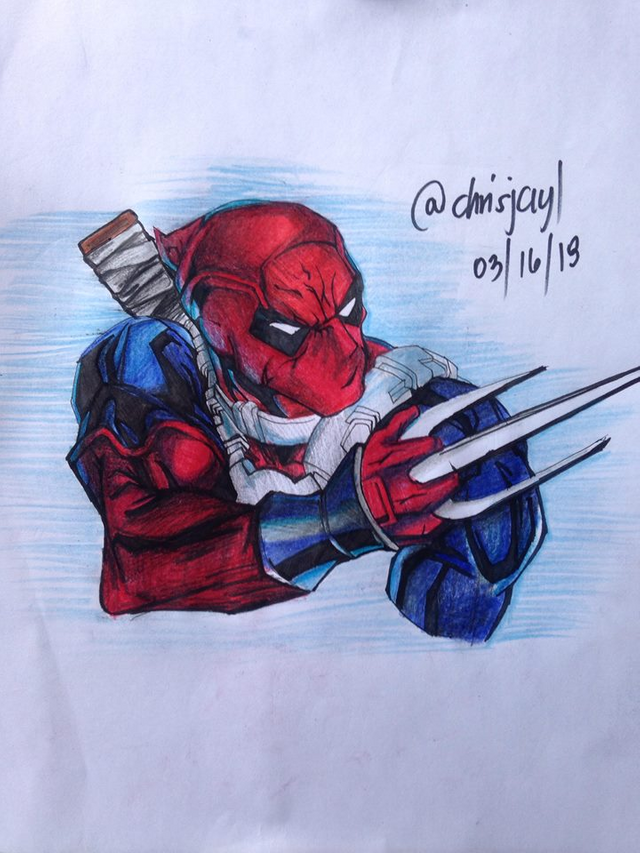 My second Deadpool drawing.
But Who is Deadpool?
Wade Winston Wilson, commonly known as Deadpool is one of the many fictional superhero characters appearing in an American comic books, published by Marvel Comics. Deadpool is known for his very eccentric behavior because of his funny personality and continuous 4th-wall breaking. That is why he is also known as the Merc with a Mouth.
He was created by an artist/writer Rob Liefeld and Fabian Nicieza, and made his first appearance in the pages of The New Mutants
Why I like Deadpool?
Well, aside from his very funny behavior, I like deadpool because of his awesome superpowers. His much known superpower that is also his main skill is his superhuman regenerative power and being immune to any diseases. This power makes him seems to be immortal.
Deadpool is also a highly trained mercenary and an assassin, a very extraordinary marksman and swordsman, and adept to martial arts. All of this abilities makes him an all around and undying hero.
THE PROCESS OF THE DRAWING.
Sketch
First make a very light sketch.

2.Inking
Using a ballpen, ink the sketch and erase the pencil sketch.

3.Color
After the inking process, add the appropriate colors. In these drawing I used red, blue, black , and brown.

4.Background
After coloring, add some background color of your choice. AND IT'S DONE

---
Hope you all like it. Thank you and Have a very nice Day!!