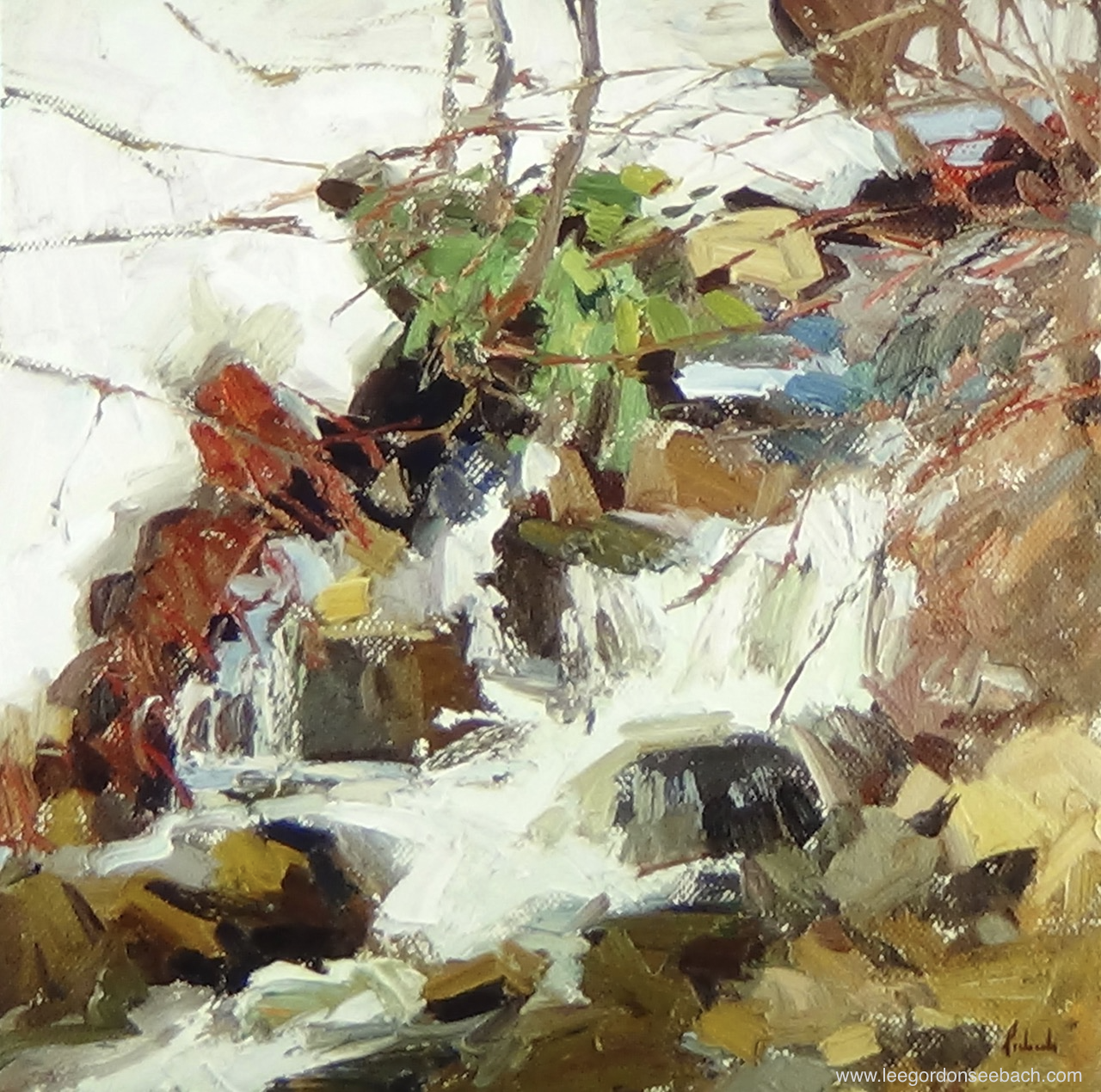 "Italianos Creek" 16"x16" oil on rough linen
by Lee Gordon Seebach
(private art collection, Washington, D.C.)
Getting To Work
Yes, creating art is work. Serious work, that is. And it IS work. Very challenging, taxing work.
My mother (not an artist of any type) used to think that painting was "relaxing." Relaxing? Hardly (except for hobbyist painters who do it simply for pleasure). I would tell her over and over that it wasn't, that it was anything but relaxing. Yes, getting into "the zone" is a wonderful state, but getting into it can be elusive and rare, and even when you're there, it's a time of intense concentration and effort.
But getting to work can be the most difficult thing of all. After all, it's scary, putting yourself on the line. I might fail and struggle and curse and get frustrated, and who wants that?
I have a secret: I work one hour a day, minimum, Monday through Friday. (I can take Saturday and Sunday off.) I set a timer, and when the alarm goes off, I can stop. I often continue for a while, but one hour - at least - and I'm done. I then write down in a log how much time I worked so I can review it later to remind myself that I'm actually accomplishing and progressing. This helps me feel some encouragement: "See! I can get work done!" Solo creators must be disciplined, self-starters and it's great to have a way to lovingly kick yourself in the seat of the pants, to outsmart that little voice inside that says, "Come on, blow off work today. Let's head for the beach!"
One hour a day may not sound like much, but it is when you're involved in difficult, creative work. And it adds up day by day, a momentum is created, and I can progress consistently. "Smalls move, Ellie. Small moves." (From the movie "Contact.") Without some sort of work ethic, I'd never get anywhere, and step by step, I continue on my creative journey.
I think of it this way: I need a bit of discipline to get anything done, i.e., I need at least some consistency and if I don't have a minimum requirement, I might not - and probably won't - do anything at all. I simply cannot wait for "inspiration" or paint "when I feel like it" because that would mean painting about once a month or so, and that would be very bad. The road to success is a difficult one on which to travel: it takes effort and discipline to make progress, but the backslide takes no effort at all, so constant plodding is necessary.
So, a swift little kick in the butt to just start, which is to say, start the timer, sit back and study the painting on my easel, decide the first, most obvious thing to be done on it, get up, pick up a brush, stick it into the paint, and put it on the canvas. Voila! I got started. It's easier to start work when I just realize that all it takes is a little push, to just do it. Once I begin, the momentum is created to repeat this working procedure and the hour will tick away - sometimes agonizingly slowly, sometimes quickly as though in a time warp, most often somewhere in between - but it will go by.
Painting seriously is hard work, but I figure that I can stand just about anything for one hour (within reason, that is. I wouldn't want to be waterboarded for an hour, for example). I do take frequent breaks. About 20 - 30 minutes of concentrated work and I need to step away, go outside, look up at the sky, go for a short walk, etc. But then it's right back into the studio.
You might be thinking: "Don't you love painting?" Well, yes, I love it, but it's not what you think. Loving something doesn't necessarily mean that you enjoy the hard work involved. There is an enjoyable aspect to work, to be sure, but it's not "fun." It's a grown-up sort of love, an appreciation for work, even though it's difficult.
I suspect that anyone who says they love to work and practice isn't really intellectually honest about it. And again, I'm talking about serious creative work. Mindlessly daubing paint on a canvas is pretty much just being a hobbyist (nothing at all wrong with that if painting is your hobby). Professionals put incredible demands for excellence on themselves. Anne-Sophie Mutter, the great violinist, said that she hates to practice! That's being honest.
I may put off starting (approach avoidance, I've heard it called...procrastination is another term for it). I may need to psyche up a little bit, get distractions out of the way, turn off the phone, lock the door to my studio (it really helps to have a dedicated workspace where you have sanctuary), make sure I'm not hungry, etc. But I know I will put in that hour, at least. And when I do, I feel very good about myself. But procrastination is very common because who doesn't want to avoid facing a canvas when it's such a demanding thing to get anything worthwhile done on it? I'd much rather sit with a hot cup of coffee and play a fun game on my computer. But I know that NOT doing my one hour will leave me feeling miserable and like a huge loser. So, I just start and "get it over with."
And yes, sometimes life gets in the way of getting that hour in. I may have to go to the dentist - ugh. My refrigerator may decide to die - damn it! A neighbor may need some urgent help. But that's ok because unavoidable distractions come up for everyone. Even Rembrandt! In the long run, it's doing the best I possibly can to stick to my schedule that really counts and as long as I do, I'm good.
I hope this helps someone out there in Steemit-land who might be facing work-related challenges. You're not alone in your struggles, believe me. We're all human, but we humans need to find strategies to overcome our weaknesses. Perhaps my ideas will help you as they've helped me.

"Happiness: the full use of your powers along lines of excellence."
- John F. Kennedy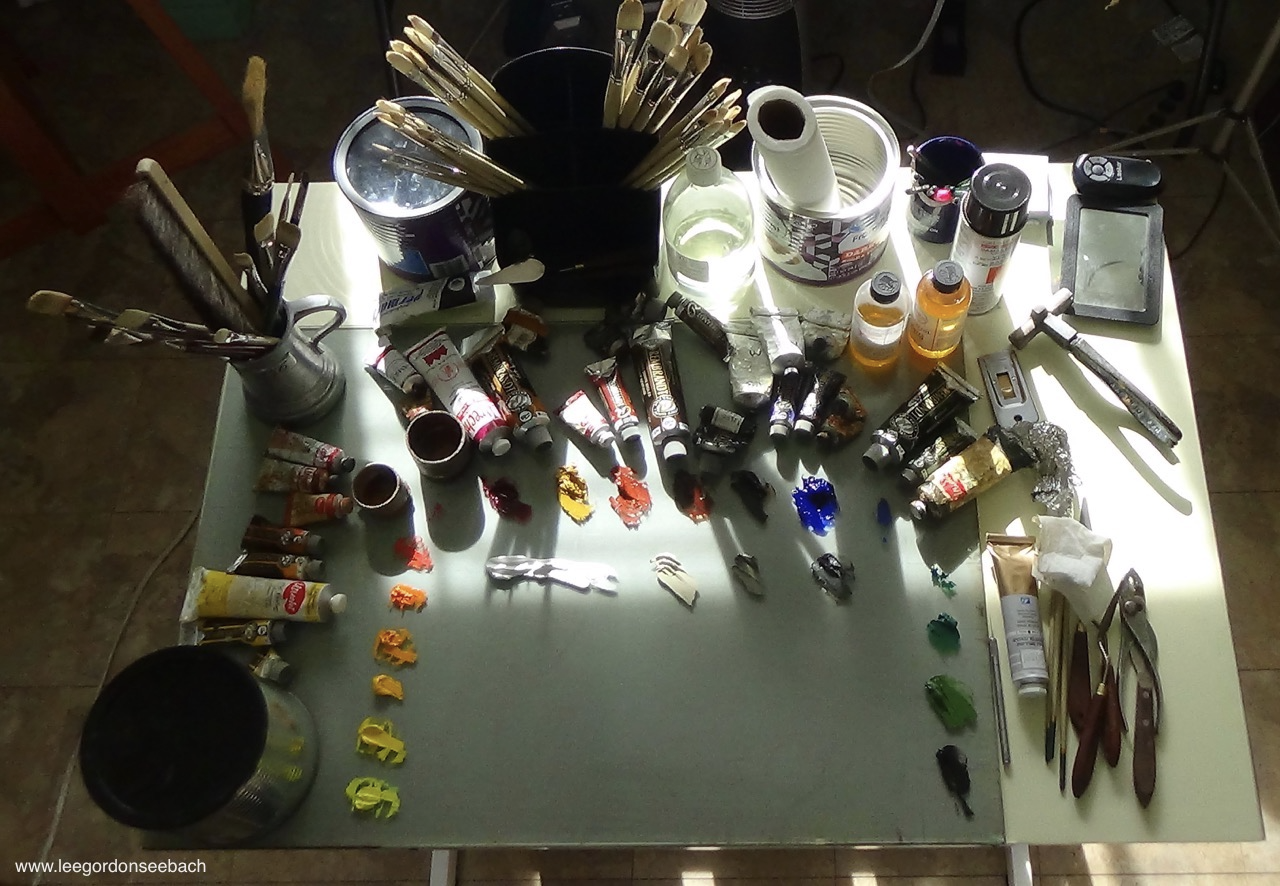 My website: Seebach Fine Art