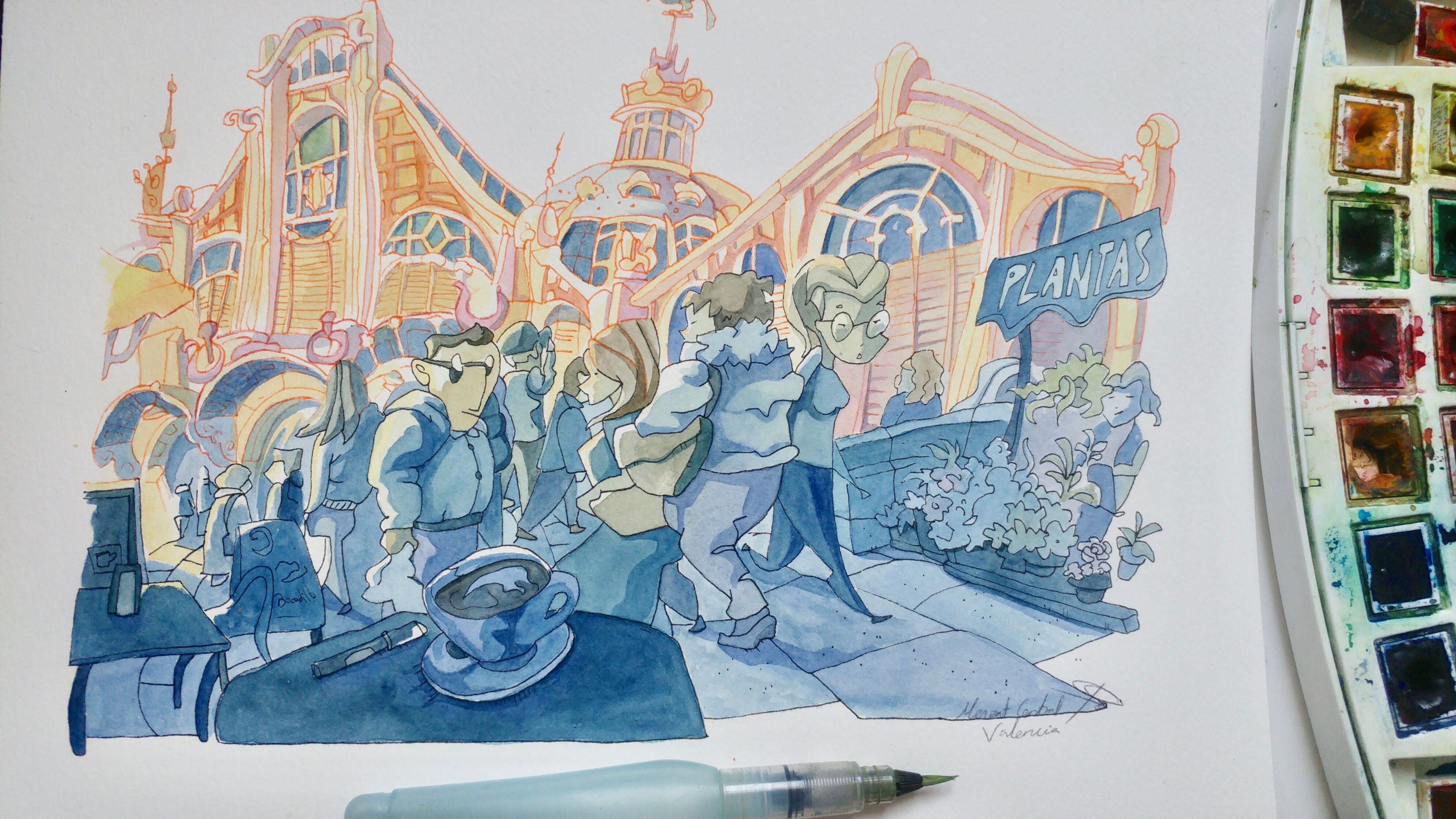 -The Valencia Central Market is one of the main works of the Valencia Art Nouveau movement. The Arquitects are Alejandro Soler and Francesc Guardia Vial.
This market is one of the largest in Europe, with more than 8000 square meters.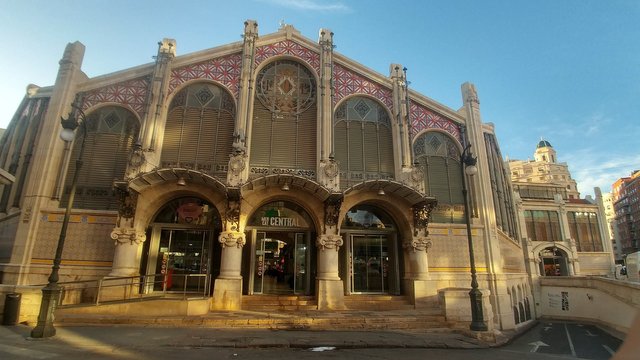 -I took one morning from my day to see it. It cached my attention the exterior. Its bigs doors and facade with a triangular shape, composed by different symmetrical arches.
The best its the interior though. The space is superlative! With a big dome with a star shape, it has the glass ceiling with several iron beams. At least it what it looked to me when I saw it..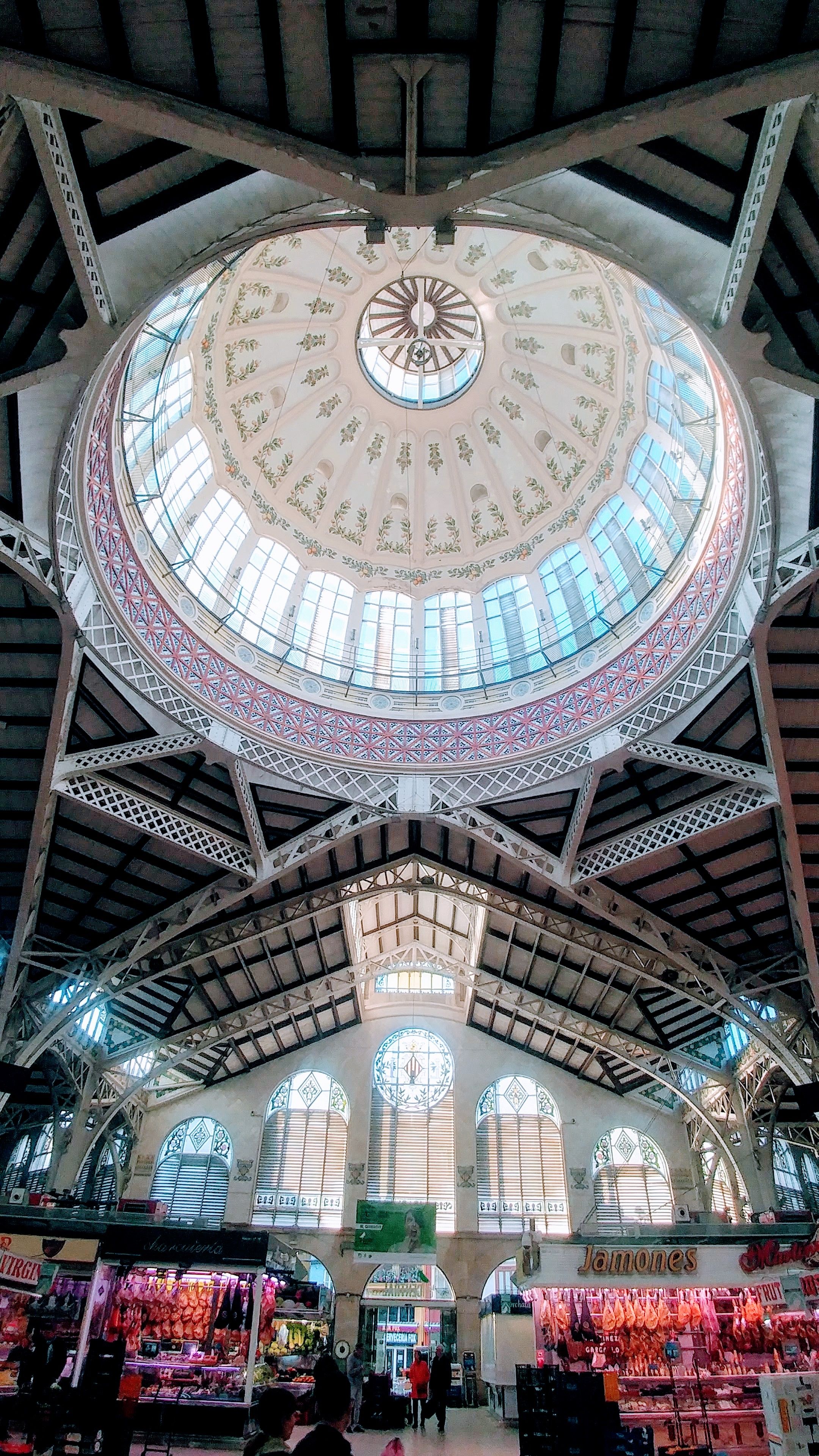 Inside the Market, there are lots of little food shops and restaurants. You can eat there, or you can buy the ingredients and cooking at home. Examples can be fish, fruits, vegetables or meat.
The problem for a sketcher like me, it was that there almost was no place to sit there. Only if you decide to sit in a bar.
I would like to draw the great ceiling, but I decided to find a sit, or place to be confortable .
I sketch a green grocery. That it was in front of me. Behind it was a butchers shop.
It had all kinds of fruit and greens. It catched my attention the color that i saw there.plus the magenta form the artificial lights and the yellow light that entered from the windows. Really beautiful.
To be seated there is very interesting because you can listen all the local stories and the typical dialogue between the vendors and the clients.
So I started the sketch, and I did this one with the vertical format.
I wanted to show not only the food market, but also the big windows.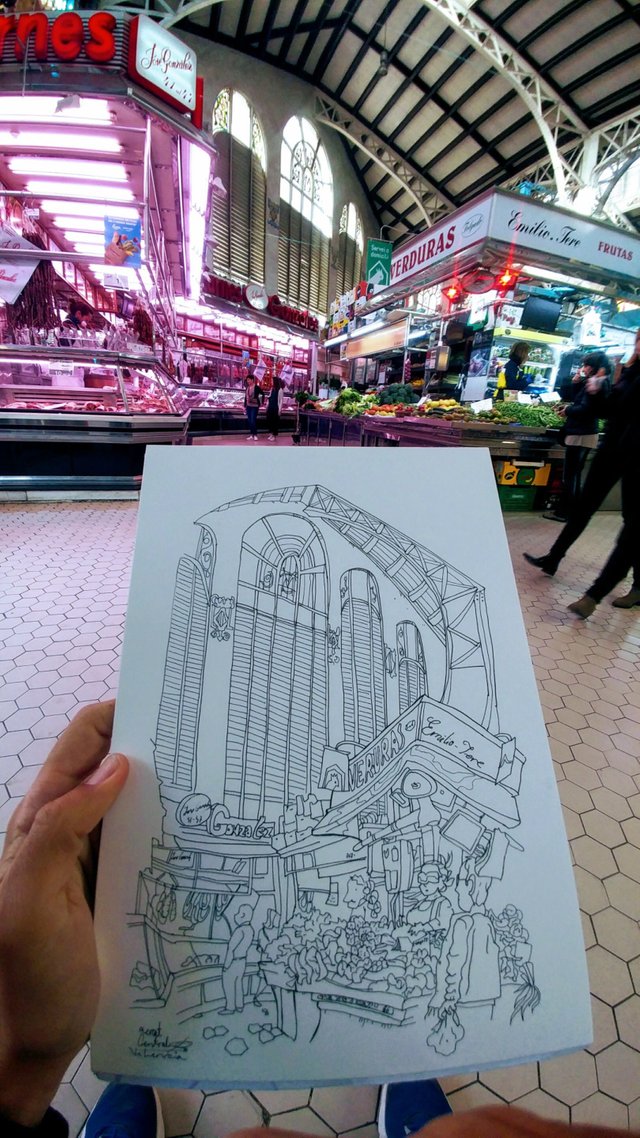 Sketches
This is the line art sketch. You can download it and colored too if you wish so.its the green grocery what you see here with the butcher shop behind.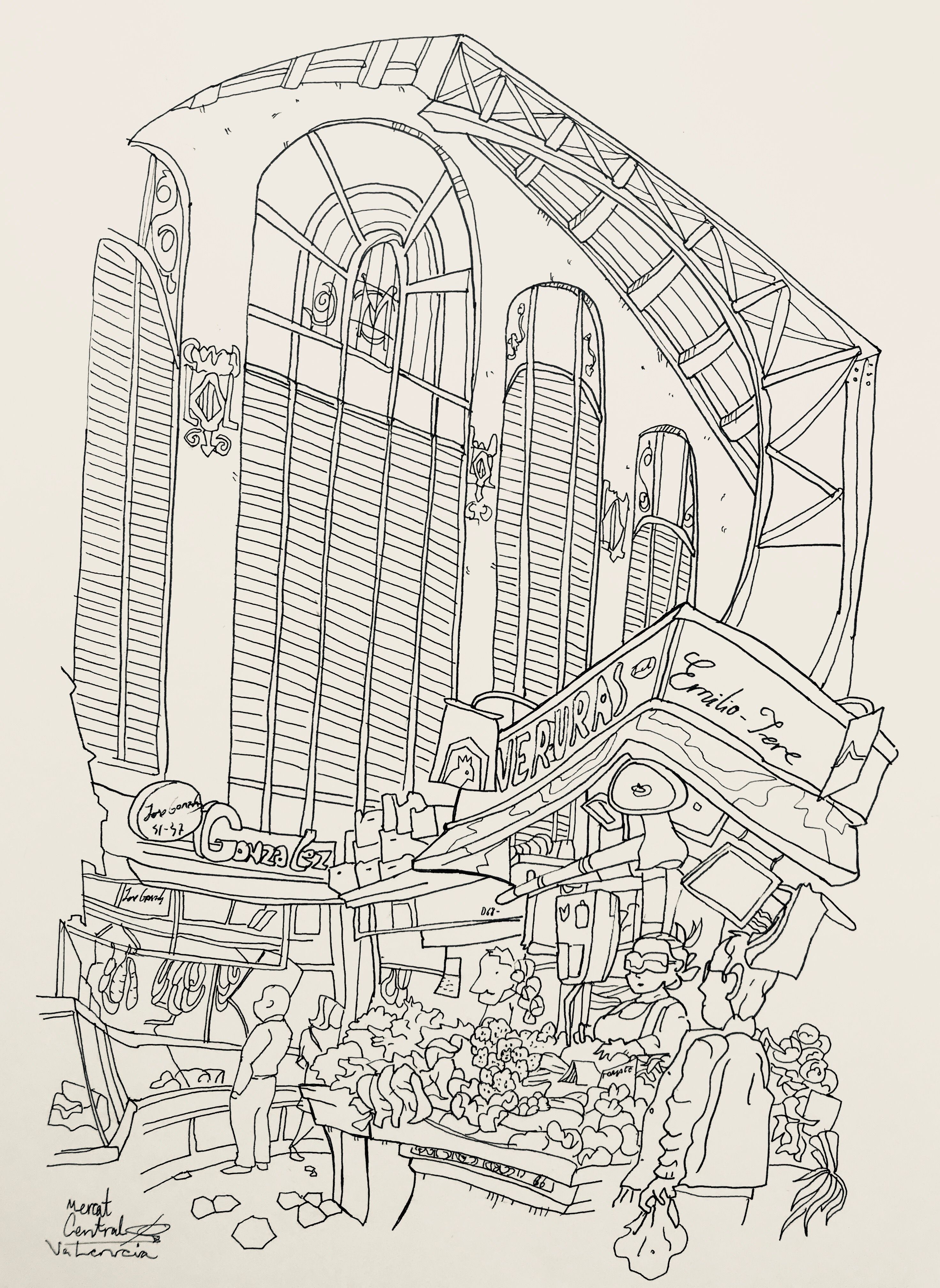 Different pictures I did inside the market with some of the sketching process.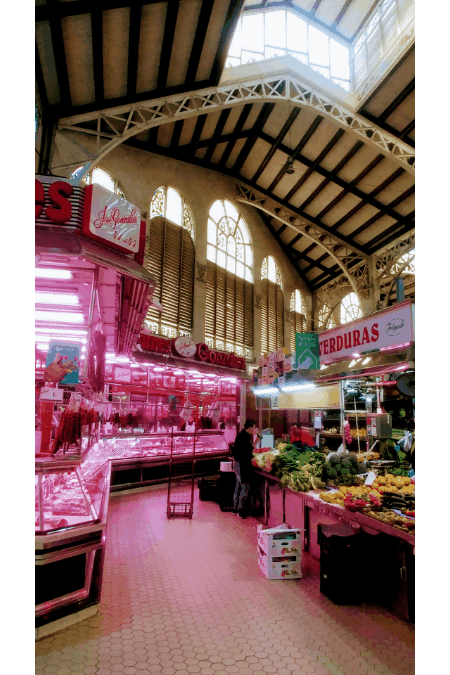 Final illustration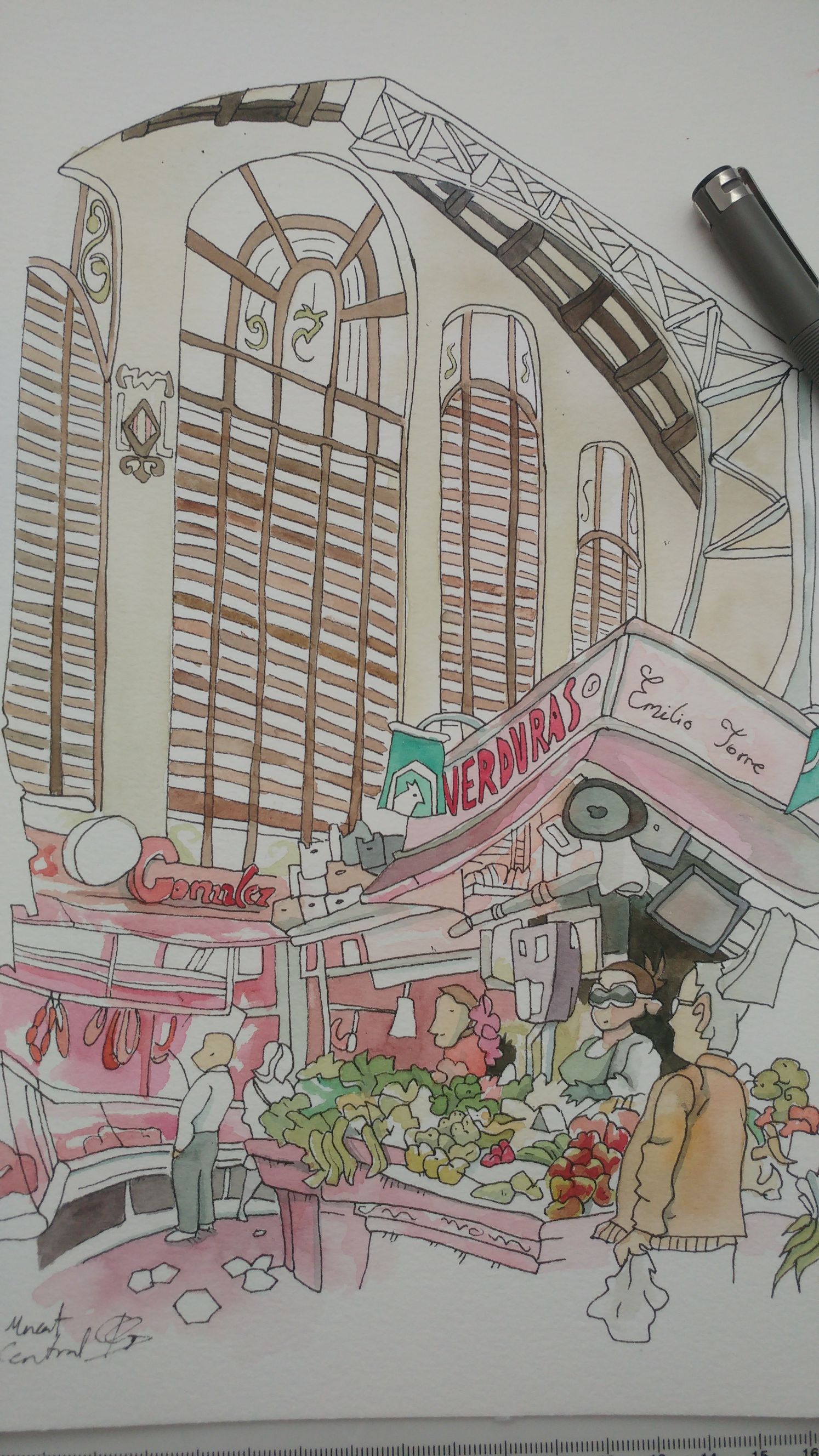 -In the exterior, behind the main building, there were different coffee bars and terraces. I sit in a table and asked for a coffee.
I saw the facade of the building in front of me with the multitude of people walking and shopping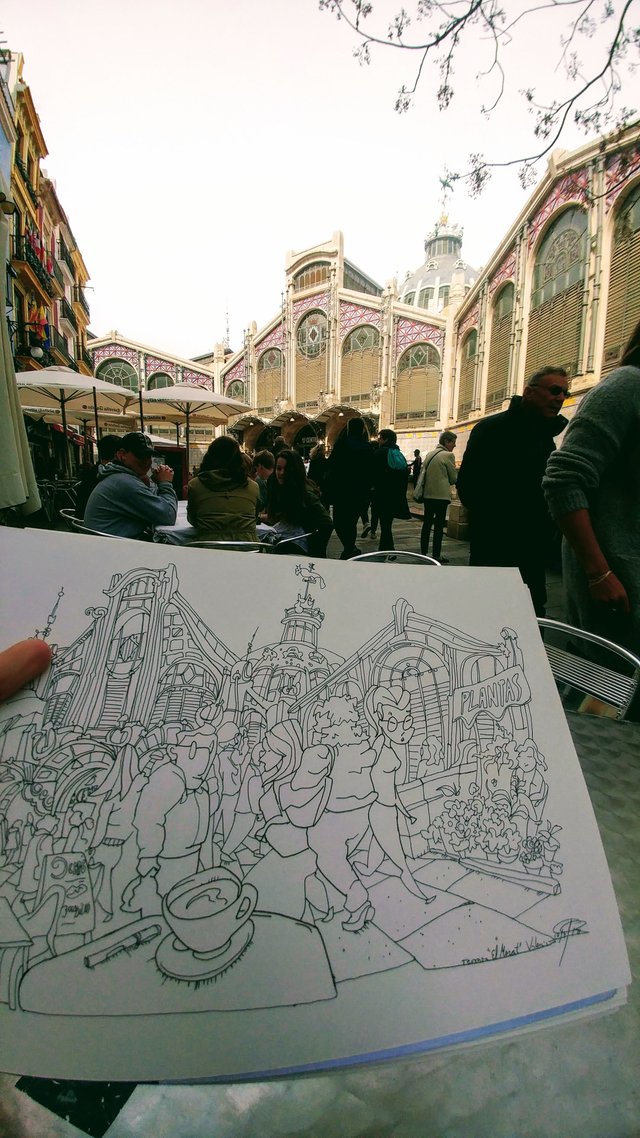 I had time to do another sketch of the exterior scene. I choose one horizontal composition and I did the drawing directly with ink on paper.
I started drawing the cup of coffee and then i drew the rest of the scene.
Here you can see the line art !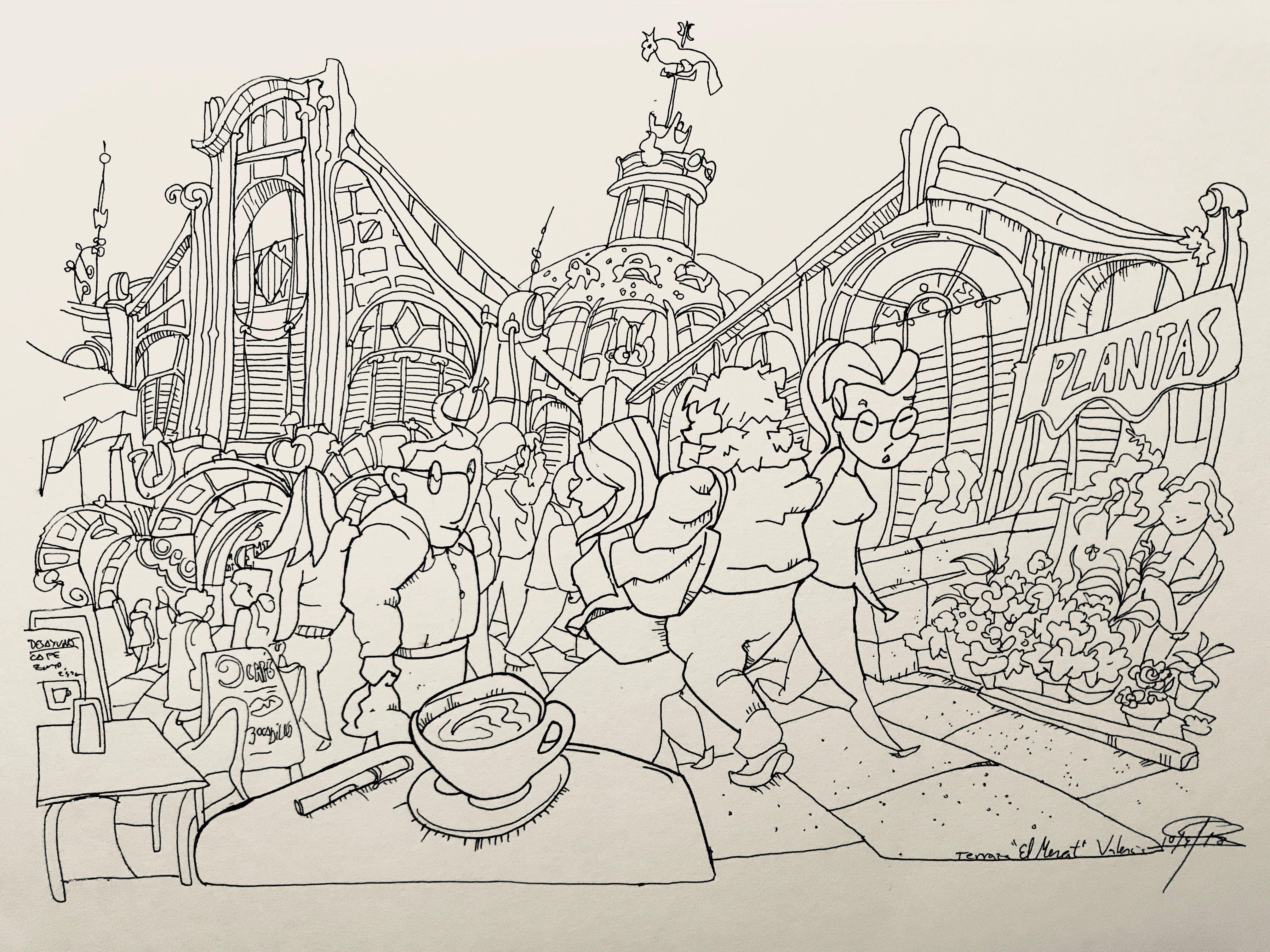 -After I Finish the sketch, i usually do a digital colored version at home. I take a photo of the sketch with the Ipad and I use an App called Procreate. I do the grey value first and later the colors and final details.
The Process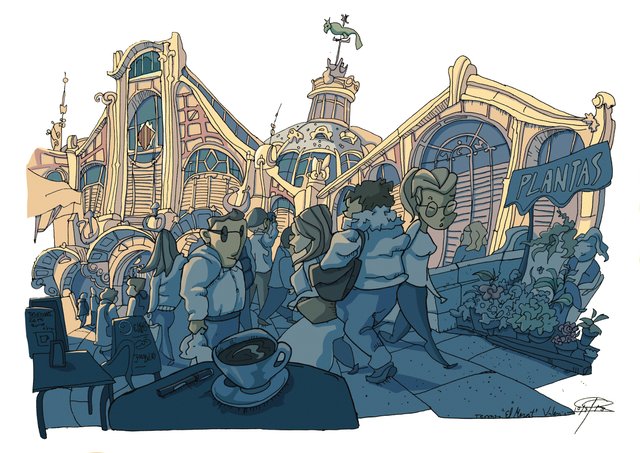 Later, I decided to do a watercolor traditional version. I like to paint with watercolors because of the touchy feeling of the contact between the water and pigment on the paper.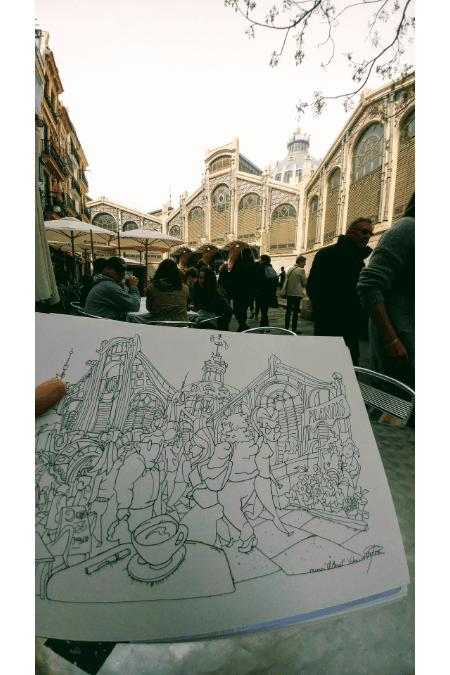 Also, having done the digital version first, its easier to follow the color structure giving no margin to errors., obtaining a satisfactory picture.
I did two sketches this time. I could have been done more if I had more time, maybe another day..
Well, this is all for now, thanks for reading this post and I hope you liked it. If so, thanks for the upvotes and comments if they are.
And excuse my english grammar mistakes. I am not a native english speaker and i try my best to write properly.
Thanks and see you soon!
Carlos Castro
https://www.carloscastroilustracion.com
https://steemit.com/@carloscastro
SPANISH VERSION
Mercat de Valencia.
El mercado central de Valencia es una de las obras mas importantes del modernismo valenciano.
Su arquitecto es Francesc Guardia Vial y Alejandro Soler.
El mercado esta situado en la plaza de Brujas , en el centro de la ciudad.
Reservé una mañana de mi día para verlo. Me llamó la atención el exterior, sus grandes puertas y su fachada triangular compuesta por diferentes arcos simétricos entre si.
Perlo lo mejor es el interior. El espacio es inmenso , con un techo muy alto en forma de gran bóveda con forma estrellada. Tiene un techo acristalado y vigas de acero. Al menos eso me parecía a mi cuando lo vi., con diferentes vidrieras decoradas con símbolos nacionales.
Dentro del mercado, hay multitud de pequeños puestos de comida y bebida. Ya sea para consumir allí, o para llevarse los ingredientes a casa .
No había muchos sitios para sentarse. Me hubiese gustado haber dibujado la gran bóveda pero al final me senté en un saliente de una fuente en otra parte del mercado. Decidí dibujar una frutería que tenía enfrente. También había detrás una carnicería.
El color que contemplaba me llamó la atención. El color de la variedad de frutas , las luces magentas artificiales y la luz amarilla que entraba por los ventanales.
Sketch 1
Sketch a tinta. Puedes descargartelo si lo deseas y colorarlo tu también
En primer plano aparece la frutería.
Fotosecuencia.
Diferente s fotos que hice al entrar en el mercado. Era temprano , y la luz era buena para sacar fotos.
-Al salir del mercado, fui a la parte de detrás, donde había diferentes cafeterías y terrazas. Me senté en una de ellas y me pedí un café. Desde esa posición se podía contemplar muy bien la fachada del mercado y todo el ajetreo de la gente caminando y haciendo compras.
Me dio tiempo de hacer un sketch de la escena exterior. Elegí una composición horizontal e hice el dibujo directamente a tinta. Empecé dibujando la taza de café y luego todo lo que había detrás.
Después de hacer el dibujo, suelo hacer el proceso de coloreado digital. Para ello, lo que hago es una foto con el Ipad, y utilizo una app que se llama Procreate.cubro primero las zonas de la escena en escala de grises y luego continuo haciendo la edición del color y detalles finales.
-Posteriormente, decido hacer una version en acuarela tradicional.
Me gusta pintar con acuarelas por la sensación táctil ente el pigmento, el agua y el papel. Es como mas real.
Es muy gratificante además realizar la pintura teniendo como guía de referencia de color la ilustración digital que había hecho previamente. Así, casi no hay margen de error y me aseguro un resultado decente.
-Bueno, pues esto es todo por ahora, gracias por tomarte tu tiempo para leer mi post y espero te haya gustado. Si es asi, gracias por los upvotes y comentarios .
Nos vemos pronto!
Carlos Castro
https://www.carloscastroilustracion.com