Meninas in Madrid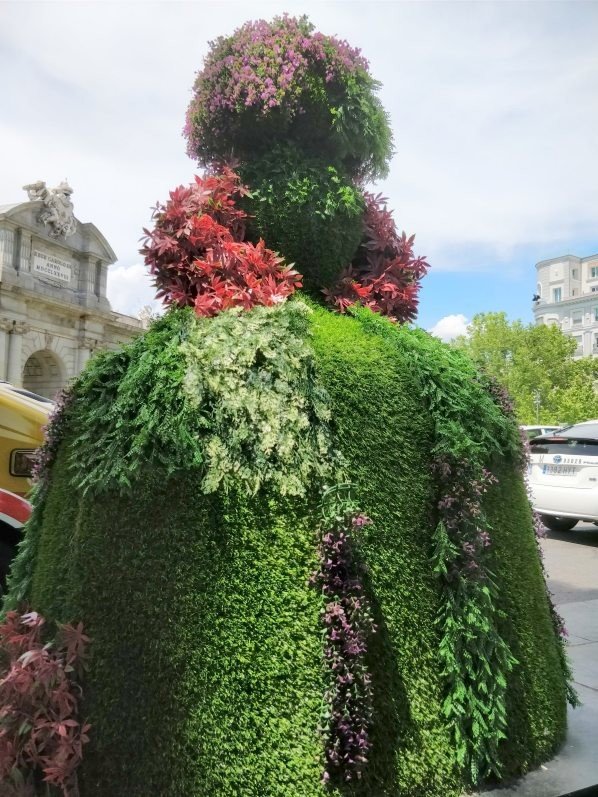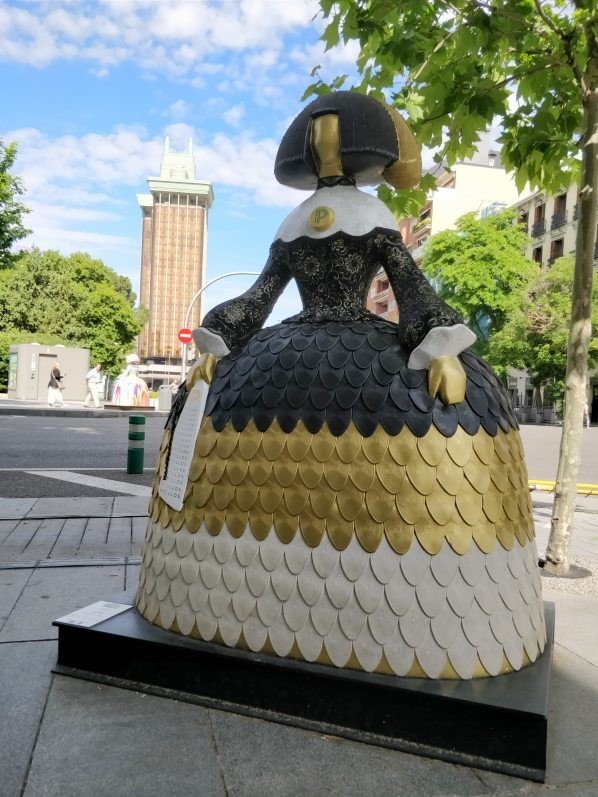 ---
English below / Español al final
---
Ich hab mich in die Meninas verliebt
Dieser Tage vor einem Jahr besuchte ich Madrid. Was soll ich sagen, ich sah dort hübsche Frauen, in die ich mich verliebte. Darum geht es heute in meinem Beitrag.
Vermutlich angestiftet von den Berliner Bären, die es auch in verschiedenen Bemalungen gab, entschlossen sich vermutlich die Stadtoberen der spanischen Hauptstadt auch etwas zu tun, um mehr auf Kunst & Co. aufmerksam machen. So entwickelten zwei Hauptformen von mittelalterlich gekleideten Damen - eine mit Händen in den Hüften und eine andere mit Fächer in der Hand und auf dem Schweifrock.
Es gibt noch mindestens eine weitere Variante - mit einer Fackel in der hochgehobenen Hand. Die Dame hab ich leider nicht vor die Linse bekommen - ich war schließlich verwirrt, bei so vielen hübschen Damen. Aber der aufmerksame Leser meiner Beiträge erkennt sie in den Videos.
Insgesamt wurden um die 60 Meninas von Künstlern gestaltet und im Frühjahr 2018 im Madrider Stadtgebiet verteilt. Es gab sogar GoogleMaps-Karten mit deren Positionen.
Die Pracht einiger weniger Meninas war aufgrund von Wind und Wetter leider nur von kurzer Dauer. Ich denke, da es nur eine zeitlich befristetet Aktion war, wurden inzwischen alle Meninas abgebaut. Weiß jemand etwas über deren Verbleib?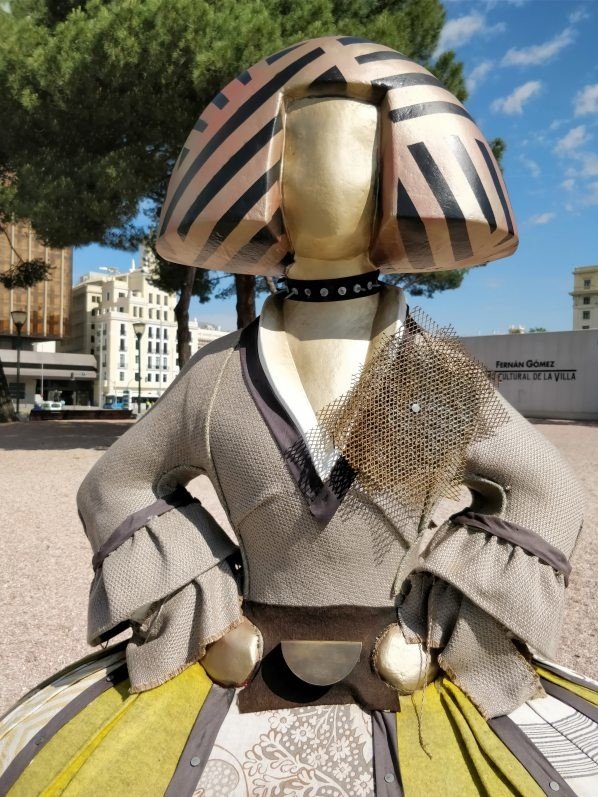 ---
I fell in love with the Meninas.
These days a year ago I visited Madrid. What can I say, I saw beautiful women there, with whom I fell in love. That is what my contribution is about today.
Presumably instigated by the Berlin bears, which were also available in various paintings, the city superiors of the Spanish capital probably decided to do something to draw more attention to art & co. So two main forms of medieval dressed ladies developed - one with hands in the hips and another with fan in the hand and on the tail skirt.
There is at least one other variant - with a torch in the lifted hand. Unfortunately I didn't get the lady in front of the lens - I was confused after all, with so many pretty ladies. But the attentive reader of my contributions recognizes her in the videos.
A total of about 60 meninas were designed by artists and distributed in the spring of 2018 in the Madrid city area. There were even GoogleMaps with their positions.
The splendour of a few Meninas was unfortunately only of short duration due to wind and weather. I think, since it was only a temporary action, all Meninas were dismantled in the meantime.
Does anyone know anything about their whereabouts?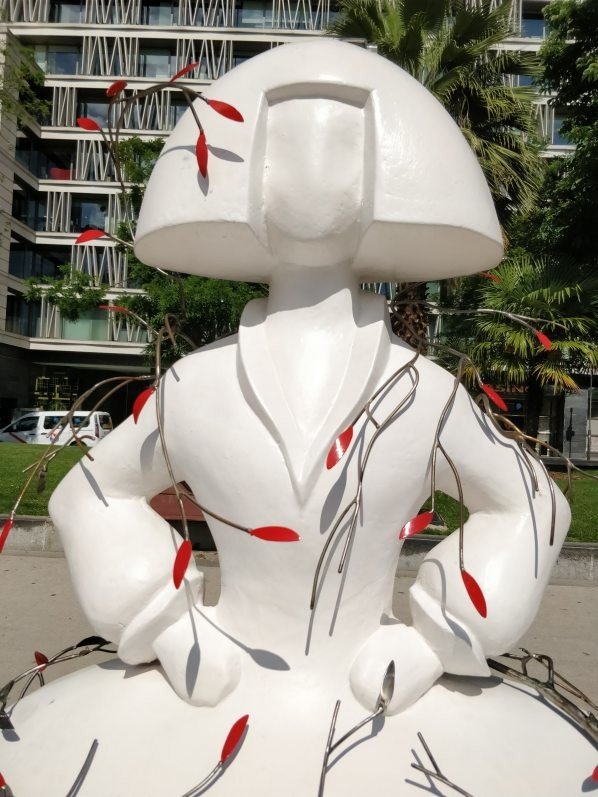 ---
Me enamoré de las Meninas
Estos días hace un año visité Madrid. Qué puedo decir, vi mujeres hermosas allí, de las que me enamoré. De eso se trata mi contribución de hoy.
Presumiblemente instigados por los osos de Berlín, que también estaban disponibles en varias pinturas, los superiores de la ciudad de la capital española probablemente decidieron hacer algo para llamar más la atención sobre el arte y las artes plásticas. Así se desarrollaron dos formas principales de damas vestidas de la Edad Media - una con las manos en las caderas y otra con un abanico en la mano y en la falda de la cola.
Hay al menos otra variante, con una linterna en la mano levantada. Desafortunadamente no conseguí a la dama delante de la lente - estaba confundido después de todo, con tantas damas bonitas. Pero el lector atento de mis contribuciones la reconoce en los videos.
Un total de unas 60 meninas fueron diseñadas por artistas y distribuidas en la primavera de 2018 en la zona de Madrid. Incluso había GoogleMaps con sus posiciones.
El esplendor de unas pocas Meninas fue desafortunadamente de corta duración debido al viento y al clima. Creo que, como era sólo una acción temporal, todas las Meninas fueron desmanteladas mientras tanto. ¿Alguien sabe algo sobre su paradero?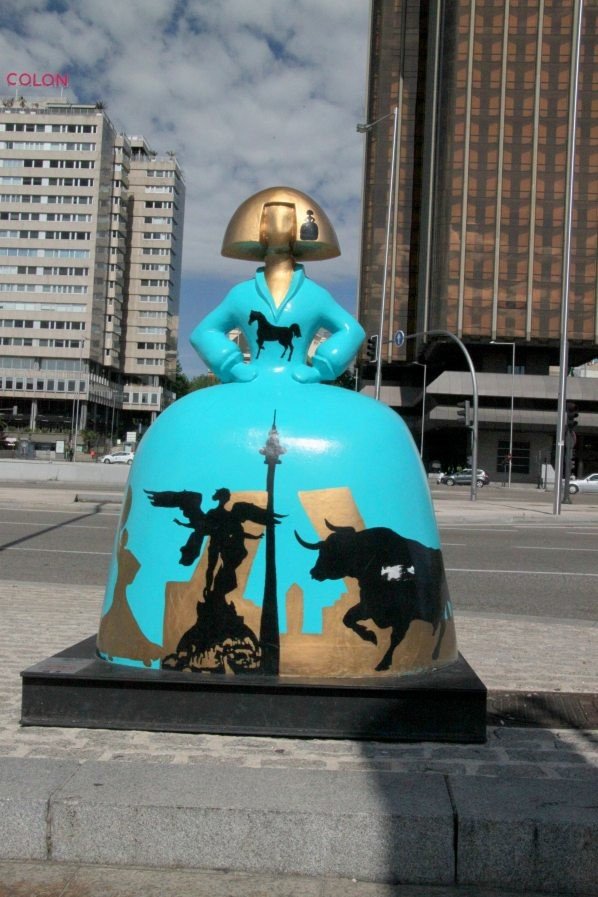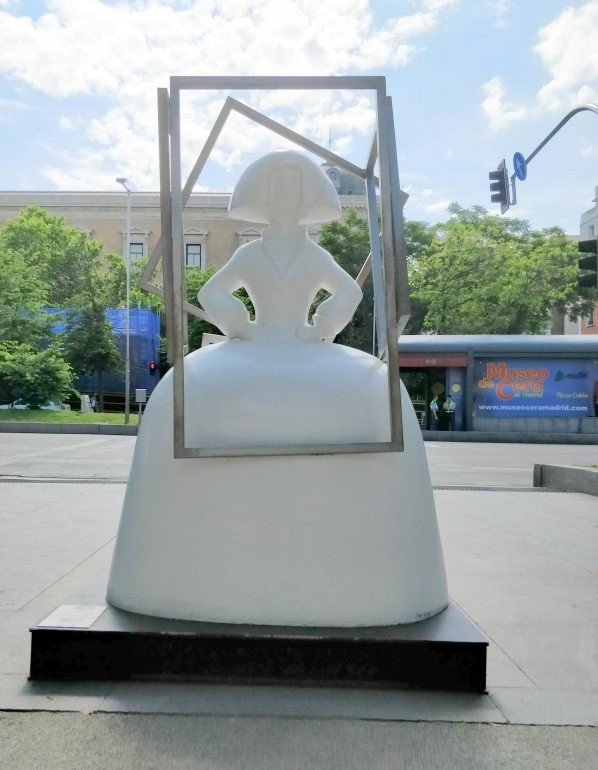 ---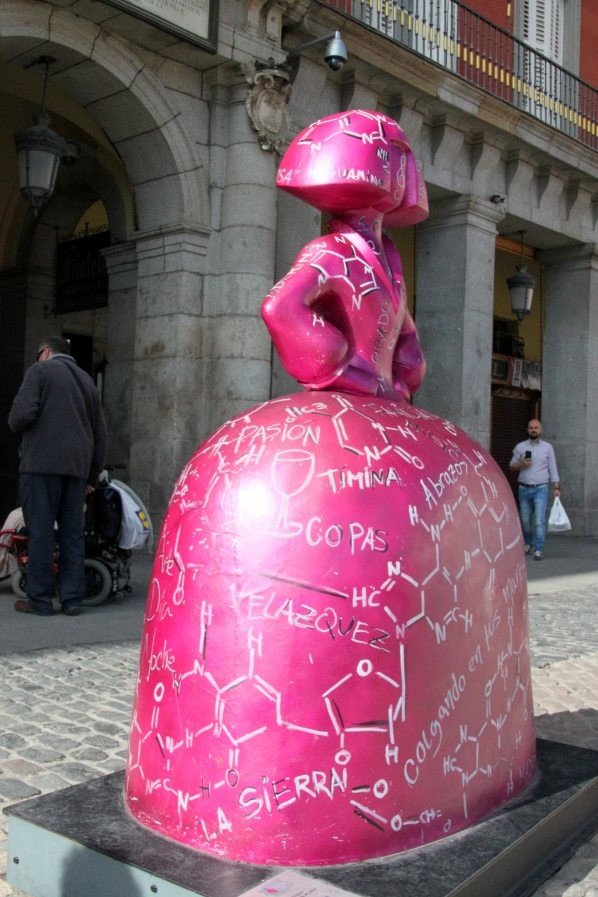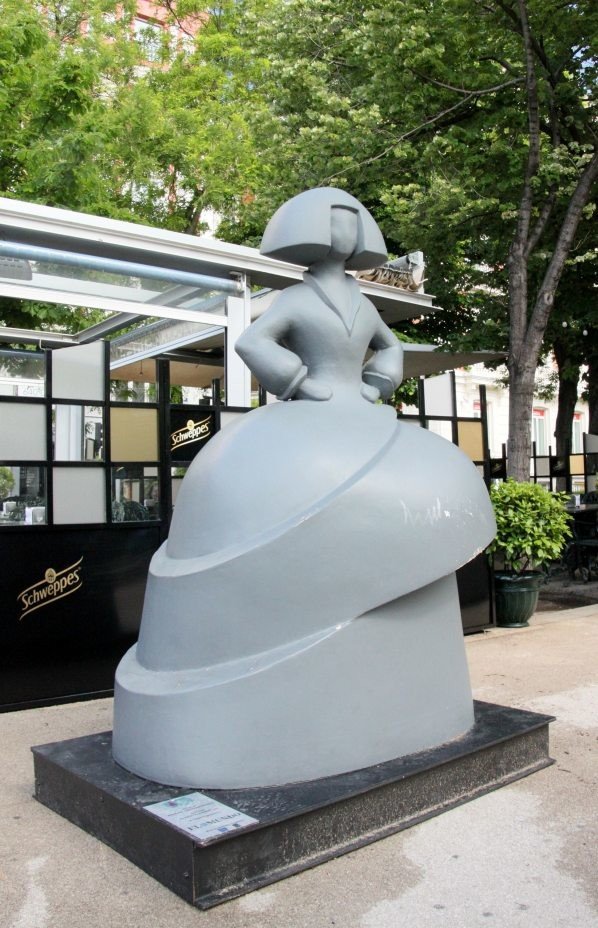 ---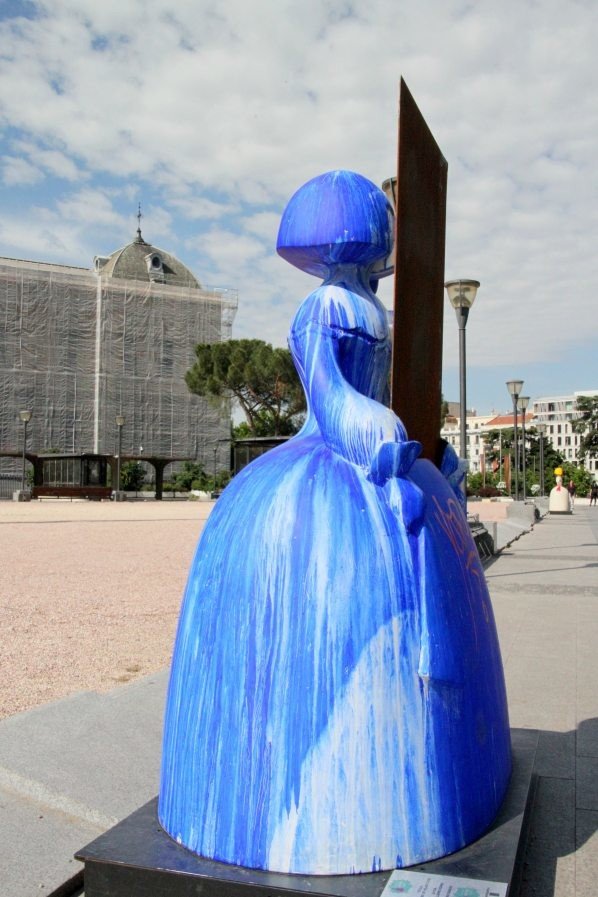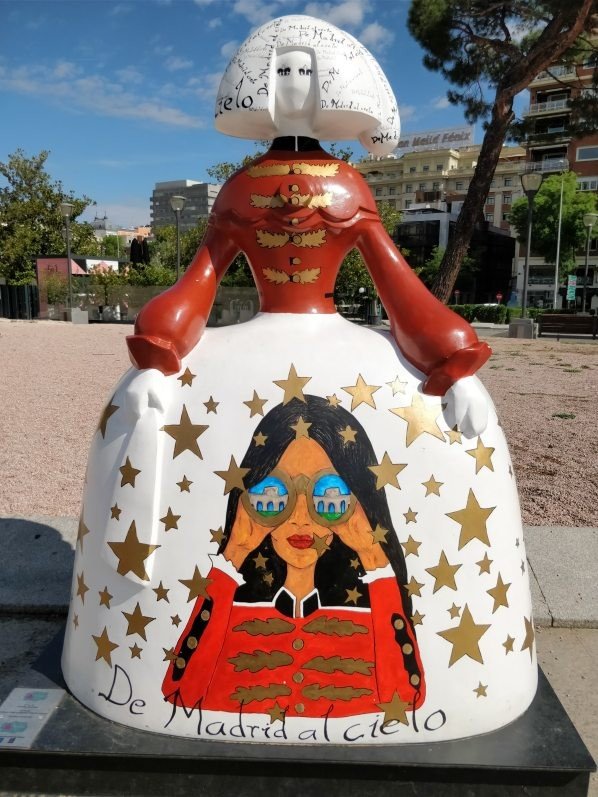 ---
Zwei Gesichter / Two Faces / Dos Caras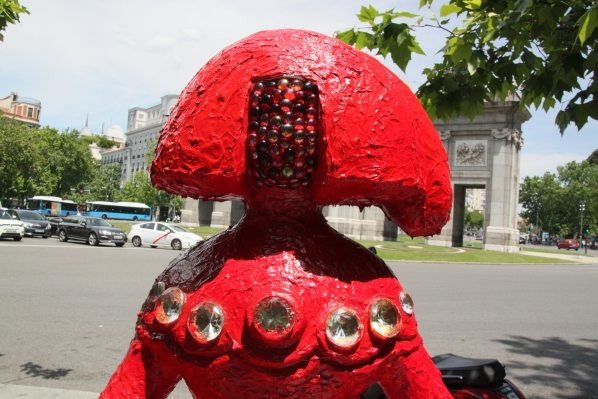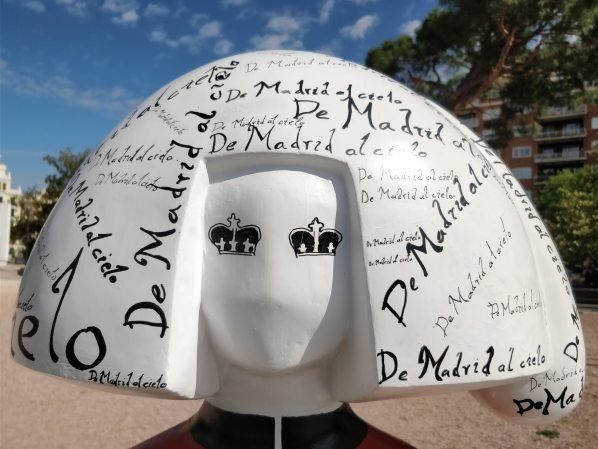 Las Meninas invaden Madrid
Alle Meninas / All Meninas / Todas Meninas
---
Geolokation
Madrid / Spanien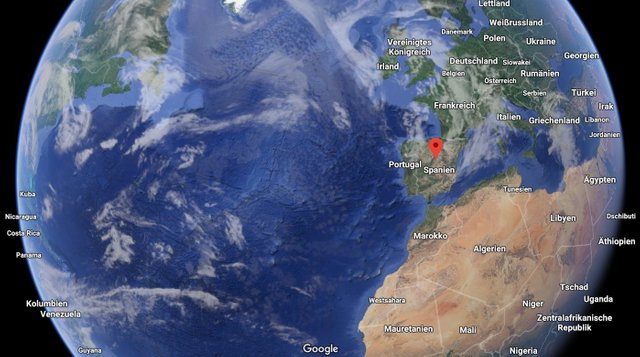 ---
Frühere Artikel / Previous Posts