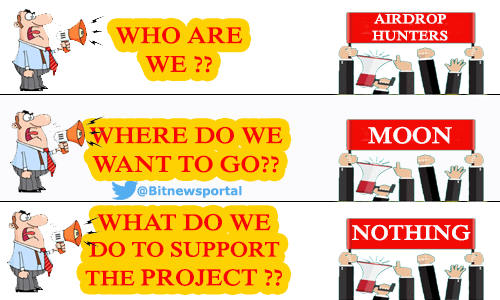 This Article originally appeared on Bitnewsportal.com
http://bitnewsportal.com/the-new-generation-of-airdrop-hunters
Hello PRiVCY Community, Welcome to another special articles about PRiVCY Community. Today we will tackle the most important recipe for cryptocurrecy to succeed., "Community Support"
Community Support comes in many different flavors and types. But we can easily categorize it into 2 parts ACTIVE and PASSIVE Support.
Active Support is doing what is beyond the airdrop requirements without any bounty or rewards from the development team. These people are the:
Actively promoting the project outside the community social media
Joining Different Community Discussion via Forum, Reddit,Twitter,Steemit without expecting any bounty or rewards.
Actively promoting the project signature by posting only quality content or post
Writting Articles without expecting any bounty
Making Videos without expecting any bounty
Don't care about the price
Passive Support is the one who is just doing the bare minimum and just waiting for the weekly rain from the airdrop. These people are the:
The first to complaint's about the price
The first one to panic
The first one to FUD the community
By Actively supporting the project you are:
Helping YOURSELF
CREATING a VALUE for your HOLDINGS
PRiVCY Coin have 700+ Airdrop Participants:
**If all of us VOLUNTARILY Tweet atleast 1x Daily About PRiVCY Coin it would generate awareness and impact for the community growth.
**If all of us VOLUNTARILY create a FACEBOOK Post atleast 1x Daily about PRiVCY Coin, You cannnot imagine how many new people will search and lookup about the project.
**If all of us WRITE atleast 1 ARTICLE About PRiVCY Coin without expecting any Bounty in return would create a massive exposure in the cryptocurrency industry.
**If all of us UPVOTE or CLAP when someone posted an article on steemit and medium about PRiVCY Coin it would create more exposure for PRiVCY Coin.
But Sad to say, MAJORITY of Airdrop Hunters are doing NOTHING and just doing the BARE MINIMUM just to qualify for the airdrop.
DON'T EXPECT PRiVCY COIN TO MOON if YOU ARE JUST A PASSIVE AIRDROP HUNTERS
FOLLOW ME ON TWITTER!
https://twitter.com/BitNewsPortal
Disclaimer
This News Entry is a personal opinion and not directly from $PRIV developer team this is a community initiative news entry, for official news and updates check out #announcement channel via $PRIV Discord.