STAKER TOKEN ROUND 7 POST-AIRDROP COMMUNITY NEWS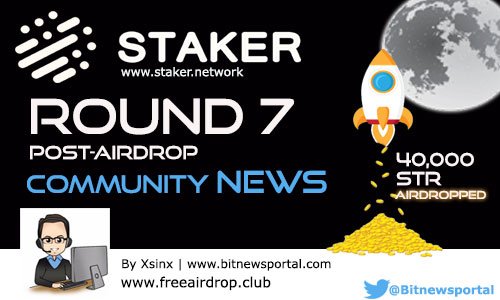 ORIGINAL ARTICLE
http://bitnewsportal.com/staker-token-round-7-post-airdrop-community-news
JOIN STAKER AIRDROP
https://freeairdrop.club/staker-token-airdrop
Hello everyone! its rainy day for Staker Community. Airdrop round 7 is now sucessfull completed and in this article we will discuss the highlights about Airdrop Round # 7.
40,000 STR has been shared this by 349 valid airdrop participants. This number was 31 members higher compare to last week airdrop. For this airdrop round # 7 the distribution is based on bitcointalk rank including newbie rank. The dev did a stake based distribution and you can see below the stake of each airdrop participants.
Newbie – 1 stake
Jr. Member – 2 stakes
Member – 2.5 Stakes
Full Member – 3 Stakes
Sr. Member – 4 Stake
Hero and Legendary – 5 stakes
Each 1 stake receive 45.97 STR tokens. For transparency purposes Staker Team provided a Sheet of all airdrop participant allocations. (CLICK HERE FOR AIRDROP #7 SHEET = https://docs.google.com/spreadsheets/d/1S-bBM1mrmlqM16RPg8OJaa7tMqwFA8G8rZlXMEgvxkI/edit#gid=0)
With 349 Airdrop participants this week its a good sign that Staker Airdrop Community is growing and soon we can easily win any voting competition for exchange listing. Keep promoting Staker Token Airdrop opportunity to others the growth of the community is a win win for everyone.
Currently Staker Token are available on
CREX24
https://crex24.com/exchange/STR-BTC
FORKDELTA
TOKENJAR
Help STAKER Token get listed on FATBTC
Follow FAT BTC Twitter Account
https://twitter.com/FatBTC
Like & Retweet FAT BTC Tweet
https://twitter.com/FatBTC/status/1015485041026191360
Comment Staker twitter handle @StakerToken and add your best comment for staker token project.
Always remember that STR Token is still a brandnew community project and we can expect more community development and news along the way. The whole staker Development team are working very hard to give us a great opportunity and to make a difference in the whole crypto currency market.
That's all for this day and stay tuned for our daily news about STAKER project and Don't Forget to Re-Tweet, Like and share the article in different Social Media Channel a simple task but will have a great impact on STAKER Crypto Awareness Campaign.
FOLLOW ME ON TWITTER!
https://twitter.com/BitNewsPortal