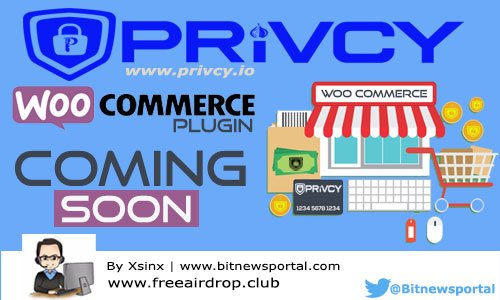 Original Article
http://bitnewsportal.com/privcy-coin-woocommerce-plugin-coming-soon
Join PRiVCY Airdrop
https://freeairdrop.club/privcy-coin-airdrop
Hello Everyone! welcome to another exciting news and updates about PRiVCY Coin, This time we will talk about the incoming development news of PRiVCY Coin.
Are you an online seller? Soon you can start accepting PRiVCY coin as a mode of payment for good ands services. Enjoy low fee's and fast transaction speed that is provided by PRiVCY Coin.
In the next 10 days or so, WOO Commerce plugin of PRiVCY Coin will be available for merchant use and take advantage of the Anonymous and safe transaction.
Are you an Avid Online Shopper? Check and Request on your favorite online shopping store to start accepting PRiVCY Coin as a mode of payment and enjoy seamless and low fees transaction giving you extra savings and private and anonymous shopping experience.
This plugin is already on the final testing stage and within 10 days or so it will be officially launch for public use. This is just one of merchant support plugins that will be develop for PRiVCY Coin. Soon after Woo Commerce, All other's Online Shopping web apps plugins will be develop.
Keep Voting for PRiVCY on both Sonox show the community power of PRiVCY Coin. You can vote once every 24 hours
Vote now on SONOX https://sonox.io
Don't Forget to Re-Tweet, Like and share the article in different Social Media Channel a simple task but will have a great impact on PRiVCY Crypto Awareness Campaign.
FOLLOW ME ON TWITTER!
https://twitter.com/BitNewsPortal
Disclaimer
This News Entry is a personal opinion and not directly from $PRIV developer team this is a community initiative news entry, for official news and updates check out #announcement channel via $PRIV Discord.