MetaCash Round 2 Post-Airdrop Community News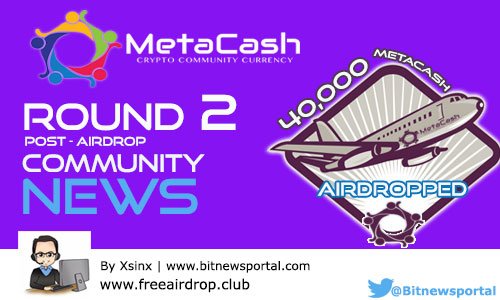 ORIGINAL ARTICLE
http://bitnewsportal.com/metacash-round-2-post-airdrop-community-news
JOIN METACASH AIRDROP
https://freeairdrop.club/metacash-coin-airdrop
Hello Everyone! Time flies so fast with metacash airdrop project, MetaCash Dev's successfully completed their Round 2 Airdrop and developments is picking up with new fresh updates and new rules for airdrop. But today we will focus first on the statistics of airdrop round #2
40,000 MetaCash Coin has been set aside for this around round #2 and the total pot has been shared by a total of 415 Airdrop Participants and this number is 104 higher compare to last week airdrop. a big jump or atleast 26% growth of the total airdrop participants.
Registration for the airdrop is still open and soon the registration will be close for new participants this coming August 15, 2018 and everyone has still few days to register and complete the requirements before they close the registration.
One good news this week, MetaCash is now live for trading at Escodex and now this is where the real fun begins. We can now see and witness the real trading value of our MetaCash Coin. But don't expect huge returns from the airdrop since MetaCash are still consider as a newborn project and still on baby steps towards it development goal. START TRADING NOW ON ESCODEX https://wallet.escodex.com/market/ESCODEX.META_ESCODEX.BTC
Tomorrow we will publish the First Weekly Newsletter For MetaCash Coin Project so all my co-community members will have the basic overview of all the latest news about the project.
Help and vote metacash to get listed on an exchange
Vote for MetaCash on AIODEX - VOTE NOW
https://aiodex.com/vote/coin/5b59c1311aaad360dc475204
Vote for Metacash on Coinpulse - VOTE NOW
https://request.coinpulse.io/suggestions/14409/metacash-meta
Vote for Metacash on SONOX - VOTENOW
https://sonox.io/
That's all for today! i hope you find this article useful and informative. Don't forget to LIKE, SHARE, Re-TWEET this article in different social media. Lets spread the word about METACASH and together as a community we can make a difference if we work together.
Thank you for Reading....
FOLLOW ME ON TWITTER!
https://twitter.com/BitNewsPortal
Disclaimer
This News Entry is a personal opinion and not directly from Metacash developer team this is a community initiative news entry, for official news and updates check out #announcement channel via Metacash Discord.