03.09.2018 : Acrylic Pour #1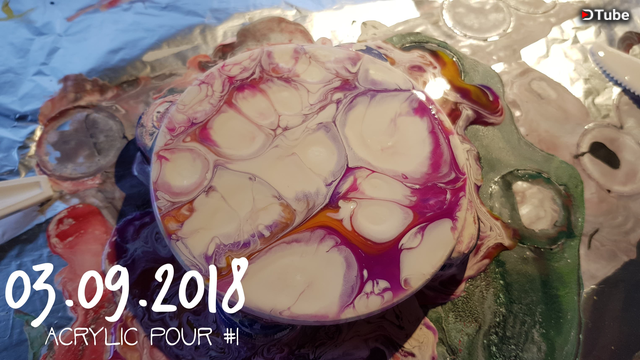 ---
If you can believe this, this is the 2nd time I'm uploading the video.
Why? Apparently, even though I remember signing in, I wasn't. So here I am, seriously thinking if videos are the way to go seeing as it took 2 plus hours to upload an 800mb (8 minute) video yesterday and this so far has taken at least 30 minutes.
Is my mountains connection letting me down here?
That aside, I love how I can show you guys the process and you can watch the paint move and cells form. I also love how I don't have to take so many darn photos.
As simple as it looks, there is actually a lot of technique involved in acrylic pouring. Most of it is with the paint mixing itself but once you get that part done (I am still working on that!) you should be fine to move on to more complicated and adventurous techniques.
I saw someone do a pour and it ended up looking like flowers. Like wow!
I'm hoping to video day 3 of my free form geode this week. It's been way too cold and rainy here to be working with resin so I've had to settle with acrylics. Next week I'll be on Orgonite mode - Yay!
And with that I'm off to do today's pour as this one is still uploading, and I'll upload yesterday's second pour tonight.
I hope you're all having a great Tuesday!
---
▶️ DTube
▶️ IPFS