Good morning to all dear Steemians friends!
Today I present a large watercolor that has as its subject the geometric shapes that create the palms during their growth, both in the trunk and in the leaves.
Often we have seen the marvelous geometric shapes that are found in the natural world and I am also fascinated by it, astonished by the beauty and the geometric rigor that draws with the years a stem of a palm tree.
In my watercolor, I tried to reproduce, under a light coming from the left, the architectural texture of the small shapes on the bark that change light and shadow according to their thickness.
In the background other geometries given by great firs and the architectural rationalism of the municipal building of Latina, city of Lazio.
The light in my subject plays the determining role, because it enhances the geometric shapes of the stems and the explosions of the foliage.
I hope you like my watercolor, I wish you a good day and see you next time.
---
---
---
Buongiorno a tutti cari amici Steemians!
Oggi vi presento un acquarello di grandi dimensioni che ha come soggetto le forme geometriche che creano le palme durante la loro crescita, sia nel fusto che nelle foglie.
Spesso vi è capitato di ammirare le meravigliose forme geometriche che si trovano nel mondo naturale e anch'io ne resto affascinato, meravigliato dalla bellezza e dal rigore geometrico che disegna con gli anni un fusto di una palma.
Nel mio acquarello, ho cercato di riprodurre, sotto una luce proveniente da sinistra,la texture architettonica delle piccole forme sulla corteccia che cambiano luce e ombre secondo il loro spessore.
Sullo sfondo altre geometrie date da grandi abeti e il razionalismo architettonico del palazzo comunale di Latina, città del Lazio.
La luce nel mio soggetto, gioca il ruolo determinante, perchè esalta le forme geometriche dei fusti e delle esplosioni del fogliame.
Spero che il mio acquarello vi piaccia, vi auguro una buona giornata e alla prossima.
---
---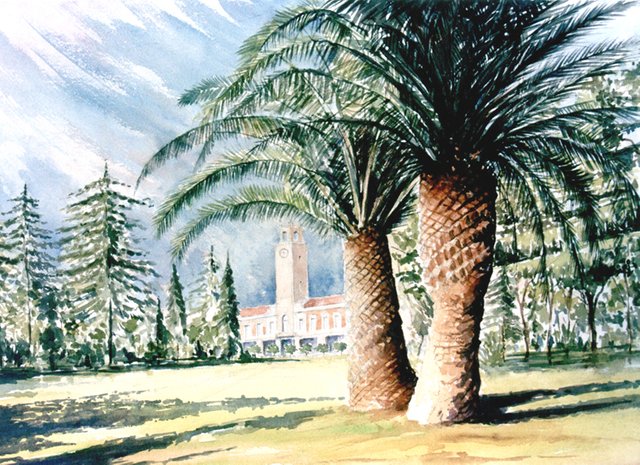 title: geometries and architecture of nature
technique: watercolor on paper
size: 78x54 cm.
year: 2018
private collection
---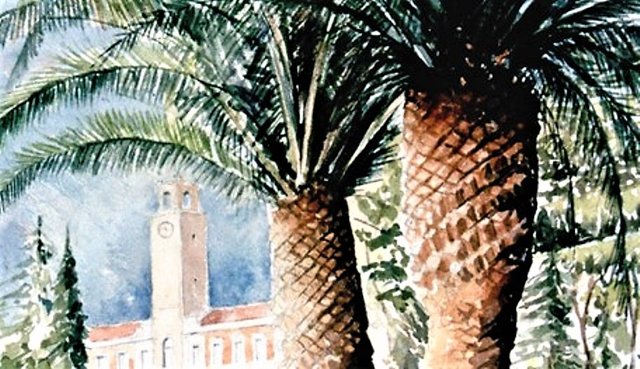 detail of geometries