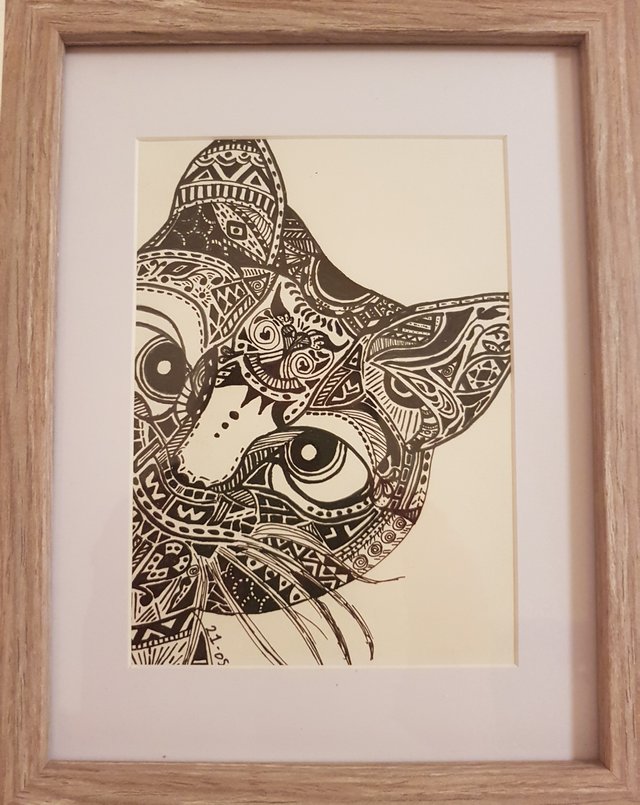 This was my very first drawing in years
In the summer of 2017, I had a brief period of two months that I started drawing again after years. I just searched for some examples on the internet and thought it was kind of cool to draw animals and fill them with a mandala style pattern. This cat was the first attempt I did to create something in that style. Now, let me first explain that the markers I could buy in that area where we lived weren't the best ones at all. They didn't draw nice and they failed me lots of times. So, unfortunately, the drawings I made in those months have some flaws lol. But as I liked drawing in this style, I made some other animals after this one too, an elephant and owl, and a moon with a wolf in it. The reason that I framed this one first, was simply because it was the only one that fitted in this frame. As you can see the ears are a bit cut off, and the date I wrote on it is a bit cut off too, but I think it still looks nice. And to me, it's a memory of when I rediscovered my creative self, and passion for drawing.
I really need to think about the size of my drawings from now on, so they are framable (is that even a word?) haha. Because I was kind of disappointed that some of them weren't even an option to put in a frame. This frame is 13x18 cm.