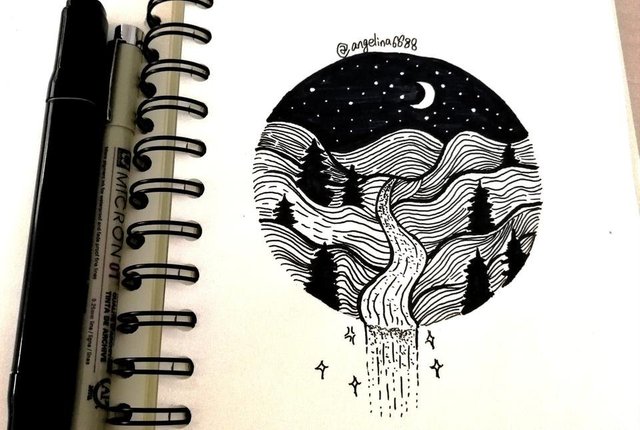 Hi guys!
This is my entry for the Black and White Drawing Contest.
I painted some mountains in my picture, some trees and some stars around. It took me 15 minutes to finish this picture.
我在画中画了一些山,四周有一些树和星星。还有一条小河。 我大约花了15分钟(用针管笔)完成这幅图。黑白画是最简单的,基本不需要绘画功底,只要把线条练稳一点就成。
这幅画简单来说,就是一个圈圈,加一些波浪线的排列组合,再加几个小树的影子,再加一条流动的小河,再加月亮、星星、黑夜,就没了。是不是超级无敌简单?一学就会吧?学不会你找我~
★●The Drawing Breakdown:(绘图步骤)

---
❗️ Rules
up to 3 artworks per person
Must be uploaded on the contest page. Please refer to link on how to participate in a contest.
---
Posted from my blog with SteemPress : https://angelina6688xx.000webhostapp.com/2018/11/comountains-and-treesblack-and-white-drawing-contest
---