"Luxury life" bronze sculpture
Ca fait un moment que je n'ai plus rien publié sur Steemit et j'ai du mal à suivre mon fil d'actualité par manque de temps.
J'ai plusieurs pièces en cours mais comme elles ne sont pas terminées je vais présenter aujourdhui un travail plus ancien.
Il s'agit d'un crâne surmonté d'un château.
Cette pièce a été réalisée en 2013. Elle mesure 58 x 30 x 40 cm .Elle est entièrement constituée ,à mon habitude , de bronzes anciens assemblés par soudure. La finition est une peinture blanche.
Le titre "Luxury life" est une traduction approximative en Anglais du titre Français "Vie de château"
It's been a while since I have not published anything on Steemit and I have trouble keeping up with my news feed for lack of time.
I have several pieces in progress but as they are not finished I will present today an older work.
It is a skull surmounted by a castle.
This piece was made in 2013. It measures 58 x 30 x 40 cm .It consists entirely of old bronzes assembled by welding. The finish is a white paint.
The title "Luxury life" is an approximate English translation of the French title "Vie de château"

![wDSC_0317.jpg]

(
)

---
Thank you for your votes , comments and sharings
Merci pour vos votes , commentaires et partages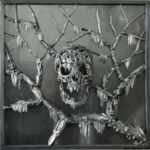 ---
My internet website : www.alain-bellino.net
My facebook page : www.facebook.com/bellino.sculpture/
My instagram account www.instagram.com/alain_bellino/