Ce travail est un Lucanus Cervus, un insecte dont je trouve la forme très intéressante et il sera certainement suivi par d'autres modèles. Il s'agira d'une série limitée à 250 exemplaires en bronze doré ou argenté et monté dans une boite d'entomologie noire ou blanche.
On peut l'acheter ici:
https://www.etsy.com/fr/shop/AlainBellino
Je dois d'abord réaliser un modèle maître qui sera ensuite moulé.
Il est obligatoire de le fabriquer en plusieurs parties pour permettre le moulage et la fonte.
This work is a Lucanus Cervus, an insect whose form I find very interesting and it will certainly be followed by other models. It will be a limited edition of 250 copies in gilded or silvered bronze and mounted in a black or white entomology box.
you can buy it here:
https://www.etsy.com/fr/shop/AlainBellino
I must first make a master model that will then be molded.
It is mandatory to make it in several parts to allow molding and melting.
Voici les différents éléments :
Here are the different elements:
Ce qui donne après moulage:
What gives after molding:
Il faut donc ensuite procéder à l'assemblage des différents éléments par soudure:
It is then necessary to proceed to the assembly of the various elements by welding:
Une fois l'insecte terminé il faut lui faire un traitement (dorure ou argenture).
Il faut le polir puis effectuer une séquence de traitements dans des bains (Dégraissage ultrasonique, dégraissage électrolytique, dorure ou argenture)
Once the insect is finished it must be treated (gilding or silvering).
It must be polished then carry out a sequence of treatments in baths (Ultrasonic degreasing, electrolytic degreasing, gilding or silvering)
Un groupe d'insectes en attente de traitement:
A group of insects waiting for treatment:
Bain d'argenture par électrolyse:
Electrolysis silver bath:
Une fois l'argenture réalisée je fais une oxydation pour le patiner:
Once the silvering done I make an oxidation :
Et voici le résultat une fois monté dans une boîte d'entomologie.
And here is the result when mounted in an entomology box.
Dans un prochain sujet je montrerai les différentes versions de ce travail.
In a future subject I will show the different versions of this work.
---
Thank you for your votes , comments and sharings
Merci pour vos votes , commentaires et partages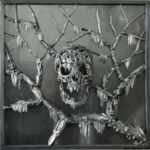 ---
My internet website : www.alain-bellino.net
My facebook page : www.facebook.com/bellino.sculpture/
My instagram account www.instagram.com/alain_bellino/