Hi guys! This is the second Art with Ahmed: a rosy apple still-life drawn with oil pastels. It took me around 3 hours to complete and I think I pulled off the texture and colour of the apple reasonably well. Sorry about the quality and lighting of the picture.
---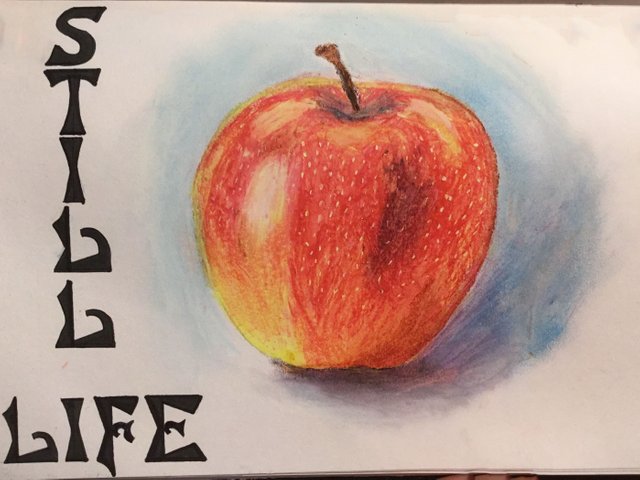 ---
I drew this drawing using an apple in real life so if you want try it out just grab the nearest apple and draw! Here are the steps I took while drawing it:
I drew a very faint outline of the apple with a 2B pencil and drew the outline of the "Still life" words.
Next, I filled in the "still life" letters with a regular black marker and drew a yellow base layer on the apple with some regular oil pastels.
After this, I added the red highlights to the apple and coloured in the stalk.
Following this, I blended the pastels with my fingers and drew the blue background with a haze by blending it a lot.
Lastly, I added the speckles on the apple with a screwdriver (yes, I know xD) and added some finishing touches.
---
In conclusion, I think that my drawing was fairly successful although I could have blended it more to achieve better texture. If you have any suggestions on how I could improve this drawing and any future drawings, please comment them below. I hope that my efforts were worth it and that you enjoyed this Art with Ahmed. If you liked this post, please upvote it and resteem it if you want others to check it out. Thank you very much for taking the time to read this post and until next time!