Today onward I am going to start a new post series. A black and white photo and a little story behind it. I will be posting photographs taken by myself only. Hope you will enjoy and support me to keep going.
Oath Keeper.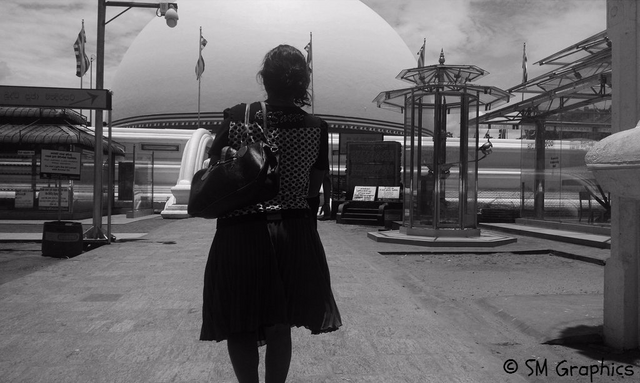 A mother is the symbol of love. No one can surpass the love of a mother towards her child. This is a little story about a mother who loves her child more than anything in the world. 
Few years ago a beautiful little boy was born and he turned an amazing woman into a mother. From the day he born, she was the shadow of his life. The boy became older and achieved the first milestone of his life. It was his graduation. The mother always prayed for the success of her child and she made a promise to herself that once the boy is graduated she'd be visiting the sacred city of her gods to offer her gratitude.  She knew once the boy is graduated she has nothing to be afraid of the future of her child. Finally the boy graduated with honors and the mother had to keep her promises to the gods she believed. This is her keeping her promise, walking towards the sacred pagoda of the sacred city to offer her gratitude.
This post is dedicated to every single mother who love their children more than their lives. 
Please follow my blog if you like to see more interesting posts and don't forget to leave your valuable Comments and Upvotes. They are the motivation I need to create more interesting posts. Thank you.