Taboo Love & Bloody Murder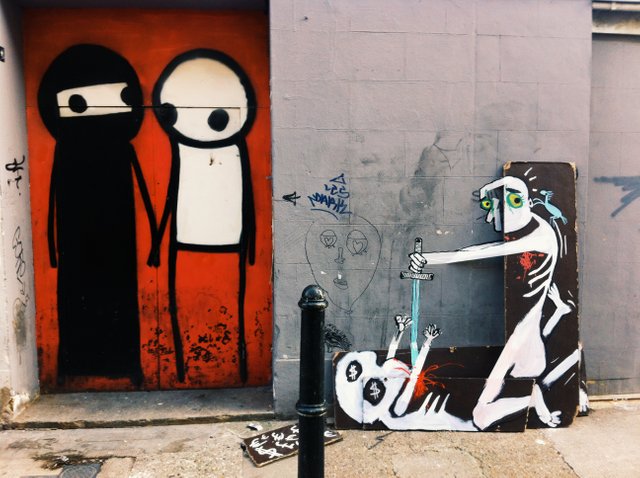 Semi Permanent Wall Art On London's Streets
---
Years ago, I believe it was 2013, I came across this piece on the streets of East London. It was a combination of spray-painted art on a boarded up door, ink on wall, graffiti, cardboard painted art and stickers. It was the craziest combination I'd ever seen on the streets.
I wasn't clear whether it was the same artist that created all of it, or multiple artists. If it was multiple artists, which was more likely the case, was it an intentional collaboration?
I know there are socio political messages presented by this piece that went right over my head, but I can see the relatively taboo relationship depicted by the spray-painted couple.
I returned to the scene a few days later and the piece was still there, untouched. It'd been rained on a bit, but nobody had moved it. There is a strange respect for art on the streets of London. The cardboard bit was eventually removed - hopefully by the artist. The couple could still be seen as late as 2019, which was the last time I walked past this place. It'd been tagged over quite a bit, but it's still distinctive.
I recognise this artist's work - I've seen the style in other parts of London, including the South Bank. I don't know if it is the same exact artist, since this style is easy to replicate, however.
Peace & Love,
Adé