Arsenal 1-3 Manchaster United| Highlights and Player Rating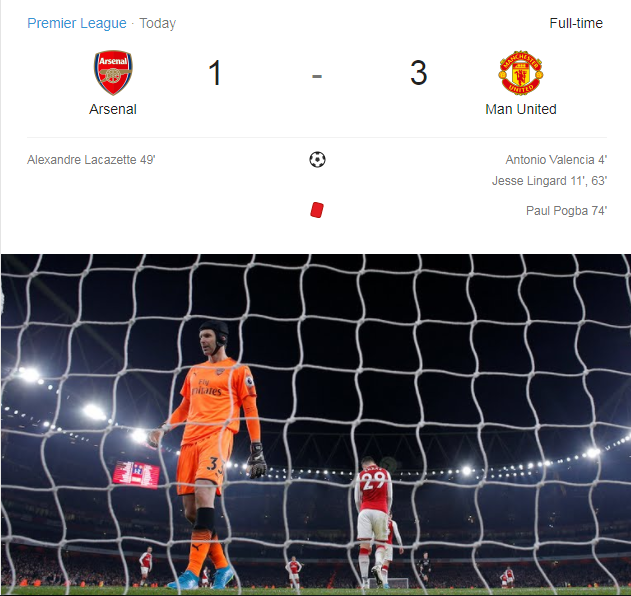 What a way to start the morning as an Arsenal fan knowing that your team should have won given the fact that Arsenal constantly attacking the Manchester United but sometimes in football, LUCK can be a major factor. Lets delve in to my thought of the match just now:
Highlights:
David De Gea made about 14 saves mostly from close range area. Sometimes De Gea will rise to the occasion whenever the team needs him, unlike Peter Cech who has just past his prime.
As usual, Mourinho parked the bus once he took the lead.
Total of 33 shots with 15 on target but only to put one at the back of the net.
Arsenal had 12 corners and 76% of ball possession.
Player Rating:
Peter Cech (5). Only made one significant but did little to prevent other goals against Arsenal.
Laurent Koscielny (4). Defensive mistake on the first goals .He needs rest as he has not fully recovered.
Shkodran Mustafi (4). Defensive error on the second goals and injured afterwards.
Nacho Monreal (6). Good performance and kept his foot on the ground
Hector Bellerin (5). Average performance. I wondering is he losing his Mojo?
Aaron Ramsey (7). Contributed an assist for the only goals scored by Arsenal.
Granit Xhaka (6). He was playing very good but went missing on the third goals, I think he need to improve on his concentration.
Sead Kolasinac (6). Ok performance but struggling to recover lose balls.
Alexis Sanchez (5). I believe he was little bit quite. Losing balls and fail to put the ball at the back of the net.
Mesut Özil (8). What a great performance by Ozil. Critics tend to point out that he will not performed in big matches but that is not true earlier. Too bad the defensive blunders overshadowed his contribution.
Alexandre Lacazette (7). Excellent hold up play and scored one goal for Arsenal.
Image Source: https://www.google.com/search?rlz=1C1GCEA_enMY753MY753&ei=3lUjWv3qCcrxvATAwqegAw&q=arsenal+vs+machester+united+&oq=arsenal+vs+machester+united+&gs_l=psy-ab.12..0i13k1l10.2650441.2650441.0.2651967.1.1.0.0.0.0.498.498.4-1.1.0....0...1c.1.64.psy-ab..0.1.495....0.HgjlkvvOHkM#sie=m;/x/31_6xhhk71rw0;2;/m/02_tc;dt;fp;1