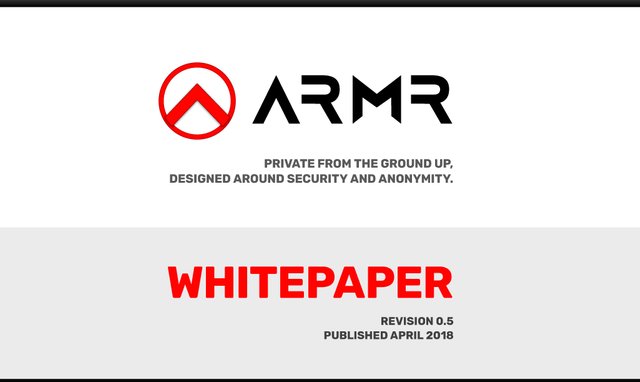 Dear ARMR community,
first of all, we want to inform you that the ARMR Beta tester confirmations have been sent out. Congratulations to the members helping us improve our ARMR Wallet.
We are eager to get ARMRs wallet in front of you as quickly as possible. Currently, we are in an early Alpha testing phase. Once our developers are satisfied, the Beta Wallets will be rolled out for testing - the timeline will be announced.
After weeks of fine-tuning, we are extremely excited and proud to publish our ARMR Light Whitepaper, which you can download from our ARMR website.
In the document, you will find the coin specs, technical details, and explanations of how ARMR works. This is the first version and we are working on a deeper technical one too. The PDF file is interactive, you can jump directly from the contents to the page by clicking on the topic that is interesting for you.
We hope you find this document a useful read into the details of our project. If you have any questions, we will happily answer them on Telegram or one of our other social media channels.
All the best,
/ARMR Team
Disclaimer: Please note that information contained in the whitepaper may have been superseded and/or altered since the time of publication. Such information is provided for informational purposes only, may not reflect the utility or functionality of the ARMR token at launch, and should not be relied upon as purchasing or any other form of advice under any circumstances.