On the blockchain, nobody knows you're a fridge
About the bots
Many of you have been reporting to us that some users of the game has been acting strangely, letting himself win or letting time pass until the timeout. Most of you report it directly the player as a bot and you have asked us to act in this aspect.
First of all we want to record that we are not against the usage of bots. If someone has the technical skills and time to develop a bot; be welcome. However, we are looking to introduce some simple "good practice" rules for everyone: both human and bots. Rules that everyone must respect for the good coexistence between players.
Very soon we will update our terms and conditions of the game adding what are these rules of coexistence so that everyone has them clear as well as the consequences. For the moment we are reviewing attitudes such as:
End the battle by timeout several times in a row.
Leave the battle several times in a row.
Let yourself be won on purpose.
These behaviors will lead to blocking the account until the reason for this inappropriate behavior are resolved.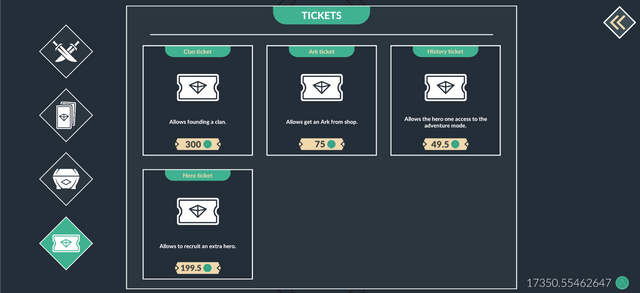 Next update
We are sill waiting for the review in the Apple Store in order to launch update 1.0.5. We're sorry for the inconvenience, but it's something beyond our control. However, we are working already on the next update for both platforms.
The next version 1.1.0 will introduce new important features such like tickets. Tickets are a new element in the game; depending on the type of ticket, will allow the player to do actions like getting a ark, founding a clan, recruiting a hero (the first three heroes still don't require a ticket) or venturing into the depths of the rift in the future history mode.
The tickets will be available for purchase for ARKER in the game store, but you will also be able to get tickets in other ways that will be announced very soon.
ARKER available on Delta App
You can now search and bookmark ARKER to your portfolio in Delta, the best Bitcoin, ICO & cryptocurrency portfolio tracker. If you don't know this application yet, you can download it for free at https://delta.app/. Available for iOS, Android and macOS.