I'm going to go over how to setup your ARK wallet properly and safely. I will even show how to vote for a delegate and where you can purchase ARK. All inside the ARK wallet itself!
First let's start by downloading the official ARK wallet. Head over to https://ark.io/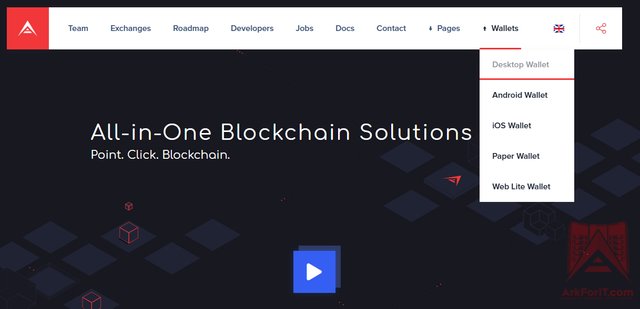 In the right corner you should see Wallets, hover over and click on the corresponding wallet. I will focus on the Windows 64 bit wallet. So I'm going to click on Desktop wallet.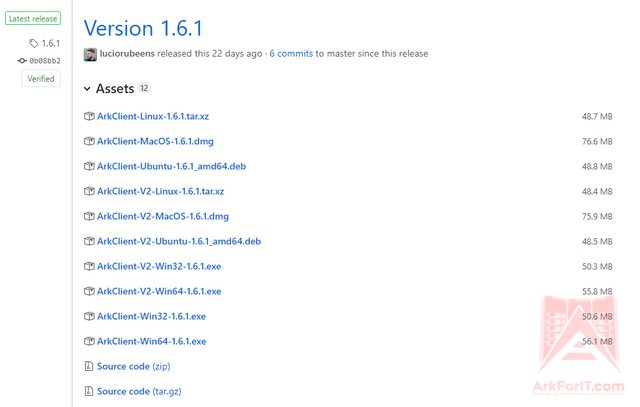 The link will take you to the Ark Ecosystem GitHub https://github.com/ArkEcosystem/desktop-wallet/releases
There I will download the Windows 64 bit package. I will also take note of the Hash of the file, just past the download links and bug fixes.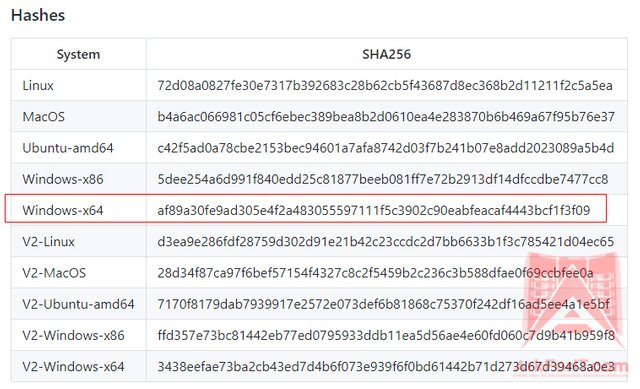 Each will be different so make sure to use the one for the package you got. So if you got the one for Mac, you will need to take note of the Mac version. You can leave the site open or just take note of it somewhere.
Once you finish downloading the ARK wallet, please head to https://www.virustotal.com
Select choose file and select the wallet file you just downloaded.
After the file is scanned you will see a report on the file and any virus detection's. Along with the file hash at the very top.

As you can see the file is free of any infections and the hash is an exact match. We are now clear to go ahead and install the wallet. These steps should always be followed for any updates to the wallet as well.
Now the fun part, setting up the wallet!
Once you have installed the wallet, go ahead and run it.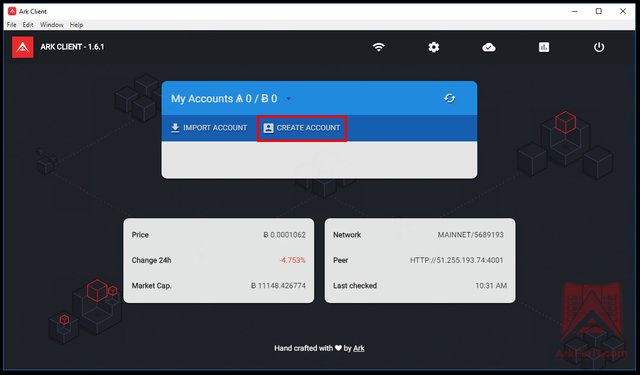 You will be greeted with a nice clean interface without any blockchain sync needed!
Simply click CREATE ACCOUNT (Boxed in red in the above image)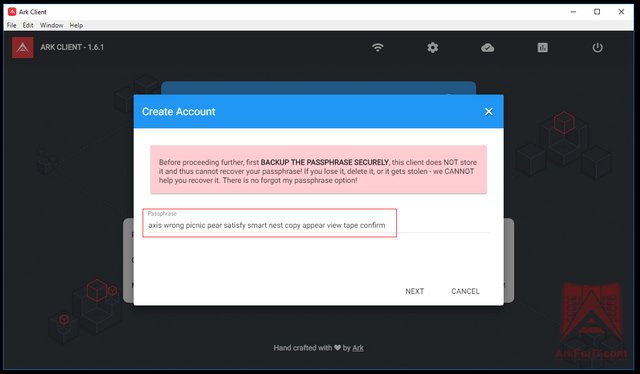 After you click create account, you will get a pop up window that will show you your passphrase. This is the key to your wallet.
NEVER SHARE IT WITH ANYONE. This is the key to your funds. You will recover you wallet with this passphrase. If anyone gets this, they can simply log into your wallet and send the funds out. So please guard it well and make sure to save it somewhere safe.
After you have safely stored your passphrase, click NEXT.
You will be greeted with a passphrase validation screen. Where you will need to enter the 3rd, 6th, and 9th word.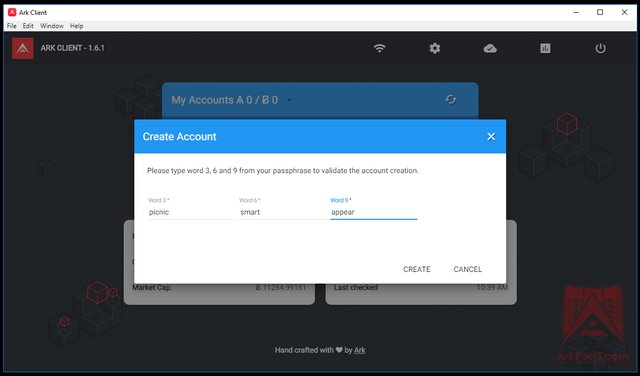 Please type them in, all lowercase. Once you have, click on CREATE.
That's it, you have just created your own ARK wallet!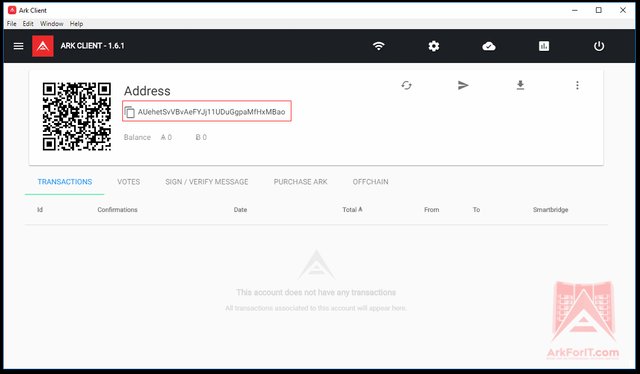 The red boxed section should contain your new ARK address. It is where you send your ARK to from an Exchange or another user. You can also head over to the PURCHASE ARK section inside the wallet and buy them from within.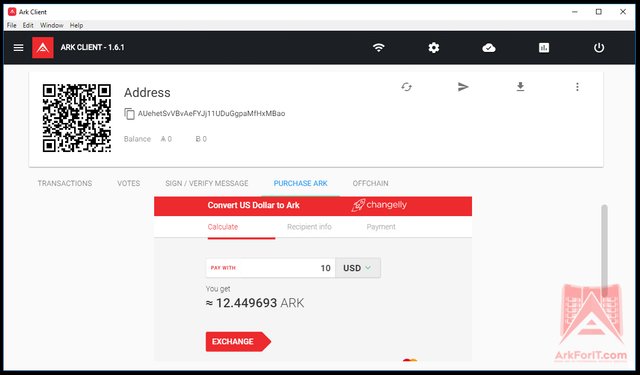 You will need at least 1 ARK to vote for a delegate. Don't worry it's only needed once, unless you change your delegate. Say you send new ARK to your wallet, you do not have to vote again. Any new ARK added just gets automatically skated with the current delegate you have voted.
Please use these resources to see which delegate is right for you.
https://forum.ark.io/category/5/delegates
https://www.reddit.com/r/ArkDelegates
http://calculator.reconnico.com/
No two are the same, some help the community some don't. Some are private who don't pay out even if you vote for them. So pick carefully. Remember your vote guides the community. So make it count!
Once you have at least 1 ARK just head to the VOTE section of the wallet. Click the delegate drop down.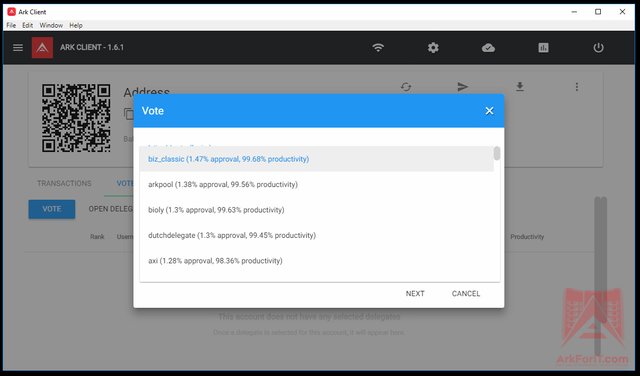 Select your delegate (Here I just selected biz_classic since he was at the top, by no means should this be your deciding factor. I am simply using it for the example and he is at the top. Not that he isn't a great delegate, but you should research why he is good and decide for yourself. Remember there are 51 to pick from and only the top 51 forge.)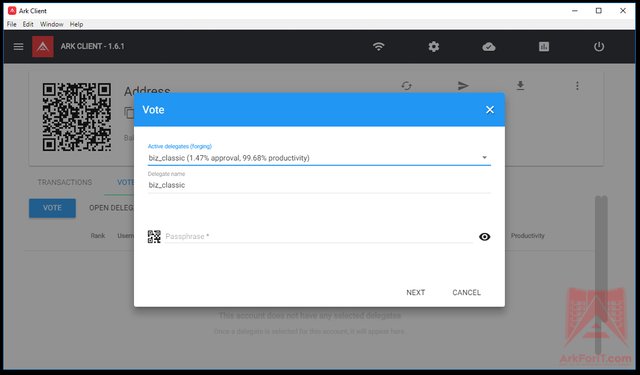 Once you click on a delegate from the drop down. It will populate the name and now you just enter your passphrase and click NEXT. The wallet will tell you that it will deduct 1 ARK to cast your vote. After you confirm the deduction, you are now voted for a delegate and staking ARK. Reward payouts will be based on the delegate you voted for, the amount of ARK you have and overall network.
That's it, you are now using ARK!