Remote PHP (Laravel) job available with ARK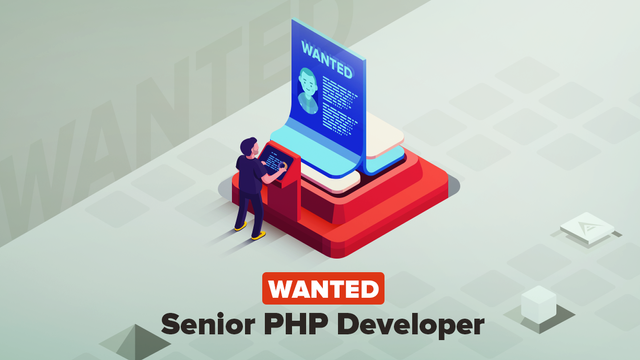 Looking for a new challenge? How would you like to work with an innovative team that's blazing a trail in the blockchain industry? If you're an experienced PHP (Laravel) developer who likes to write clean, sustainable, easy to read code, and has a passion for innovation then come work with us. You might just be exactly who we're looking for.
Attention developers, we're hiring! Along with our recently announced front-end developer role, we're also on the hunt for a senior and experienced PHP developer with previous experience working with Laravel to be an integral member of our team. You'll be working on an incredibly exciting project helping to build one of our key new products, ARK Marketplace, from the ground-up.
We are looking for a long term, full-time collaboration and not seasonal or part-time workers.
Here's What We're Looking For:
**Required Experience: **5+ years of PHP development experience, with at least 3 of them being hands-on with Laravel.

**Skills: **PHP (PHP 7+), SOLID, TDD (PHPUnit), DDD, Redis, Memached, PostgreSQL, and excellent English communication skills (written).

**Bonus: **Experience with Vue.js and TailwindCSS. Interest and experience with web-based solutions that scale and work with decentralized technologies.
You will also need to be able to follow modern development standards and best practices. For example, coding standards (dependent on language), versioning standards, commit standards and test suites (if it isn't tested it's broken, right?).
You will also need to be self-challenging and keep up with development from other developers in our team who are working on other components of our software product line.
You'll mostly be working on some of our upcoming pieces such as ARK Marketplace, and other projects in the ARK Development Roadmap.
What Makes You a Good Fit:
As well as your development skills there are certain qualities that will make you the perfect fit for life here at ARK. Qualities such as:
***Commitment ***— Innovation takes time. We're looking for a long term commitment here. Someone that we can rely on to take a project from initial plans to launch and beyond. If you're looking for a role where you can grow, learn and work on projects that really make an impact then you're exactly the kind of person we're looking for.

Dedication, Drive, and Trustworthiness — As a team on the cutting-edge of innovation we're looking for self-starters. We like those who enjoy using their initiative to solve problems, come up with ideas, help streamline processes and generally just get stuff done. We don't micromanage, so we're looking for someone that's motivated to take charge of their own workload and deliver on their objectives.

***Team-Orientated ***— At ARK we're one big family, so bringing in someone new means making sure that they're a good fit for our team. We're looking for someone that's team-orientated and that works well with others. This also means getting involved with all projects and taking on any task that might come your way.
Why Work at ARK?
So why should you work with us? Just in case you needed any more convincing, here are just a few of the reasons why you should come and work with us…
Be part of something special — Bored of your normal 9–5? Sick of working in an industry that no longer excites you? Or for a company that doesn't care? Working at ARK means working with cutting-edge blockchain technology. We're at the forefront of blockchain development, leading the way when it comes to innovation and application. If you thrive on new challenges, enjoy learning new things and relish the opportunity to work for a passionate and supportive team who are looking to make an impact, then this really is the perfect place for you.

***Work wherever, whenever ***— At ARK we live and breathe decentralization. Working with us means working remotely, wherever and whenever you choose. Work from home, from a co-working space, late into the night, or around your life commitments. As long as you're delivering on your objectives, we're happy.

Competitive Salary — Of course we're offering a competitive salary for this role which will be based on your individual talent and experience. You'll need to be comfortable being paid in cryptocurrency (BTC, ARK or a mixture of both) and will need to be able to issue invoices.
How can I apply?
If your skills and experience match up with everything we're looking for then head on over to **ark.io/careers** or send us an email with your CV at Jobs [at] ARK.io to apply now, it only takes a few minutes. Just upload your resume and tell us a little bit about why you're applying and we'll be in touch. Remember, we're always on the lookout for top talent, so if you're passionate about joining us but your skills don't quite match up with this particular role, then check out our **careers page** to see what else we have available, we'd love to have you on board.
Read our new whitepaper! Follow us on social media ( Twitter|Facebook|Reddit ), join our community ( Slack | Discord ) and stay tuned to our blog on Medium and on Steemit.