Say Hello To Hanna — Our Newest UI/UX Web Designer

With upcoming projects such as Marketplace and One-Click Deployer, we want to provide a well thought out design, user experience and branding that brings up awareness, curiosity and professionalism. To battle this front we have hired Hanna Umanets, a UI/UX Web Designer who will aid our design team in all of our visual representations.
With the push to make our design concise and as unified as possible across our full line of software products, we have brought in a new UI/UX Web Designer. We also want to provide reusable design elements for developers, which in turn will speed up some of the initial processes.
About Hanna
Hanna's path and calling for design started while she was studying for her bachelor's degree in Geoinformatics. It started with the creation of posters for scientific conferences at her university. Her interest in graphics turned into more than an interest as she began work to become a professional graphics designer. Learning more about principles, patterns and the processes of every step that takes place when designing. Digging deeper into the field of web design, she became more interested in the field of interface design while becoming an expert in the field of UX design.
After school, she worked for a digital marketing agency as a web and UI/UX designer, gaining additional knowledge and hands-on experience working on projects for companies. She also has a few years of freelance experience, taking on various jobs for different clients.
Although Hanna is well-versed in both UI and UX, her specialty lies within UX, stating that she loves it so much that it feels almost like magic to her. Which will help us tremendously moving forward, to make designs and the end-users journey as seamless as possible.
One of the initial tasks she'll take on is getting familiar with our style, suggesting improvements and helping design and prepare style-guides for our developers to make things concise and easier for them. All of this will be followed by UX on Marketplace, Deployer and Mobile Wallet.
Her hobbies don't fall far from UI/UX Design— she also enjoys oil painting, for the calming effects, additional inspiration and motivation for her work.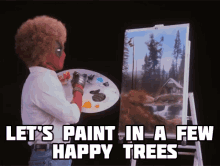 Welcome to the ARK Family Hanna, we are excited to have your skills and talents assist in bringing ARK's image and brand to the next level.
Read our new whitepaper! Follow us on social media ( Twitter|Facebook|Reddit ), join our community ( Slack | Discord ) and stay tuned to our blog on Medium and on Steemit.