ARK Monthly Newsletter — January 2020 Edition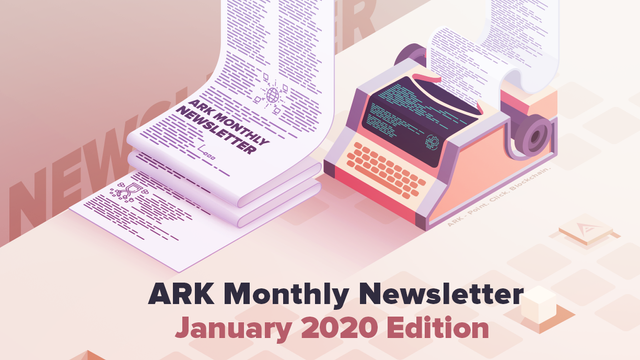 January is in the box! This blog post will cover last month's highlights, activities, achievements, and unique content. Let's take a look at what the team has been up to.
REMARKS
"ARK.io has set a great pace for development and achievements during January, to kick off the new year and decade. We expanded our team with five new team members added during January. ARK.io also became a founding member of ADAN, a new association to help drive adoption of blockchain technology in Europe. The association has other founding members such as Ledger, Consensys France, and other industry veterans. During January, we also released the Core v2.6 Release Candidate, and it currently runs on the ARK Devnet. We recently announced that Core v2.6 is expected to hit the ARK Public Network on February 11th and will bring with it the most network upgrades and features to date."
Justin Renken, ARK.io Senior Brand Manager
TOP TWEET
http://twitter.com/ArkEcosystem/status/1213162132101091329
ARK TIMELINE
***ArkTimeline.com*** is a community resource built and maintained by the ARK Community Committee. The entire history of all ARK achievements and accomplishments are available there, and they are both sortable and filterable. Here's a quick rundown for this past month:
ARK ADVENTURES
This episode of ARK.io Adventures brings me to a local cryptocurrency meetup, where I gave a small 'elevator chat' about ARK. Crypto meetups are gatherings happening all around the world where people meet up to discuss cryptocurrencies and blockchain technology. Surely you already know that, but what you may not know is that they vary wildly in both style and focus. I share some video clips from the event. I also lay down some insights and tips for 'all things meetup' in this video.
FRANCE ACTIVITIES
ARK is incorporated as an SCIC in France (ARK Ecosystem SCIC), giving ARK a leg up when interfacing with the legacy financial system. This SCIC is the first of its kind for crypto in France.
On January 9th, ARK CEO FX Thoorens presented ARK Ecosystem at the P2P Festival in Paris. The P2P Festival is a collection of conferences, workshops, hackathons and tech demos. The P2P Festival brings together major players in in the crypto and blockchain space.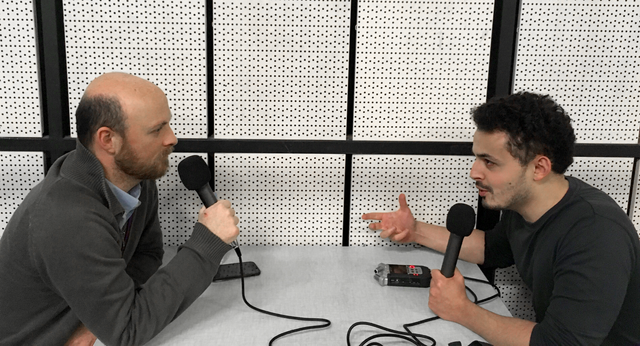 On January 14th, ARK.io announced joining ADAN as a founding member. *L'Association pour le développement des actifs numériques *(ADAN) is a professional association based in France. Created to help structure and develop the digital assets industry, ADAN will play a key role in representing the blockchain, cryptocurrency and wider digital asset industries both in France and in Europe. ARK CEO FX Thoorens had this to say: "My functions as ARK Ecosystem CEO have enabled me, for more than two years, to work in depth with French and European institutional players in order to develop the legislation of the blockchain ecosystem. My goal is, in particular, to push the banking of French blockchain companies, which do not yet have equal access to banking services due to the lack of suitable legislation, and are therefore tempted to settle abroad. I am happy and proud to join ADAN today to defend and push this reform which is absolutely necessary for the French economy of tomorrow. France cannot afford to miss out on the technological revolution represented by cryptocurrencies and blockchain."

On January 24–25, numerous groups within the French government organized a hackathon called DATAFIN, dedicated to financial data for local governments. Data scientists, developers, designers, researchers, data journalists, local public officials and committed citizens came together in the French Senate for the event. This topic is of keen interest for ARK.io efforts in France.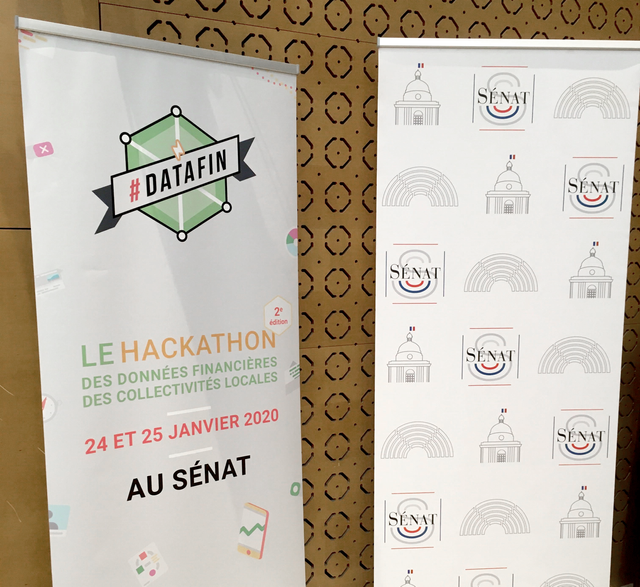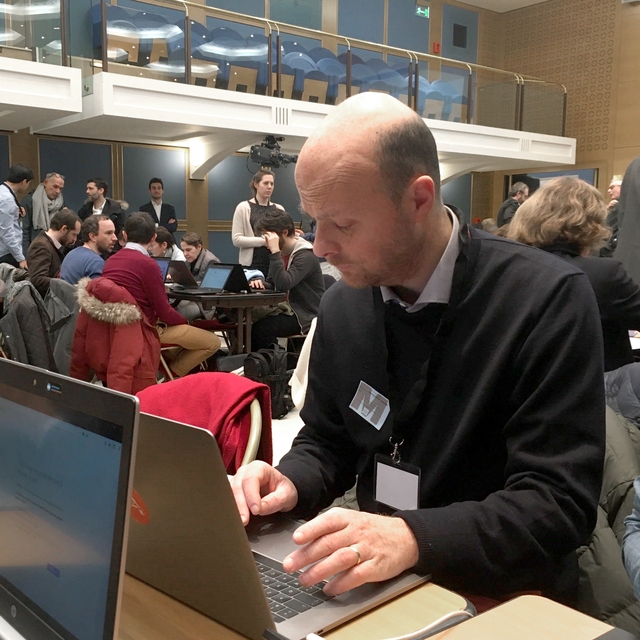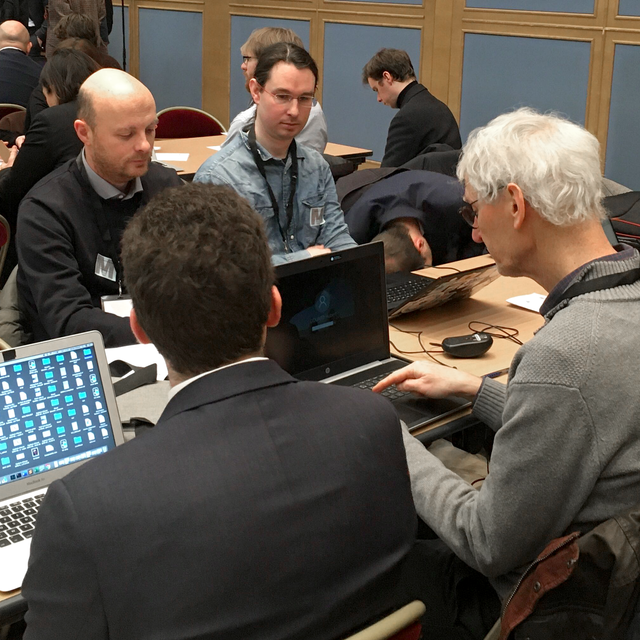 On January 28, the new board of France Digitale, an organization designed to assist technology-related startups in France, invited FX Thoorens to the presentation of its 2020 wishes around the traditional King's Cake. This gave ARK.io a chance to position itself on relevant subjects and discuss them with other members, board members, and association members.
POWERED BY ARK UPDATE
The **Powered by ARK Program** aims to help recognize, support and collaborate with projects building on ARK's technology. The first accepted official partner is **nOS**, the virtual operating system for the Smart Economy. Here's a brief update.
The team has been hard at work to finish critical new features. The development of the nOS Blockchain Wallet has been completed, designed specifically so that anyone is able to send and receive NOS, create and redeem stakes and vote for delegates with ease. As well, the nOS Block Explorer has been completed, with a real-time stream of new transactions and blocks, overviews of wallets and stakes, as well as a dashboard with real-time network and coin data. Key blockchain elements have also been completed, such as DPoS IPFS file distribution and hosting, scaled fee removal from block rewards, decentralized delegate descriptions and more. The nOS Whitepaper has also been updated, as well as a new version of nOS Client, bringing the current version to 0.6.
In a recent check-in for January, nOS CEO and Founder Dean Van Dugteren mentioned "many sleepless nights" are happening as nOS gets closer to a public testnet of the nOS blockchain. Dean mentioned that it appears the final sprints are underway.
You can track nOS's progress via their **blog by clicking here**.
AMAs
Ask-Me-Anythings are periodically conducted featuring ARK team members answering questions by the community on Slack.ARK.io. AMA Transcripts are available on the ARK.io resource ARK Answers. Follow ARK on Twitter for invitations to join future AMAs.
Currently, there are adjustments being made to the AMA process and schedule. Stay tuned on ARK Blog for updates.
DEVELOPER ROUNDTABLE
The ARK Developer Roundtable is a monthly video call, conducted by ARK.io Chief Technical Officer (CTO), Kristjan Košič. These calls allow a unique opportunity to present information to the community and gain valuable insight from community developers. Here's last month's meeting:
Follow ARK on Twitter for invitations to join future roundtables.
DEVELOPMENT REPORT
The ARK Monthly Development Report covers all pull requests (opened, closed, merged) as well as all issues opened and closed in every ARK Ecosystem public repository, the number of contributors during that month, the number of new stargazers and total lines of GitHub code added or deleted (**check January's report here).**
NETWORK REPORT
This network report summarizes network activity on the ARK Public Network for the recent month.
Total Network Transactions
**Total: **172,064
**Avg per block: **0.5148
***Per type:
*Transfers: **171,184 (99.49%)
**Second Signatures: **6 (0.00%)
**Votes: **867 (0.50%)
Delegate Registrations: 7 (0.00%)
1,595 unique wallets sent an outgoing transaction.
Total Blocks
Full: 600 (0.18%)
**Empty: **324,019 (96.95%)
**Non-empty: **9,603 (2.87%)
**Total: **334,222
**Missed: **578
Total Network Fees
Total: 3,270.85834058 Ѧ
Per type:
Transfers: 3,003.70422700 Ѧ
**Second Signatures: **11.05820612 Ѧ
**Votes: **142.34590746 Ѧ
**Delegate Registrations: **113.75000000 Ѧ
Total Network Votes
**Voting Wallets: **42,130
Voting Wallets > 1 ARK: 19,012
**Total ARK Voting: **84,169,018.02037916 Ѧ
PODCASTS
The ***ARK Crypto Podcast*** releases weekly episodes all about ARK, featuring interviews, monologues, tutorials, reports, presentations and more. The show aims for a 30-minute runtime and releases new episodes every Friday. Subscribe on iTunes, Google Play, Stitcher, Soundcloud, Spotify, Castbox and more. Details, external links, and show notes are available at **Podcast.ARK.io**. Check out the episodes released this month:
https://the-ark-crypto-podcast.simplecast.com/episodes/ark-crypto-podcast-058-ten-great-things-for-ark-from-2019
https://the-ark-crypto-podcast.simplecast.com/episodes/ark-crypto-podcast-059-ark-ceo-fx-thoorens-on-the-formation-of-adan-french-blockchain-association
https://the-ark-crypto-podcast.simplecast.com/episodes/ark-crypto-podcast-060-new-contest-details-and-procedure-coinkit-integration-and-meetup-recording
https://the-ark-crypto-podcast.simplecast.com/episodes/ark-crypto-podcast-061-everything-you-might-have-missed-wrapup
The podcast has returned with weekly episodes as detailed in this recent blog post.
WHAT'S NEXT
Now that the Release Candidate for Core v2.6 is on the ARK Devnet, and the date for migration to ARK Public Network is announced, the next steps are to handle any final lingering issues and then assist ARK Public Network delegates in migrating the new version onto the ARK Public Network on February 11th. Users will not need to take any action aside from updating their desktop and mobile wallets to new versions, which will be made available near the time of migration. Since ARK.io has hired new team members in multiple departments in January, February will be full of orientation sessions and getting the new team members up to speed on what's to come for 2020. Stay tuned to the **ARK Blog** and **ARK Roadmap** for further updates.
FEEDBACK SURVEY
Take a short three-minute feedback survey so we can learn more about your opinions on how we're doing. We review and track this feedback and use it to further improve our efforts.
**Take the three-minute feedback survey here**.
GET INVOLVED
Here's a quick list of what your first steps might be to get involved with ARK:
Looking forward to February!
Read our new whitepaper, follow us on social media (Twitter|Facebook | Reddit ), join our community ( Slack | Discord ) and stay tuned to our blog on Medium and on Steemit.