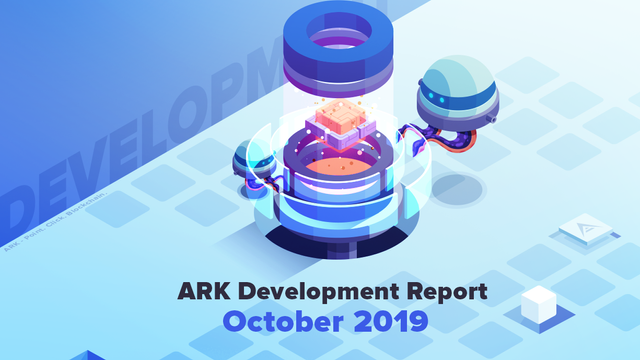 October is over and we are happy to publish a very impressive monthly development report for it. It was one of the busiest developmental months this year. Thank you to all who are actively participating in the development of our ecosystem.
The ARK Monthly Development Report covers all pull requests (opened, closed, merged) as well as all issues opened and closed in every ARK Ecosystem public repository, the number of contributors during that month, the number of new stargazers and total lines of GitHub code added or deleted. This info is presented here in a concise one-page blog.
Get involved with ARK development and participate in our bounty program at https://bounty.ark.io and our Tier 0 program at https://ark.io/projects. We are also running a special Core v2.6 bounty that can net you up to $100 just for reporting issues, to learn more read this blog post.
You can track this weekly data directly on GitHub by opening the repository of interest, clicking on 'issues', and opening the latest 'Weekly report digest'.
Thanks to all who contribute each month and help out with development!
Here's the Monthly Digest from Tue, Oct 1, 2019, 12:00 AM to Thu, Oct 31, 2019, 12:00 AM.
Throughout public repositories we had:
442,697 lines of code added.

22,137 lines of code deleted.

1,250 files changed.
Contributors
Last month there were 21 contributors.
adrian69, air1one, alessiodf, alexbarnsley, arkmoon, avfcpieface, biolypl, ciband, danielstc, dated, faustbrian, Highjhacker, KovacZan, kristjank, Lemii, luciorubeens, moazzamak, sleepdefic1t, supaiku0, vasild, vmunich
Thank you for your contributions! 🎉
Pull Requests
Last month we had 251 pull-requests. Of which:
13 Still Open.

212 Merged.

26 Closed.
Open
From last month, 13 pull-requests are still open.
— alexbarnsley
— arkmoon
— ciband
— danielstc
— dated
— faustbrian
— Highjhacker
— sleepdefic1t
Closed
Last month, 26 pull-requests were closed.
— air1one
— alexbarnsley
— boldninja
— ciband
— dated
— faustbrian
— KovacZan
— sebastiangseijo
— sleepdefic1t
— vasild
Merged
Last month, 212 pull-requests were merged.
— adrian69
— air1one
— alessiodf
— alexbarnsley
— avfcpieface
— biolypl
— ciband
— dated
— faustbrian
— KovacZan
— kristjank
— Lemii
— luciorubeens
— moazzamak
— sleepdefic1t
THIS POST IS TO LONG FOR STEEMIT, PLEASE SEE THE FULL POST HERE: https://blog.ark.io/ark-development-report-october-2019-fa7562ed5717
Read our new whitepaper, follow us on social media ( Twitter|Facebook|Reddit ), join our community ( Slack | Discord ) and stay tuned to our blog on Medium and on Steemit.