ARK Core v2.6 Official Release Date Announcement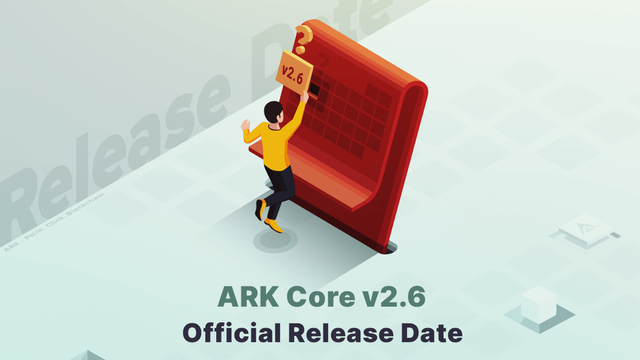 This is it! We are approaching one of the biggest milestones in ARK's journey so far — the official production-ready release of Core v2.6. This much-anticipated release brings tons of new features for developers as well as new transaction types that will make ARK more powerful than ever! We're not kidding when we say that this is an even bigger release than going from v1 to v2 codebase.
After months of developing, testing, fine-tuning, refactoring and tidying up the code, we are happy to announce that Core v2.6 is officially ready. Before we announce the actual date we'd like to thank our community, delegates, and other enthusiasts for their tremendous support and testing on the Development Network for the past few months — you made Core v2.6 even better by reporting and resolving issues, bugs, potential security vulnerabilities, and improvement suggestions!
The date when ARK Core v2.6 officially goes from Development Network to Public Network is the 11th of February 2020 at 3 PM UTC (15:00 UTC). At that time migration will start and may last for a few hours.
Migration on the Public Network will be done by delegates (as well as those that run relay nodes) and will start around the time posted above. We will assist and help every step of the way, but the majority of the work will be done by delegates since they run the network and will as such need to coordinate and put this next generation of Core live!
During the time of migration, there could be a period of slower block times as all delegates update and also most of the exchanges will disable deposits and withdrawals as they update their infrastructure to be compatible with Core v2.6.
AIP 11 (new transaction types & nonces) will come into effect around 1 week after the migration (block height milestone will be announced with a blog post after migration). You can expect to utilize the new transaction types around the 18th of February.
The ARK Public Network will be one of the first (or in the case of some features, the first) DPoS blockchain to introduce:
**GTI (Generic Transaction Interface) **— making it a breeze to develop new transaction types with custom logic, one of the biggest features of the ARK Logic system we are introducing. Read more here.

Nonces — making it more secure and harder to perform double-spend attacks

Multipayments — sending to multiple ARK addresses, while just initiating one transaction, saves time and cost!

Multisignatures — you can now get all of the benefits of multisignatures where more than one user can propose or spend funds depending on the predefined terms (eg. 2 out of 3 users needed to successfully send tokens, vote, …)

**IPFS **— register IPFS compliant hashes on the ARK blockchain within Desktop Wallet.

Business & Bridgechain registrations — you can now register your business and bridgechain on the blockchain and soon, you will be able to get verified via our Marketplace to get access to some exciting new features.

Delegate resignation — delegates who don't want to be voted for anymore can now opt-out of this by simply initiating delegate resignation.
After the migration is successful we will inform everybody via blog post, social media and other channels.
As a user, what do I need to do?
You basically don't need to do anything — relax and enjoy the ride. The only requirement is to update the ARK Desktop Wallet/ARK Mobile Wallet to the latest version (will be released around the time Core v2.6 goes out) in order for you to continue to interact with the ARK blockchain. Just keep an eye out on the notification in the Desktop Wallet/Mobile Wallet when an update becomes available or follow our blog/social media.
What does Core V2.6 Bring?
If you have missed what Core v2.6 brings or are new to ARK or weren't following the development we have compiled a list of blog posts that will get you started and give you an overview of what this brings:
Check out our new Learning Hub! Follow us on social media ( Twitter|Facebook|Reddit ), join our community ( Slack | Discord ) and stay tuned to our blog on Medium and on Steemit.