The Arionum Raffle Continues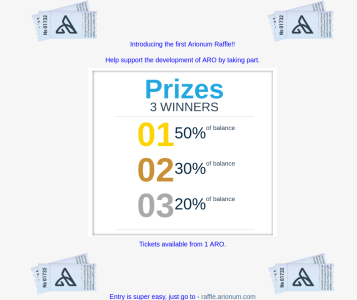 The Arionum Raffle has ran successfully for two weeks now! The winners came away with over 2000 ARO! If this is the first you've heard about the Arionum Raffle or you haven't jumped in yet, you still have a chance to win some ARO yourself.
The Arionum Raffle is built as a trustless system directly on the Arionum Blockchain. Every 2500 blocks the Arionum Raffle will automatically choose three winners and disperse the lottery winnings accordingly.
Entering the raffle is easy, all you need is an Arionum Wallet and some ARO. One ARO will get you one entry into the raffle and you can get as many tickets as you'd like. To get a ticket just send ARO to this address - 4dvMt6MCoPRBW9x4nrRWGevb2icKjfBesKoGQ7zWRL4TdZL914GxdnnJ2ja6KBPChB9xt2hgzoJxBioD4USQXHiw
You can also see the current raffle entries and winners here. You can place your entries every week for chances to win each week! There are a little over 1000 blocks until the next drawing, so hurry and get your tickets.
Protip: Remember that it may take a few blocks to send your transaction so, don't wait until the last minute to get your tickets.

If you'd like to learn more about Arionum, checkout the links below and follow us on all of our social channels.
Official Website
Bitcoin Talk ANN
Telegram
Discord
YouTube
Twitter
Facebook
Reddit