[ENG-ESP] MicroStrategy and Tesla between Bitcoins. -- MicroStrategy y Tesla entre Bitcoins.
It is now public knowledge that Michael Saylor has stepped down from his role as CEO of MicroStrategy to the role of director.
LINK
But here the most relevant news is that the company continues to buy Bitcoin, and said company is one of the companies with the largest Bitcoin reserves in the world. The company incorporated more than 480 Bitcoin into its Bitcoin portfolio in this last period, this can be seen in the company's financial report. The purchase price of these coins is around $20,700 for each coin, in total about 10 million dollars have been invested. This average purchase value is still lower than previous purchases that averaged $30,000.
Here the tesla company also enters the scene, unlike the previous one, tesla has sold a large part of its Bitcoin reserves. With respect to the average purchase value that the coins had acquired, this sale has been at a loss, but has somehow benefited the price of the company's shares on the stock market.
Although the Bitcoin community has considered Elon Musk a soft-handed investor, he says that he knows what he is doing, evidently this has been reflected in the company's actions.
Many media assure that these movements in the Bitcoin market added to many others is what is causing a movement in the prices of the currency, what do you think?
---
ESP
---
Ya es de público conocimiento que Michael Saylor ha dejado su lugar de CEO de MicroStrategy ocupando el lugar de director.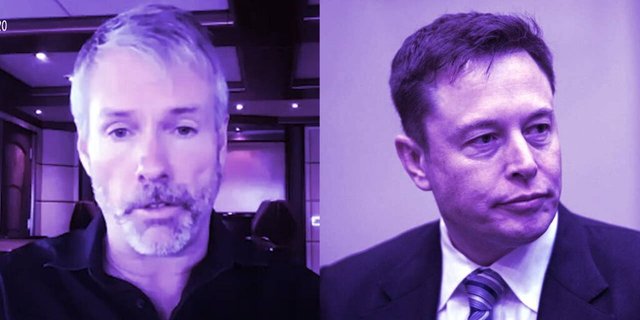 LINK
Pero aquí la noticia más relevante es que la empresa sigue comprando Bitcoin, y dicha empresa es en el mundo una de las que tiene mayor reservas de Bitcoin. La empresa incorporó a su cartera de Bitcoin más de 480 Bitcoin en este último periodo, esto se puede ver en el reporte de las finanzas de la compañía. El precio de compra de estas monedas rondan en los $20,700 por cada moneda, en total se han invertido unos 10 millones de dólares. Éste promedio de valor de compra sigue siendo inferior a las compras anteriores que promediaban en los $30,000.
Aquí también entra en escena la empresa tesla, a diferencia de la anterior, tesla ha vendido gran parte de sus reservas de Bitcoin. Con respecto al promedio del valor de compra que había adquirido las monedas, esta venta ha sido en pérdida, pero de alguna manera ha beneficiado al precio de las acciones de la empresa en la bolsa.
Si bien, la comunidad de Bitcoin ha considerado a Elon Musk como un inversionista de mano blanda, él dice que sabe lo que hace, evidentemente eso se ha reflejado en las acciones de la empresa.
Muchos medios aseguran que estos movimientos en el mercado de Bitcoin sumado a muchos otros es lo que está provocando un movimiento en los precios de la moneda, ¿tú qué crees?.
Gracias por pasar.